MyTrannyCams.com - your number one choice for hot shemale action
Hi folks. Guess it's been a while. Well, I do like to take a break now and again you know! I hope you've been good, or not, if that's what gets you excited, if you catch my drift. Ah well, if you have been naughty, I hope it was with good intentions! Anyway, you're here now, which is the main thing. Today, I'm going to take a little bit of a left turn in my explorations of the world wide web, and head off to MyTrannyCams.com.
Now, I guess what you're going to say ... what's old Randy heading off to a site like MyTrannyCams.com for? Well, I am a webcam-porn reviewer, and I guess it's my duty to review as many different adult cam sites as I can find, and I'm kinda morally obliged to include as many sexual tastes as possible, even if I don't share them myself. A good film reviewer doesn't only review the films of his favorite genre, does he? It's my duty as a highly competent cam site reviewer to review sites that go beyond the scope of my personal preferences, if you see what I mean? It's all part of my fantastic service. Anyhow, MyTrannyCams.com has been around since around 2009, and is run by the same frisky folk who run Jasmin.com.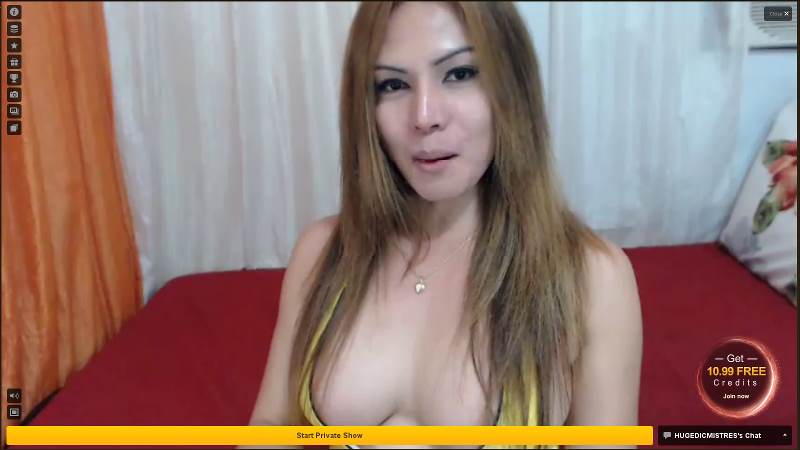 How I found the site
If you've ever been on Jasmin.com, then you're going to recognise the MyTrannyCams.com site as it is exactly the same, only (a) there's only transsexuals and (b) the color branding is brown, not red. Indeed, if you head on over the Jasmin.com you'll find that the transsexuals area on Jasmin and the entirety of MyTrannyCams.com feature the same models. I guess this kind of makes sense - if you're looking for an adult cams site and your only interested in transgendered people then there's no point in signing up for girls if you ain't gonna be looking at them! If you prefer MyTrannyCams.com the way it used to be before a recent makeover then you can click to change the view to the previous one.
The main menu at MyTrannyCams.com works in the same way you see at any other cams sites - you get to see a selection of the sex cam models to choose from, and if you hover your mouse over the menu pic you get a sneaky peak at what the cam shemale is currently up to. There's a broad range of shemales to choose from at different stages of their transformation, or guys who just look like girls from the neck up. Some of them I would have to look real close to make sure as I wasn't lookin' at a genuine lady (I hope that don't sound too patronisin' as it ain't meant to be - this is just a bit of a brave new world for old Randy here), but lots of others ain't abandoned their masculinity completely, if you get my gist.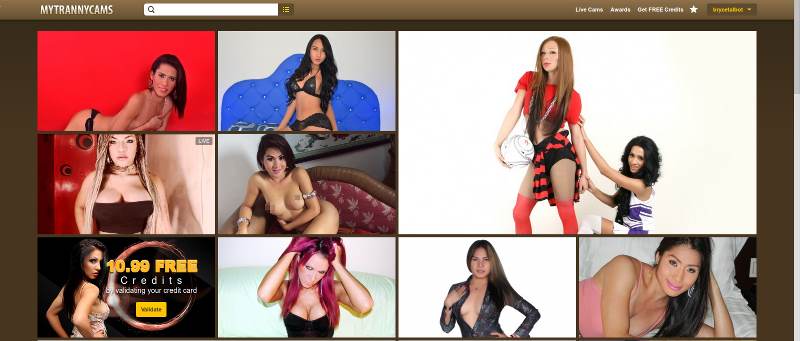 The site is so darn easy to navigate even a stupid cow-poke like me didn't have a problem. There's live cams (of course) and you can save a favorites list for even easier navigation. There's a search facility, and you can browse the different categories or tags the sex cam models have tagged themselves with, such as their ethnicity, hair-color, dick and titties sizes and what they're willing to do for you - like live orgasm, footjob, striptrease ... just use your imagination!
Special features
The one thing MyTrannyCams.com seems to let itself down on is the lack of special features, but basically there are none.
Ease of registration
You register by clicking on the "Join Now FREE" button at the top of the screen. I did try to register, but to my amazement, it said my user name has already been taken. I was about to supply another, but before I did that I had a brainwave and signed in using my Jasmin.com username and password, and hey presto, I was in! So, if you're a member of Jasmin, you also automatically become a member of MyTrannyCams.com! This ain't all good news, as when you join MyTrannyCams.com you get 10.99 in free credits, so if you've already used them up at Jasmin.com, you're out of luck!
If you ain't signed on at Jasmin.com, then all you need to do is supply a username, password and a valid email address - and of course you lucky people get your freebies!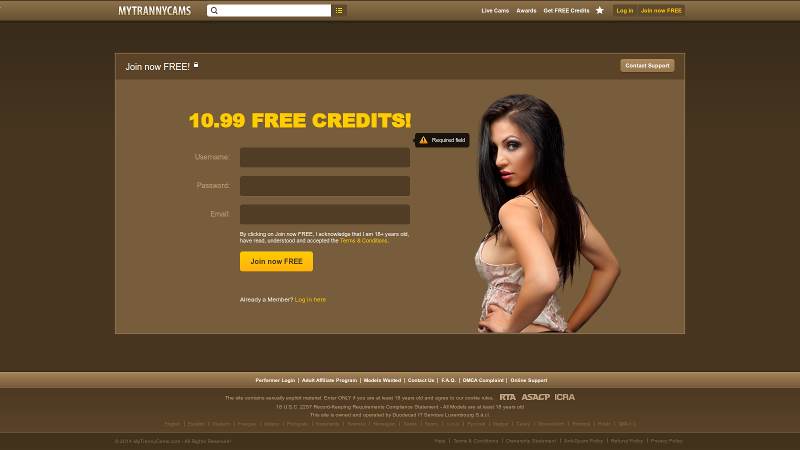 Types of chat
There are only two types of chat - free and private. Free chat costs nothing, and you can chat with your chosen cam shemale. If you would like things to get a little more risqué, then you have to pay to open a private chat session.
Video quality
As you would expect of a site run by Jasmin.com, the video quality is exceptional - the best sex cams on the web. The HD is truly marvellous (if you have the bandwidth), and the SD ain't bad either!
Prices
At the site is run by Jasmin ... heck, you know what I'm gonna say, don't you? Yeah, the prices are kinda similar ...
EURO €
GBP £
USD $
Price
Credits
Price
Credits
Price
Credits
€29.99
28.99
£18.99
29.98
$29.99
29.99
€69.99
58.99
£27.99
43.97
$69.99
75.98
€99.99
98.99
£65.99
86.97
$99.99
108.98
€159.99
158.99
£93.99
118.97
$159.99
169.98
-
-
£149.99
180.97
You get 10.99 free bonus credits if you register your credit card, and bonus credits (except at the £18.99 level) every time you buy some.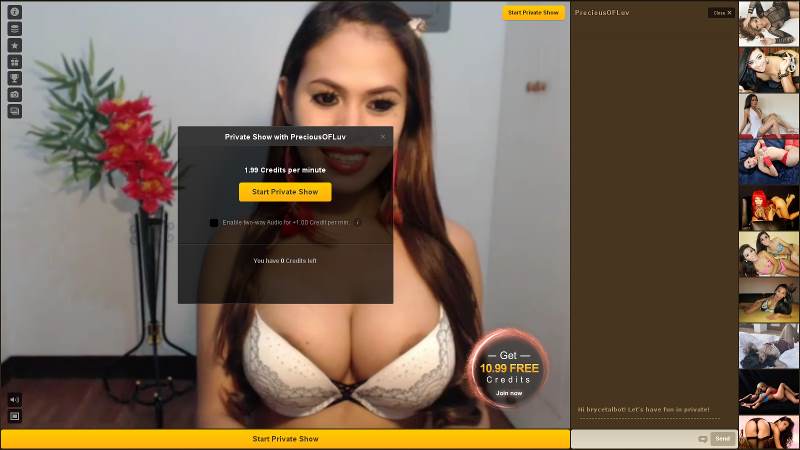 Payment methods
You have lots of options: Debit/Credit cards (Visa, Mastercard, JCB, Discover, Diners Club, Maestro, Switch, Solo), Sofort Banking, European Direct Debit, Ukash, or Pay by Phone.
Number of models
There around around 6,000 shemale sex cams to choose from, although you'll only ever find between 50 and 60 online at any one time.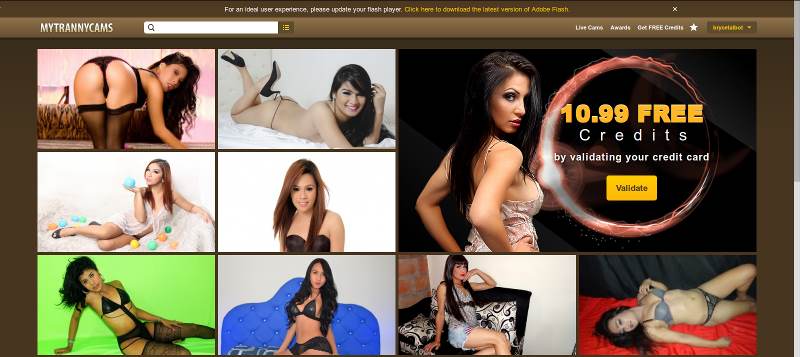 Customer support
The support section is genuinely really helpful, which for once is great. You can contact online support, or send MyTrannyCams an email message. There's also phone support for both technical and billing enquiries.
Pros and Cons
Pros
✔ - It's run by the same people who run Jasmin, so you're assured of the same standards of service
✔ - A decent number of adult cam performers available
✔ - The site's really great to use, and works on both Androids and iPhones
Cons
✖ - Very lacking in special features
✖ - The mobile streams are not the best
Conclusion
I really could have saved you a lot of time and effort here my just completing a one-word review: Jasmin! You'll know my thoughts on Jasmin, and if you don't then all you need to know is I think Jasmin is easily the number one adult sex chat site out there. So that automatically (I guess) promotes MyTrannyCams.com as the number one adult shemale sex chat site out there - although as yet, I ain't reviewed that many!
The site is a little basic, functionality wise, but often basic is all you need. The site provides access to transsexual cams, and you can chat for free, or buy credits through lots of convenient methods for private chat. A few extras I don't think would have gone amiss, but that's just me quibblin' - if you like shemales, and you like shemale sex cams, then MyTrannyCams.com is really where you ought to be heading.
Review of MyTrannyCams.com
- Reviewed by
webcam-porn.info