AsianCamModels.Com - A Great Place to Meet Hot Asian Cam Models
Well howdy again webcam porn fans. Pull up a pew, hanker on down and get all nice and comfy as I bring you another one of my webcam porn reviews. You should know by now that I've gone all international, leaving my home cam here in the US of A to visit cams on the other side of the world - the kind of cam that features the hottest, sexiest, Asian cam models. if you ain't exactly a mastermind, like I confess not to be, then this site's name is gonna be a real help for you, as it's called AsianCamModels.com!
As soon as I hit this site something did strike me as familiar-looking. I didn't really get it until I scrolled right down to the bottom and I saw "Interactive Management Systems Inc." in the copyright notice. Well, that started chiming some bells in the old noggin', but nothing really clicked until I wound back thru' a few of my previous reviews and came across TrannyCamModels.com. IMS (as I will call them as I don't want to type all that out again) used to own TrammyCamModels.com, but that site is now owned by Labuyo. Might be the same company, might not, don't matter I guess. Anyhow, Asian Cam Models have been providing ... guess what ... since 2004. It has had a couple of upgrades, but has always been owned by IMS, who are in Nevada.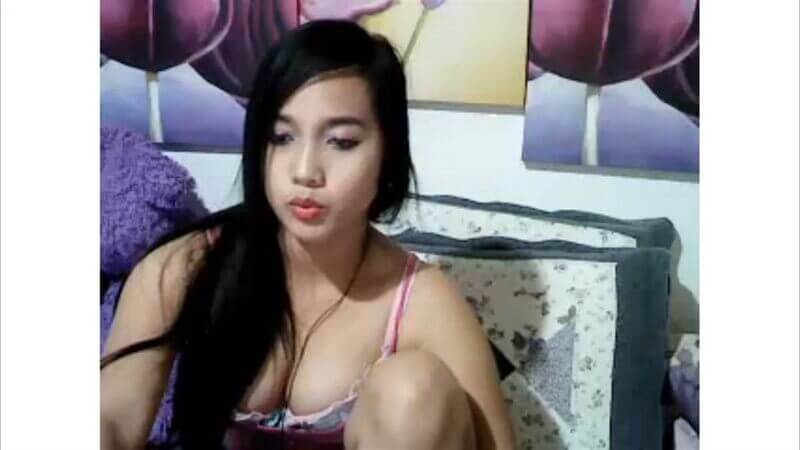 How I found the site
Well, as I noted in my review of TrannyCamModels.com, all of the models seemed to be Asian, so I guess that site is a reduced, cloned version of AsianCamModels.com. I guess those guys at IMS just love cam names that are easy to remember! I can also tell you that most of the models here are from the Philippines, which usually means they can speak good English (don't get confused like I did because of the little flags under the cam thumbnails which are the Stars & Stripes - it just indicates that they can speak English).
The site still has exactly the same look as TrannyCamModels.com but is more pinky-purple than dark purple. The menu thumbnails tell you the Asian sex cam babe's performer name, what type of chat she is up for and whether her cam is HD or not. Unlike some Asian porn cam sites, only around half of the models keep their faces a secret here instead of nearly all of them. I like to see the stuff that's below the neck when it comes to porn cam models, but I find the experience a whole deal more satisfyin' if I can see their faces too!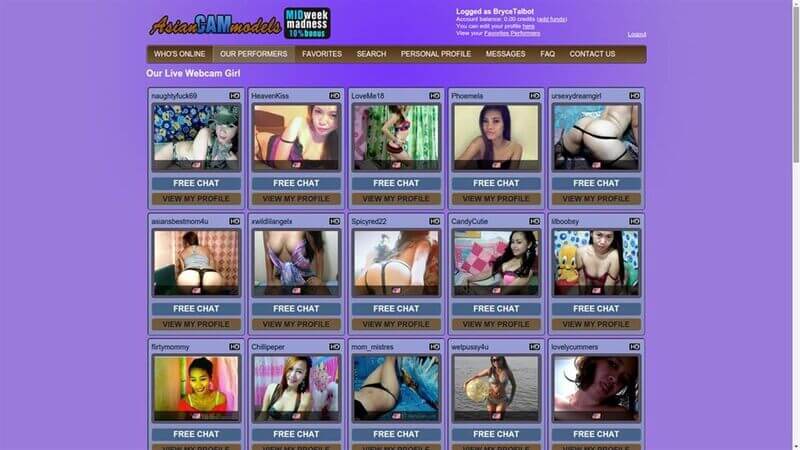 You can get a glimpse of each model's cam (if she's in free chat) by hovering your mouse over the thumbnail. The upper menu shows who's online and a complete list of Asian cam girls who have profiles at the site. If you find a few favorite models you can start a favorites list, and use the search function to find the Asian sex cam model of your dreams, or who you may have visited previously and then forgotten their screen name.
By reviewin' the Asian cam models' profiles you'll an idea of what any chosen sexy lady is willin' to get up to at your request, and you can send messages, plus see picture and video galleries. A few of these galleries are public, but most are only available if you're willin' to pay to see them.
Special features
Let's just say that AsianCamModels.com ain't exactly flush with extra special features.
Ease of registration
You'll see the menu item marked "Registration", which is where you need to click. Pick a username, password, give your valid email address, choose your screen name and confirm your gender. Once you've completed all that, check the T&Cs box and once you've replied to the activation email you're all sorted. If you've joined TrannyCamModels.com, then you'll find you have magic membership here as well.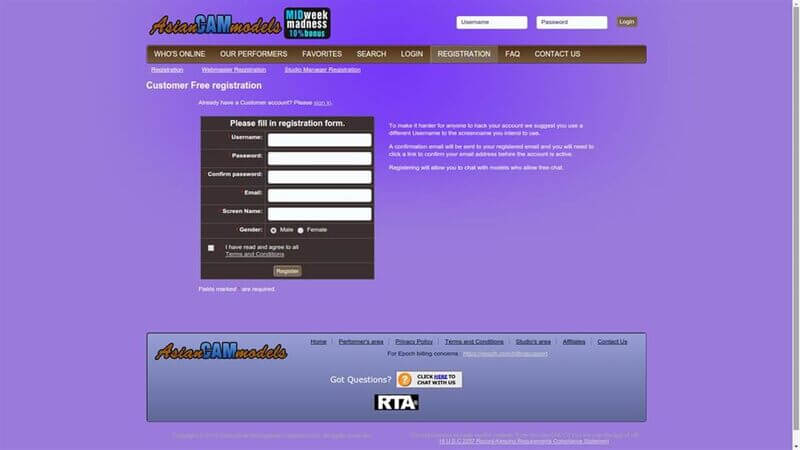 Types of chat
The free chat is just like it says on the tin, but you can only view your messages and the model's replies, not everyone else's. There's also a one hour time limit per model for free chat. The other options are Group and Private Chat, both at one credit for one minute. Group chat means anyone can join the paid room, and Private chat means it's just you and the hot Asian babe.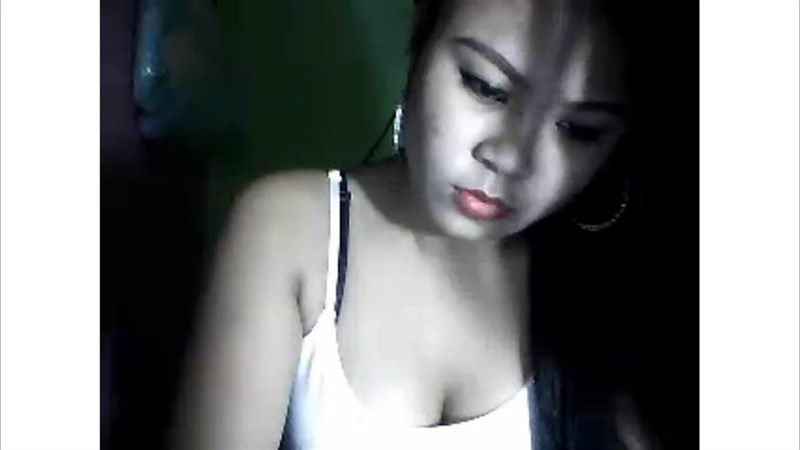 Video quality
It's a bit hit and miss, but it's mainly on the positive side of the fence. Depends on your bandwidth and the rate the model can stream at. Lots of the models have HD.
Prices
It's one dollar = one credit, and you can purchase credits packs for $25, $50 or $100. If you make your purchases between Tuesday and Thursday you get a ten percent bonus.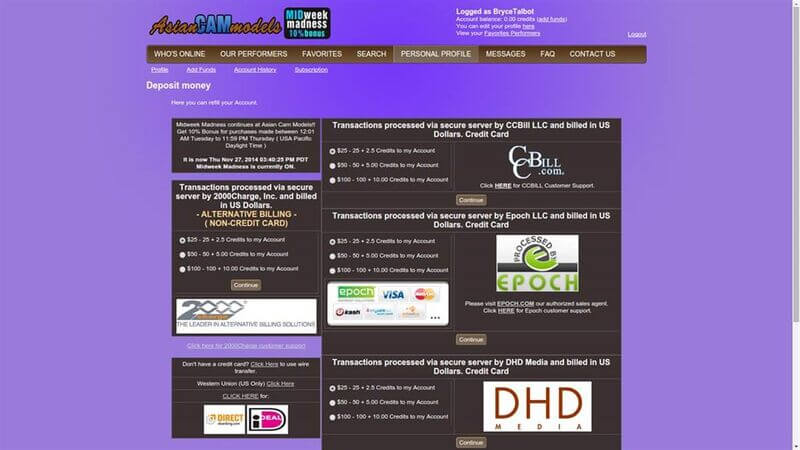 Payment methods
You can use ether Visa, MasterCard, Discover, JCB, Cirrus, Maestro or UnionPay, or one of three eWallet solutions: Ukash, Paysafecard or Click&Buy.
Number of models
They are about 4,500 models registered at the site (including 40 males). You'll find a good number online (usually bubblin' just under the 200 mark) available whenever you pay a visit.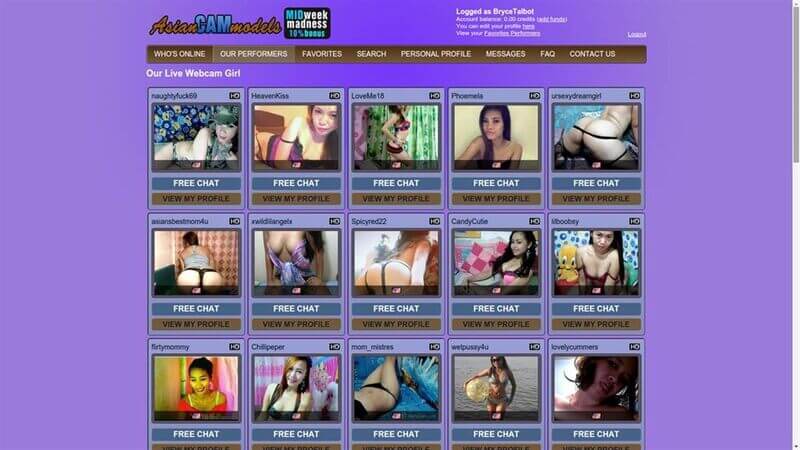 Customer support
Contact web form and live chat. I tried the live chat function, and a real person did respond very quickly. There's also an FAQ section.
Pros and Cons
Pros
✔ - Not very expensive - for most models it's just one dollar a minute
✔ - Friendly, chatty models, although not as many top-notch Asian cam performers as at other sites
✔ - Most of the HD cams are pretty good quality
Cons
✖ - A few extra features would not go amiss
✖ - Some models constantly harang you to go private
Conclusion
As you're here in the Asian sex cams section of my site, I think you're going to enjoy all that you find at AsianCamModels.com. The prices are less than most other sites, there are more than enough models to view, and the streamin' quality ain't bad at all. I could pick fault with the lack of bonus features, but other than that, for a simple site full of Asian cam lovelies, You just cannot go wrong at AsianCamModels.com, in my humble opinion!
Review of AsianCamModels.com
- Reviewed by
webcam-porn.info