The Porno Place for Deviant Divas and Fetish-Loving Fellas
Howdy howdy howdy, and as usual a huge thumbs up from your ancient pal Randy, proprietor and chief writer of a staff of one at this here webcam-porn.info site. It's time for you to sit back and relax and read another review from my calloused fingertips (all this keyboard punching does come with a price you know). Actually, if you are here in this section of my site you probably might not be comfortable sitting back on a nice, soft surface! Maybe your butt-cheeks are plastered with welts, and you're struggling to see via your gimp mask!
That's right, kinky folks. This review definitely belongs in the fetish section of my site, for those folks whose sexual tastes are a little more on the extreme side than most people. The site I am going to be reviewing for you today is FetishGalaxy.com, and is a lovely place for pervy people for whom the missionary position just ain't enough, and not by a long stretch. The site has been around since 1999 as a very, very definite adult-only site with plenty of super sexy galleries for people who are into every legal fetish you can imagine. The site moved in 2007 to a different site, leaving the URL free. Nothing really happened for six years then the site popped back into life in 2013, providing hot sexy fun for hot sexy people.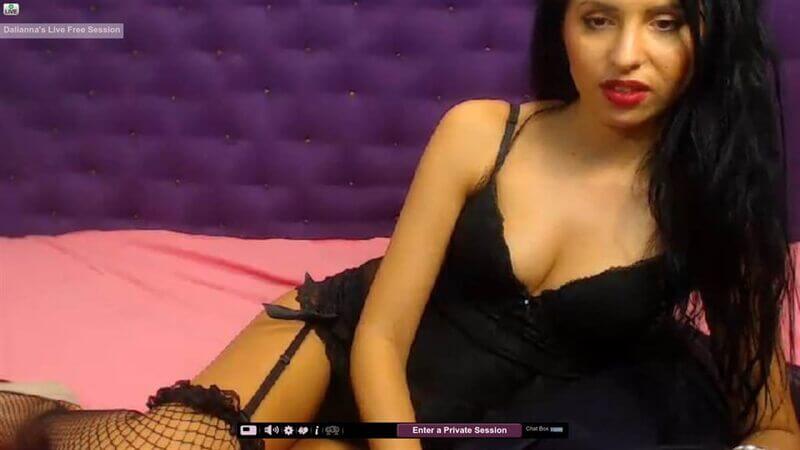 How I found the site
This site is certainly a little different to all the other cam type sites I have reviewed so far in my adult sex cam explorations. There is certainly more of a community vibe to the whole place, rather than just sexy cam models who are willing to go that extra mile on the sexual side of things. There's a nice welcome for you at the top promising you plenty of fun with cuffs, clamps, gags, speculums and fisting. There's a big menu on the left hand side with all your (probably) favorite fetishes listed, from BDSM and Cum Play to Watersports and Wet&Messy. Basically, if you're into it, you'll probably find someone else who is as well here!
The cams are a little different too. The sex cam models are known as "Live Experts", and are ready and willing to connect with you if you are ready and willing to connect with them. Each fetish cam model has their own little thumbnail with their performer name, their age, their five star rating, and what kind of session they are currently involved in - either public or private, plus an indication as whether they can stream in HD. You do get the full range of devious folk here, both male and female (and in between), so if you ain't prepared for all the many kinds of sexual tapestries that are woven at the site, then don't blame me if you come away shocked.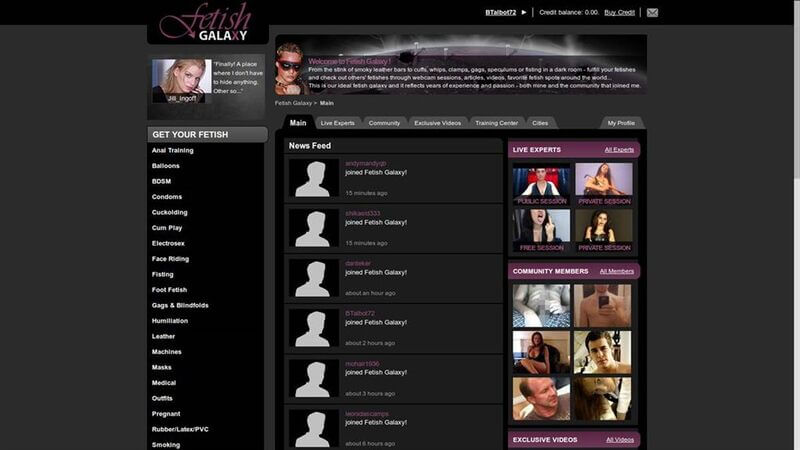 You can grab a bit more info about a chosen fetish cam model if you hover your mouse over the thumbnail, such as the languages the cam performer can converse in, their bio and any pics or videos the model may have uploaded. If the model is available you can get a glimpse into their cam room.
Clickin' on a thumbnail will take you into the cam room itself. The chat window is on the right hand side, and you have a few controls along the bottom of the window where you can expand your cam screen, add the "expert" to your favorites, turn your own webcam on if you have one, and of course switch over into that all important private session if you feel your kinkiness ready needs switchin' on.
Special features
The fetish porn cam experts are only just one aspect of this site. There's a real community kind of vibe, which you can explore by searchin' out your fellow FetishGalaxy.com members (if you've signed up of course) and readin' their profiles to find out the real kinky stuff that they are into. You can even establish a "relationship" with another member if you find someone who really takes your fetish fancy. There are also a number of exclusive videos you can watch for a price of course, and a "training center" which takes you through all the do's and don'ts of any particular freaky fetish you may be considerin' having a go at.
Ease of registration
To sign up, click on the "Join Fetish Galaxy" button in the top right hand corner. Select your Username, Password and type in a valid Email address, the click the "JOIN" button. You'll get taken straight through to complete your profile, but it ain't necessary. Once you've done this one simple step, you're all set!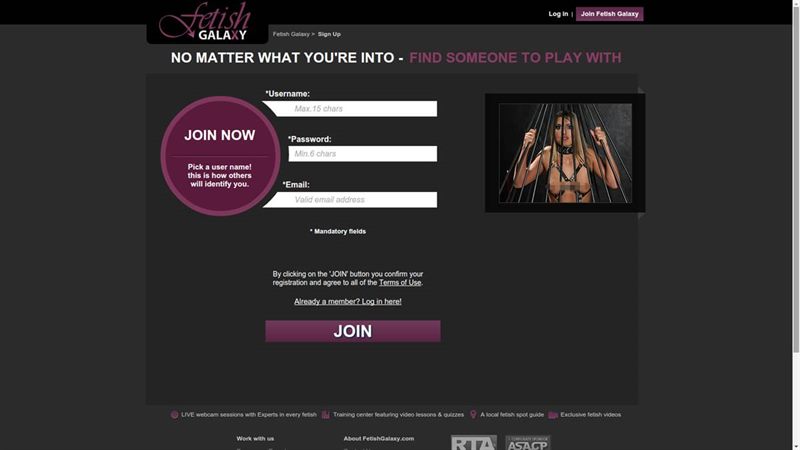 Types of chat
There's really on two types: free and private. Free is of course free but private can cost you anything in between 0.98 and 5.99 FetishGalaxy credits per minute. There's a VIP club called the "Frequent Fuckers Club" - every time you spend some credits at FetishGalaxy.com you receive "miles". The more miles you collect, the higher the VIP ladder you climb all the way up to "Sexy Platinum". You get bonus items such as cheaper credits and other freebies the more of a VIP you are.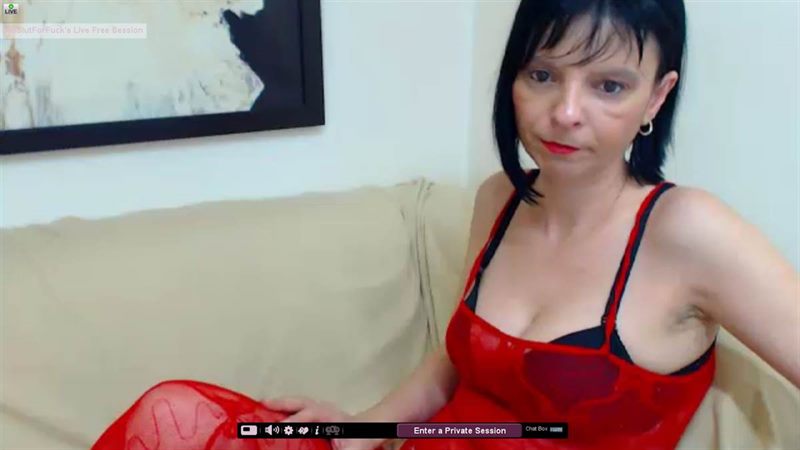 Video quality
The cams are lovely and clear, although i did find them a little bit jerky, but not in that way! I guess if you have a super-hot PC or laptop that jerkiness is going to be considerably less bothersome!
Prices
This ain't gonna strain your noggin' working this out, as it's basically one currency unit per FetishGalaxy.com credit. So if you're in the States it's one credit per dollar, and if you're in Europe it's one credit per euro, and so on. You can buy credits in packs of 25, 50, 75 or 100.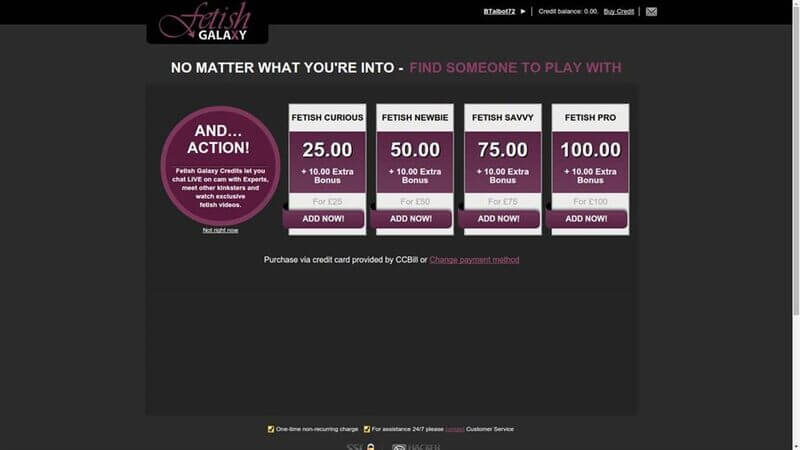 Payment methods
All payments are arranged by either CCBill or Epoch, which basically means any type of plastic, including Visa, MasterCard, JCB or Discover.
Number of models
It's kind of hard to tell, and if FetishGalaxy.com already know, then they ain't tellin'. Whenever I've paid a visit, there's been around 150 or so models online, which in my cam experience means around 2,000 to 2,500 fetish porn cam models are available online.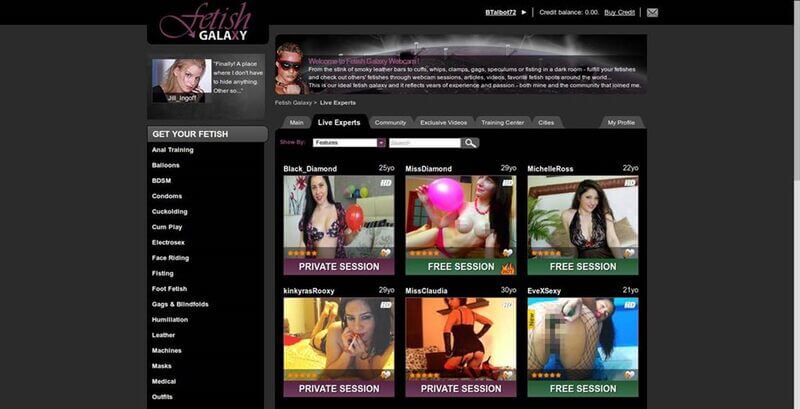 Customer support
It's not a lot of cop at FetishGalaxy.com - just one of them pesky old email message type boxes.
Pros and Cons
Pros
✔ - The cams seem pretty cool, quality-wise
✔ - Lots to keep you entertained, no matter what your particular fetish may be
✔ - A good sense of community, and you can get to talk to people who share the kinda things that get you excited
Cons
✖ - Very poor support options
Conclusion
I ain't the fetish kind, I must confess, but I think if I were, then FetishGalaxy.com would definitely be the site I'd be heading for. I suppose there's most bases covered here, from the kinky to the downright perverse, but everything does seem nice and legal. What adults get up with each other in the privacy of their own sex porn dungeons is their own beeswax, as long as they are both consenting and are old enough to be consenting. There's lots of sexual extremes covered, and lots of people to engage with who like to explore the boundaries of sexual activity. Just ain't for me, is all ... now, where did I put that battery-powered butt-plug and those electro nipple clamps ... ?
Review of FetishGalaxy.com
- Reviewed by
webcam-porn.info