CamSoda Review - Super Hot Naked Cam Girls in HD, What Are You Waiting For?
Howdy partners, Randy here and I gotta tell ya that I've been pretty busy these last weeks on the 'ol interwebs and I've struck gold! Come a little closer and get yourselves nice and comfortable as I reveal yet another wild world of live x-rated chat. Read my CamSoda review and find out more about this newish site that's making big waves in an ever-growing sea of naked cam girls.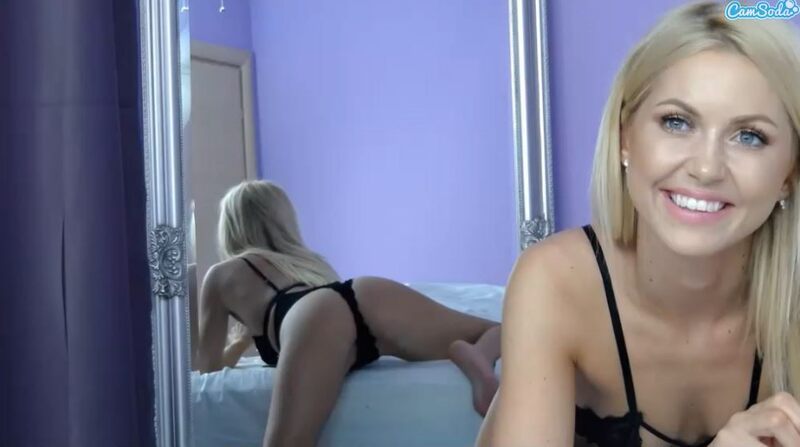 How I found the site
Hubba Hubba and Whoa Nellie, this site is one jaw-dropping, eye-opening treasure trove.The initial feel I got from the site was kind of like being a kid in a candy store, not quite knowing where to look first. One things for sure, my eyes are as big as my, ahem, appetite. I like a naked cam girl as much as the next cowboy, and then some. This site had me exploring for hours.

The moment you enter the site, you notice 2 colored bars at the top, 1 pink and 1 blue. In the pink bar you can find some of the sites featured categories as well as the 'Sign In' and 'Join Now Free' buttons. The blue bar has the 'Search Cams' function and 'Model Signup' button. I'm not blown away by the color scheme, but then I'm not here to talk art. I'm here to explore the world of live x-rated chats.

What else?

You are also greeted with a page full, and I do mean full of honeys. Some of them are scantily clad, some butt naked, some with toys and some are with others. So long as you keep scrolling, you will see sexy blondes, vivacious brunettes, exotic Asians and sultry Africans. All of them waiting for you to click on their picture and join them in a live x-rated chat that can only leave you smiling and cleaning up!

So click I did,

Immediately I entered into this chat room with a fiery little red-head who was semi naked and inviting. This honey was winding and gyrating and doing all kinds of wonderful with that hot-bod of hers and one of her kinky toys. Aside from the video, there was some chat going on so I mosey on over there to greet the babe and say hello.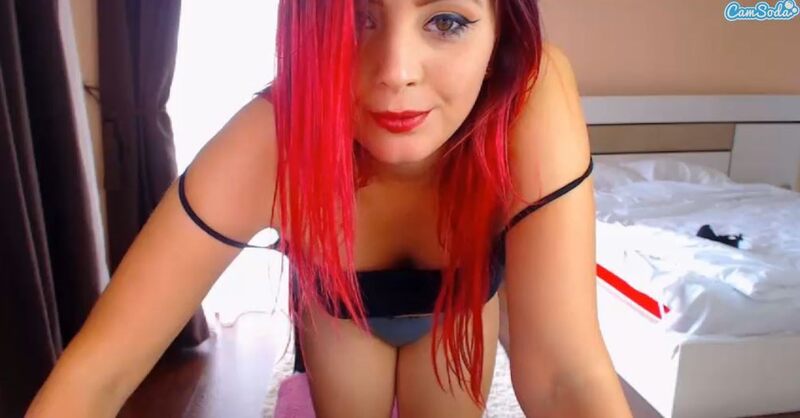 A small pop-up window appears prompting me to register. Uh? Ok, so as a visitor, I'm unable to join in live x-rated chats, but I am able to watch smokin' hot naked cam girls. I can live with that, but I wanted more. I filled in my registration, and became a guest member, and proceeded to return to my red-headed wonder woman.

I type 'hi, how are you?'

A message is returned to me saying, 'your message could not be sent! This performer only allows users with tokens to participate in chat. Buy tokens to enable chatting!' Ok, so it seems as a registered (non-paying) member, I'm limited to what I can do, which seems to be only watching. Not the end of my world, but a little on the frustrating side.

Special Features
As with most adult sex cam sites, users want more than just the viewing experience, users want to feel a part of the show and join in the fun. In this review of CamSoda, discover some of this sites' pretty nifty features that will keep dem gals paid and you entertained. After all, the aim is to please, which is afterall, a 2-way street.

Say what?

I'm talking about showing appreciation the good 'ol fashion way, a little give and receive. I'm talking about tipping. This isn't that new a concept in the online adult xxx community, and no surprises that CamSoda works in more or less the same way. These honeys need to earn ya'll, they have places to go and bills to pay.

CamSoda have chosen Tokens as their currency, and member are encouraged to buy and load Tokens to their accounts. Tokens are used for tipping your favorite models, taking them into Private Chats, watching Top Videos and not forgetting, interacting with the model and her toys. That's right cowboys, gotta pay to play. Live x-rated chats boosted to a whole new level.

What do I mean?

Some CamSoda models have toys that are used in both public and private shows. These toys range in shape, size and name, however, the 1 thing that most have in common, is the fact that members with Tokens, are able to control these toys. So long as you are happy to pay, oh boy, these sassy naked cam girls are happy to play.

Spin It!
Members simply tip the Token amount, that has been set by the model, and then the wheel of fortune spins. Whichever action the wheel lands on, the model performs, leaving users instantly satisfied. Some examples of wheel actions you can expect to find include oil on tits, 2 minute dido suck and 5 spanks, to name a few.
Roll It!
A feature whereby Members can tip their honey of choice by 'rolling dice'. The models choose the Token amount they wish to charge, and assigns prizes for each number outcome. Members click the 'Roll It' button, the outcome will be shown along with the list of prizes. The number that the dice land on, is the action that the model will perform.
Pull it!
In staying with the casino theme, this playful tipping feature is for the benefit of the model. Pay your Tokens and pull the handle. Just like them good 'ol slot machines. And just like slot machines, there are different levels of probability, ranging from 'happens very often' to 'happens very rarely'. The more Tokens that you spend, the higher your chances of winning that jackpot, maybe a 'SnapChat for Life' account with your favorite sex cam model.
Control Her!
Now listen up here partners, this is indeed a special feature on CamSoda. This is a control setting for the Lovense, a popular sex toy used by the babes during their explicit live x-rated shows. Models set a price and duration, then Members are granted control of her toy. Them Tokens sure do tickle them naked cam girls pink!

CamSoda sure do have you covered with their super variety of categories to choose from, including cam2cam, top rated, spy shows, #live-sex, #squirt and #big-tits to name but a few. If the selection of categories from the homepage isn't enough, just click on the 'view all tags' button.
Here the mind is boggled as you search and discover everything from fetishes to tit size, ethnicity to feet, toys to ... well, you get my drift. CamSoda have it all. Which naked cam girl will you choose?
Ease of Registration
As I mentioned before, signing up with CamSoda was painless and straightforward. On the homepage, top right, you will notice a green 'Join Now Free' button, click it. A small registration window appears asking for 3 pieces of info: Username, Email Address and Password. Complete, and then be sure to confirm your gender, the default is Male, but kudos to CamSoda for also including Transsexual as a choice. The terms & conditions field has already been checked. Sweet, good to go.

It's important to note, that although you have now registered and have an account with CamSoda, your status is that of Basic user. Purchase and load Tokens to start playing and having fun with that naked cam girl of your dreams.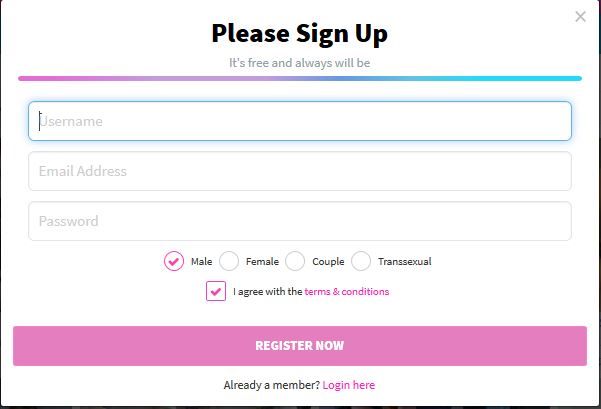 How about membership levels?

There are 3 kinds of membership levels on CamSoda, I'll make this short and sweet.

Guest User-

Pop into CamSoda and look around. Anyone who does so, and has not registered themselves with a username, is a guest user. Guest users have viewing access to all public chat rooms 100% free, however can not chat or tip sexy hot cam honeys.

Basic User-

Users who have signed up with a username and have an account. They do not pay a monthly subscription, but are able to purchase Tokens and load them to their accounts. This membership gives you access to all cam chats, 100% free, including access to view multiple cam chats, free.

Premium User-

This is the 'big-daddy of users'. These members enjoy 100% free cam chats, as well as access to view multiple cam chats. However these members pay a $19.95 monthly subscription for added benefits. These benefits include a clean, advertisement free interface, also the ability to control the Tip Volume, a huge plus, if you found that noise as annoying as I did. Premium Users also have access to Private Messaging, and receive a 1 time gift of 200 Tokens on upgrading from Basic to Premium.

No matter your status, on CamSoda.com viewing naughty naked cam girls is but a click away.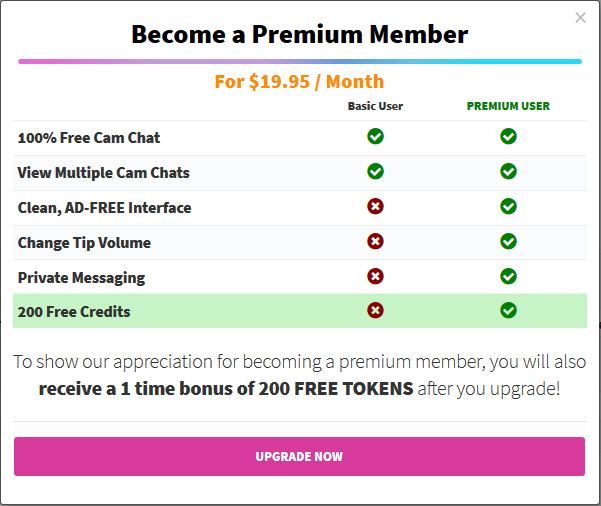 Types of Chat
As ya'll probably figured out by now, Basic Users will find it difficult to chat as the majority of the naked cam girls only accept chatting with paying customer, those members with Tokens loaded or Premium Users. That said, ultimately it is up to the model, who she wishes to chat with, and sometimes in quieter rooms a honey will happily chat, even with a Basic User. Though don't go getting your hopes up now.

Premium Users can have it all, from chatting in public chat rooms to going private, and enjoying live x-rated chats with honeys of your choosing. Premium Users also have the added benefit of CamSoda's Private Messaging service, a feature that allows 1 to 1 messages between you and your babe. This is perfect for those gentleman who want exclusivity.
It's important for me to discuss some interesting and kinky 'chat rooms' which can be found on CamSoda. Voyeur Shows which are 'big brother' style camera shows broadcasting 24/7. You never quite know what you're gonna get, and sometimes you can be very pleasantly surprised. Spy shows are live sex shows taking place in private, where the user gets to 'spy' for a nominal Token fee. This feature is particularly appealing to your inner voyeur.

Another cool feature for Premium Members is cam to cam streaming. Not exactly a feature that is unique to adult cam sites, but nonetheless, one worth mentioning. Enter any sex cam girls' page, and bottom right you will find a 'Stream Cam to Cam' button. Click and follow the instructions. For that ultimate personal xxx experience.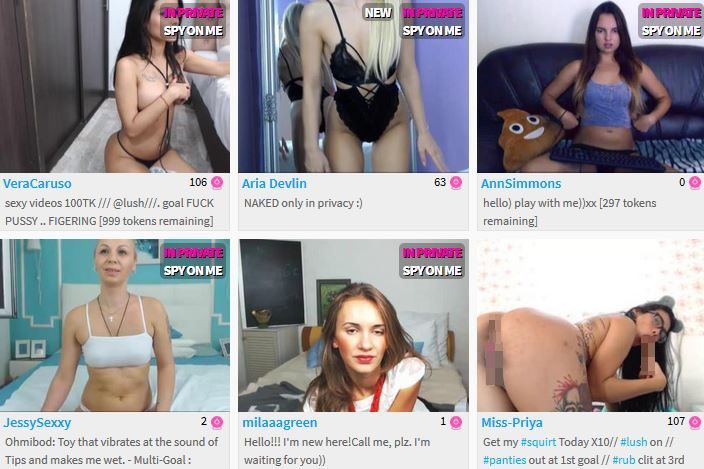 Video Quality
Well, I'm gonna tell you all that I was very much impressed with the quality of the video streaming on CamSoda. A rich picture with High Definition, I could almost reach out and feel the action on my monitor. Now, don't be judging ya'll! Choose from the many inviting naked cam girls and enter her room.
Once there, you essentially have 2 pre-set options of picture size, best fit and full screen. Best fit was my choice, as with full screen, there was a little loss of picture quality, but hardly worth moaning about. I reserve my moans for somthing else, and if that something else should include live x-rated chats, sometimes my moans could be groans too.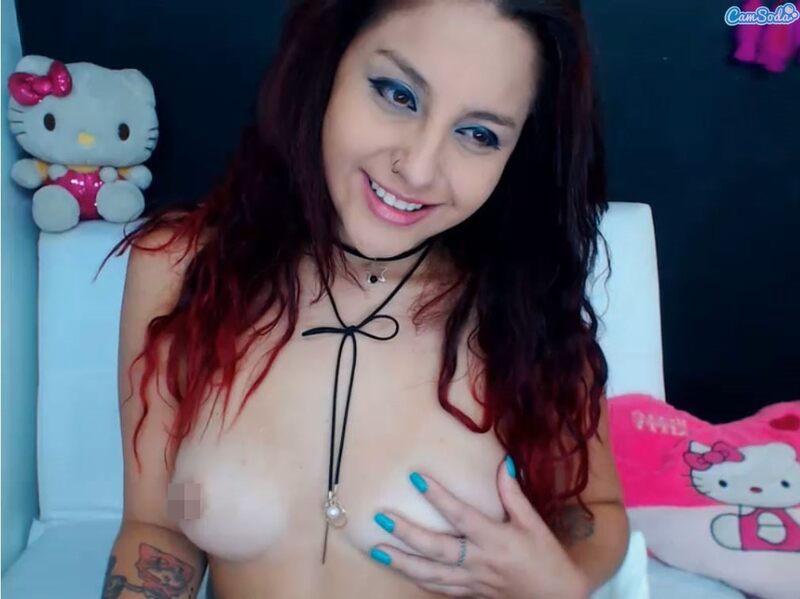 Prices
As I have already mentioned in this review of CamSoda, visiting this site is 100% free. You heard me, as a guest, you don't need to pay a single dime to enter a naked cam girl chat room and have your world rocked, provided that she's online.

Premium Members or Users pay a monthly subscription of $19.95. Members who upgrade their membership to Premium, are given a once-off gift of 200 Tokens, a nice touch from CamSoda.

Regarding the variety of shows, and as for the pleasure or play costs, these amounts differ. Token rates are set by the models, and each honey seems to have her own menu and prices. It's best for you to explore and discover the costs yourselves.

So, what are Tokens?

As I have already mentioned in this CamSoda review, Tokens are the virtual currency that CamSoda offer to users who want to join in the fun and tip their most prized performers. Members have the choice of 4 different Token packs.
Available Token Packages
| | |
| --- | --- |
| Tokens | Dollars |
| 50 Tokens | $5.99 |
| 100 Tokens | $10.99 |
| 200 Tokens | $20.99 |
| 550 Tokens | $49.99 |
Payment Methods
The various options for conventional payment include: MasterCard, Visa, Maestro, Discover and JCB. It's worthwhile mentioning, CamSoda also accept PayPal, Wire Transfers and checks as payment. They have certainly covered their bases when it comes to collecting the cash.

If you prefer paying via a payment portal, no problem. CamSoda offer you the choice of 2 reputable global payment portals: SEGPAY and EPOCH. Both are tried, tested and trusted.
Customer Support
As is with most sites, CamSoda have a FAQ's page for those 'unanswered' questions, or additional information. At the bottom of the homepage is a button labelled SUPPORT. Click here and you are taken to another page, which includes billing and technical support as well as Forgot Password assistance.

If you are having a problem with billing, all relevant information is provided including contact phone numbers and email addresses. All other queries can be mailed to support@camsoda.com
Pros and Cons
Pros
✔ - Access to 100% Live X-Rated Chats.
✔ - View Multiple Sex Cam Models - Free.
✔ - High quality video stream.
✔ - Fantastic and wide selection of categories to pick from, there were over 7000 adult cam girls listed at the time of writing this here CamSoda review.
✔ - Nudity. This site is loaded with naked cam girls to chat with and watch.
✔ - Cam gals can rate users, who they think are being nice, using a 'Like' button. Each week, the winner receives a gift of 1000 free Tokens.
✔ - Even as a guest member or a registered nonpaying member, you are guaranteed of seeing 100's of naked cam girls doing their thing, no strings attached.
✔ - Accepts PayPal.
Cons
✖ - Most of the cam babes only focus on paying or tipping clients, and don't pay too much attention to anyone else.
✖ - No gratuitous bonus Tokens given when signing up, something which 'ol Randy would have liked.
✖ - Though I am able to view Multiple Cam Models, the sites performance was a little slower, when comparing to other sites such as Chaturbate.com, for example.
✖ - I need to pay $19.95 per month so that I can adjust the volume of that annoying tipping sound. Say what?
✖ - Private Chat seems to be the only benefit of becoming a Premium User, eh.
✖ - The default home page is the featured category that displays, I can understand how some people would have preferred the category women to have been the default setting.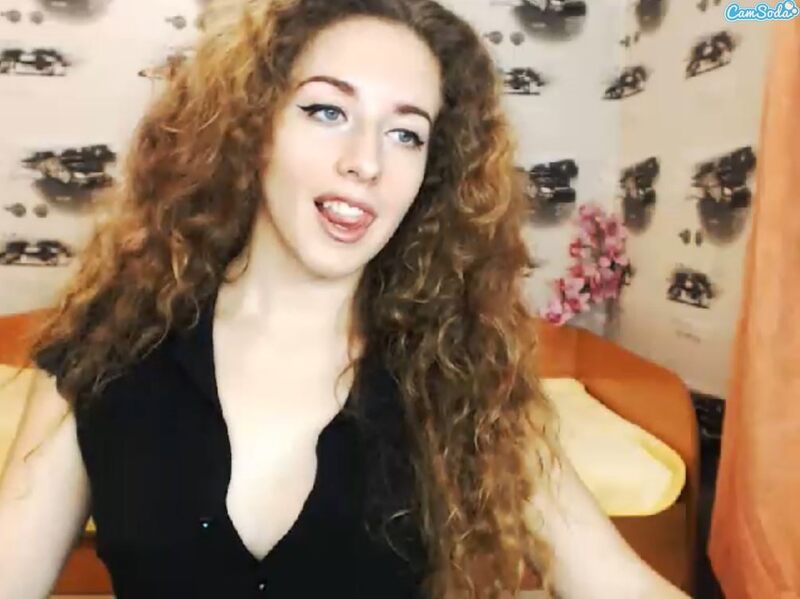 Conclusion
In this CamSoda review I would like to offer congratulations. Hats off to CamSoda for bringing to the online xxx community a stellar site. This is a 100% Free Live X-Rated Chat site, giving users access to 1000's of hot honeys. The emphasis of this site is undoubtedly on the paying client. That said, all users: guest, basic and premium are guaranteed to nudity and even possibly a show. This is a key influencing factor when visiting CamSoda.com.

This is a good site to view quality and creative porn in high definition. CamSoda is also the place to meet and mingle with lusty babes in live x-rated chats, so long as you keep those Tokens flowing. Life is for the adventurous and CamSoda have you covered with their multitude of cam girl categories to choose from, such as #ohmibod, #latina, #big-tits and #milf, to name but a few.

I'm not too sure about their Premium User membership option. At $19.95 per month, it seems a little steep. That said, there are definite benefits that you will enjoy. These include private messaging, and being able to adjust the volume of that ridiculous sound that is made when users 'tip' the models.
Members who go Premium also receive that once off gift off 200 Free Tokens, these can go a long way, depending on how you play. Also, Premium Users enjoy CamSoda's Private Messaging service, a private 1 to 1 chat service between the user and the model. Personally, I would recommend joining CamSoda, and signing up for the Premium Membership for 1 month, scoring that gift of 200 free Tokens. After 1 month I would recommend cancelling that subscription, reverting back to a Basic User who buys Tokens. I believe that this way, one would score the most out of their CamSoda account.
For a site that only launched in 2015, CamSoda are on the right track and are doing well. This site has come out of the starting blocks strong and are looking promising. They are sure to grow in size and stature, and I'm sure they will continue bringing us the very best in live x-rated chats, and top rated naked cam girls.
CamSoda is site that will keep you fidgeting for hours on end. Until the next time we meet partners, ride safe and ride hard. See ya'll real soon.
Review of CamSoda.com
- Reviewed by
webcam-porn.info