DxLive.Com - The Place for the Best Japanese Sex Cams!
Hello folks, yet again. Time to stop whatever it is you're currently gettin' up to (unless you're currently on an adult sex cam site of course) and read another of my hard-boiled reviews. Again, a special welcome if you're a first time visitor to this section of my site, as you're obviously in the hunt for some Asian sex experiences. Well, I've been in the hunt for another site that provides the best Asian sex experiences, and I think I've found another candidate! Here we go with my review of DxLive.com.
That's certainly a name that's not givin' any beans away. I'm sure that "DX Live" means something to someone somewhere on the sexual side of things, but I ain't gettin' it. It might mean something to the people of Japan, as most of the Asian sex babes (and it's babes-only here) are from the land of that there rising sun. Anyway, from what I've been able to purloin once I'd shoved on my detectin' hat once again is that this site has been providing the best in Asian sex cams since 2002. That surely means they've had a very long time to get things spot on when it come to providin' adult sex chat experiences. Let's find out, shall we?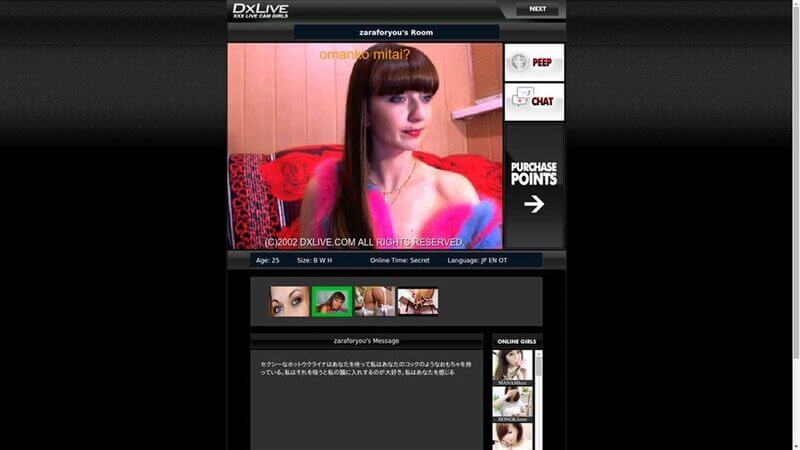 How I found the site
First up, don't be scared and be wonderin' what the heck is going down when you pop to the site and it fills up with loads of mysterious little symbols. This is a Japanese site, so you're gonna get the Japanese alphabet, ain't ya? The site will soon work out where you are and direct you to the version of the site that you're most likely to find readable. Which in my case is plain old English and nothin' else!
The menu screen ain't gonna hold much surprise for you, especially if you are a seasoned sex cam pro, as you ought to be by now. The menu along the top has a search function (you can choose the language the girl can speak if you really wanna get communicatin'), a nice little section explainin' what to do if it's your first time here, and a more detailed "How to" section and FAQs, plus the join and login buttons.
The secondary menus let you filter the girls. You can select "ALL" (the default settin'), "Remote Toy" which means Asian cam girls who have a remote sex toy you can control, "New Girls", "Popular" models and those with microphones. All lookin' good so far!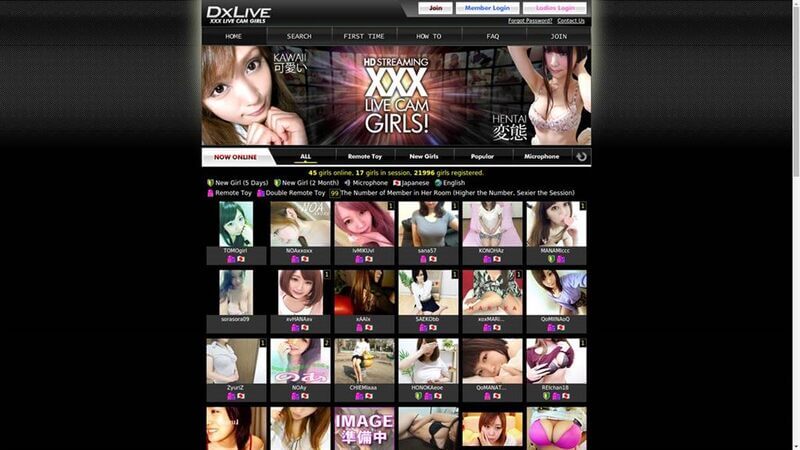 Onto the menu screens themselves. You can see the Asian cam girl's performer name, her country of origin and (again) whether she has any sex toys you might feel like remote controlin'. In the top right hand corner there is a number, which is how many people are currently in the sex cam babe's cam room - usually it's only one or two (or no one), so you can usually find a model or three who ain't currently too occupied. There ain't no previews available from the menu screen, which is kinda disappointin'.
Click on the model to enter her cam room. You'll get a pop up with a bit more info - age, bust, waist, hips, the Asian porno babe's typical online time and the language she can speak in. Sometimes there's photos you can view, and most of the time there's a welcome message, but as most of them are in Japanese, they ain't much use unless you can speak the lingo. There's also buttons where you can "Peep" (see later), "Chat" and purchase points. So far, still so good.
Special features
Not a great deal, unless you count those sex toys you can play with. Most of the girls seem to have them, so must be an Asian or a Japanese thing, but that's just a wild guess on my part.
Ease of registration
There's two "Join" buttons near the top right hand corner of the screen, but this ain't gonna be what you're suspecting, and I bet you kinda know what's comin' (and what's not cummin'). To join DxLive.com you have to buy points (the "currency" of the site), and points cost $2 a minute ... and (I hope you're sitting down), the MINIMUM purchase is a whoppin' $49.95. Oh well ... things were lookin' so darn good ...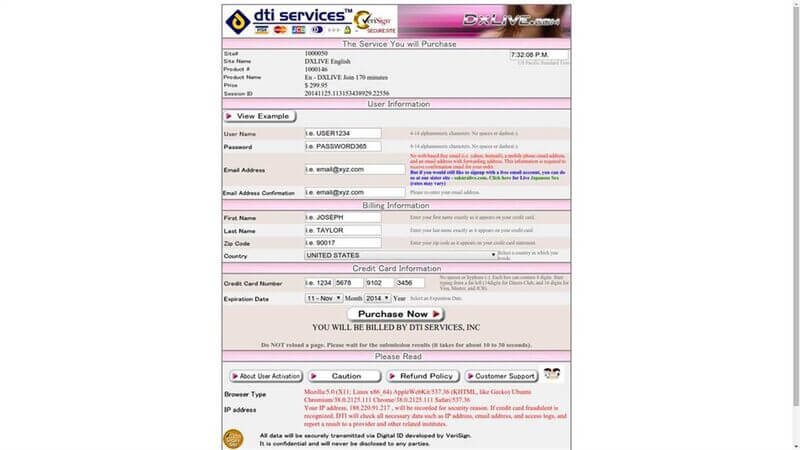 Types of chat
You can preview if you're not registered but the previews only last around thirty seconds. The two cheapest forms of chat are "Peeping mode" (seeing what's going on at a private show) and "Chat mode" (normal chat). One minute = 1.2 points says the site but I think that's an error as it says private chat is cheaper, at one minute per point. You can get two-way chat or remote-control a toy for the same price. Combine private chat and two-way chat, or go for double-remote-control for double the fee. You can send messages for one point per message, or gifts such as teddy bears and hearts.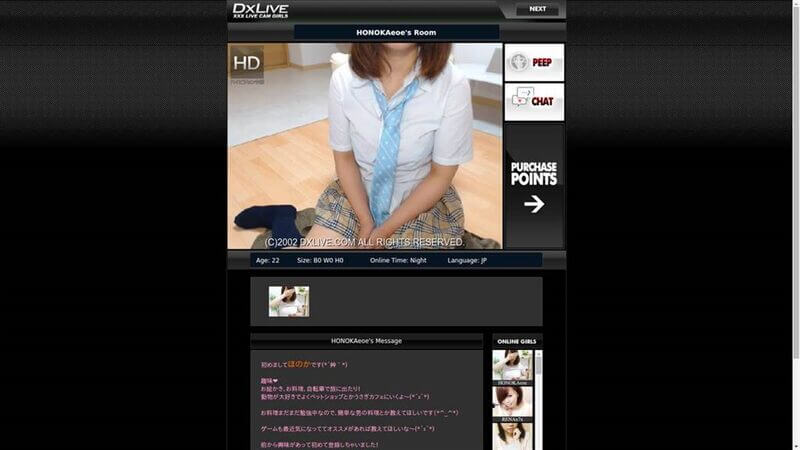 Video quality
If you haven't as yet been tempted to part with your money, I can tell you the cams here are of a very high quality indeed. The HD is breathtaking, and the SD is pretty darn fantastic as well.
Prices
You can pay for membership packs as follows:
| Price | Course | Minutes |
| --- | --- | --- |
| $49.95 | Bronze | 25 |
| $99.95 | Silver | 50 |
| $199.95 | Gold | 110 |
| $299.95 | Platinum | 170 |
You have to make at least a $49.95 purchase to join, as I said earlier.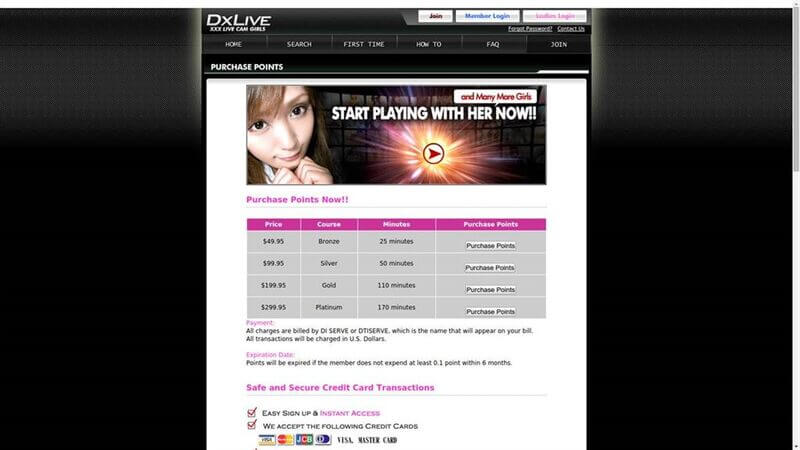 Payment methods
Payment is made via DTI Services, by Visa, MasterCard, JCB or Diner's Club.
Number of models
There are 22,000 models registered at the site. Whenever I took to visitin' there were between 40 and 100 girls online.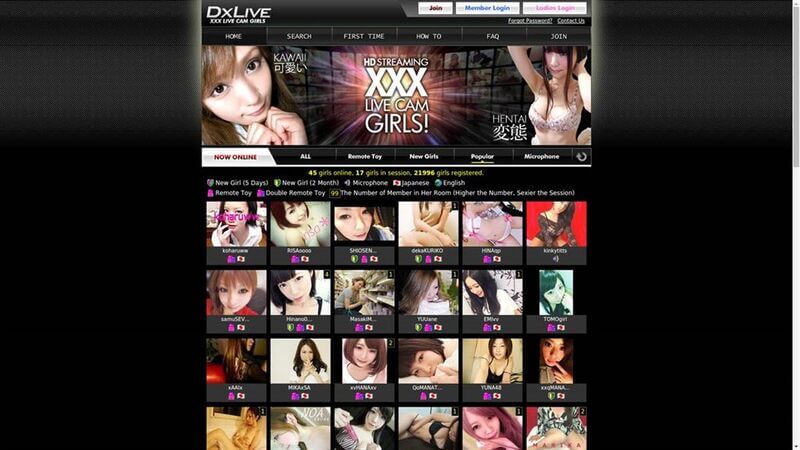 Customer support
There are good articles for newbies and a decent "How To" guide and FAQs. Contact is only though via a contact web form at the site. No phone numbers or email addresses.
Pros and Cons
Pros
✔ - Excellent, high-quality cams and lots of very pretty sex cam models
✔ - At around $2 a minute for private chat, which is not at all expensive
✔ - Far more models than punters, so you'll always have lots of Asian porn cam girls to chat to
Cons
✖ - That minimum $49.95 charge is a major hurdle
✖ - The support options are not terribly brilliant
Conclusion
Aw, shucks. I was gettin' real excited about this site, until I came to register. Just to explore a site, no matter how good it looks (and DxLive.com does look really good, especially, as I mentioned, those lovely HD Cams), ain't worth paying $49.95, even if that grants you twenty-five minutes. You may feel differently of course, so why not head to DxLive.com now and have a look around? If you don't mind paying $49.95 or more every time you want to top up those points, then I am sure you're going to have an excellent time!
Review of DxLive.com
- Reviewed by
webcam-porn.info