MyFreeCams Review - OMG! It's Full of Cam Girls!
Howdy, y'all. It's your good buddy Randy here again. I hope you've had yerself a mightily pleasant weekend and your best friend ain't too sore with all the attention you've been giving him over the weekend at all the sex chat sites I've been reviewin' for you. Well, guess what? Here's another hot adult sex chat site I've found for you so you can add to your list of cam faves!
MyFreeCams.com says it is the largest online webcam network, and works its butt off to connect ladies and gents with similar carnal interests across all four corners of that there world wide web. It also says it has the highest commitment possible to its models, and to its members, and strives to keep as much of the site as free as it possibly can. Guess that's where "Free" in the name comes from. The site was launched in 2004 and by 2010 had become what the industry group XBIZ described as "one of the world's largest adult webcam communities." It was also said that the site had 100,000 models and more than five million members.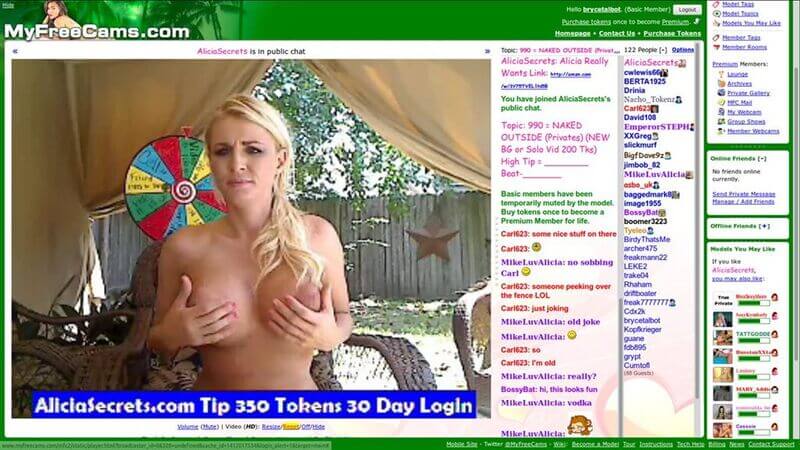 How I found the site
Well, to be honest the first thing I thought when I jumped into the site was that I'd been sucked into some kinda Internet time tunnel. As I told yer above the site's been around since 2004 and I don't think it's been updated since then. Still, it must be doing a whole lot of stuff right because it won the XBIZ award for "Live Cam Site of the Year" in 2011, 2012 and 2013, and it has been nominated for lots of awards. I think when you're used to the plush surroundin's of LiveJasmin.com it's a little bit of a shock to the old system when you end up at some place that looks like it has less thrills than a Wikipedia page. Still, a nice rack on an x-rated model is still a nice rack on an x-rated model no matter how pretty the darn pictures are and how much HTML codin's been done. I'm here for the bits, not the bytes, after all!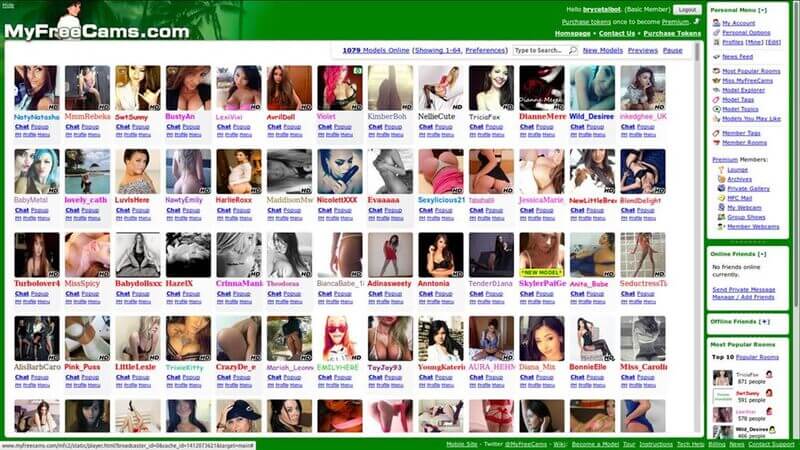 The first thing that stands out at MyFreeCams.com is that it's very much solo cam babes only. When you get busy on the main page, you'll notice that there's nothin' for people who have more adventurous tastes, and nothin' for guys who prefer looking at guys. There's two ways of looking at the models in the menu page - thumbnail or preview, The thumbnail view is of course the cutest little picture the xxx model has delivered to the site, while the preview option lets you look ahead at the web cam action you might just be viewin' in a few sexy seconds time. Be prepared though - the preview screen will eat up both your bandwidth and your processor, so you ought to make sure you have one big and meaty PC machine if you wanna take that route.
MyFreeCams works in the same way as most other x-rated cams sites - you find your favourite girl and you join her with dozens of others in her current public show, If yiou like what the old peepers are seein', you can pay the model to go private, or you can just tip to show your appreciation.
Special features
Most of the special features at MyFreeCams are only available for Premium Members, and Premium Members are those who have splashed a little of their cash around to buy tokens for tipping and private shows. Premium Members can join the "Lounge Area" to chat with other Premium Members whilst watchin' live xxx models. You can also record everything you do when you're a Premium Member, and you get sent random photos of the sex cam babes for you to ... look ... over whenever you like. You can also receive PMs or even SMSs when your favourite x-cam babes appear online.
Ease of registration
Most of the stuff (aside from the private stuff) you can do for free at the site. You can sign up just by choosin' a username and givin' MyFreeCams your email. You'll need to confirm you're over 18 of course, and to activate your account via the activation emails that will be headin' over to your inbox. To become a Premium Member all you need to do is buy some credits or tokens (see below).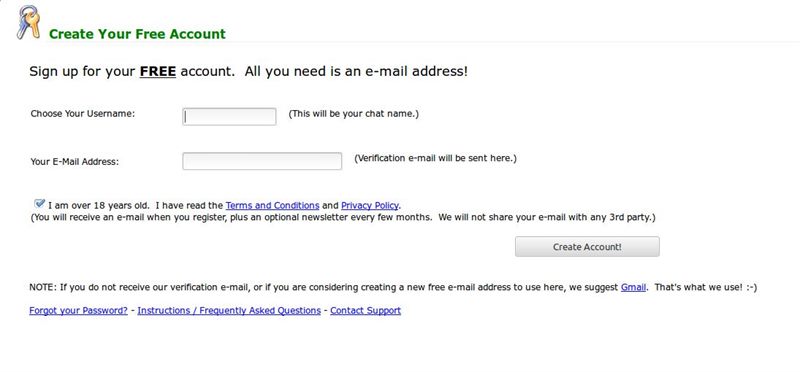 Types of chat
You can of course chat to your favourite lovely lady for free, but don't be too despondent when nothing carnal happens. For that you need to ask your xxx babe if she fancies a little one-on-one private action. Some girls are willing to get a little frisky in free chat, including going topless. You can join a group show if one is on offer for a slightly cheaper rate than private.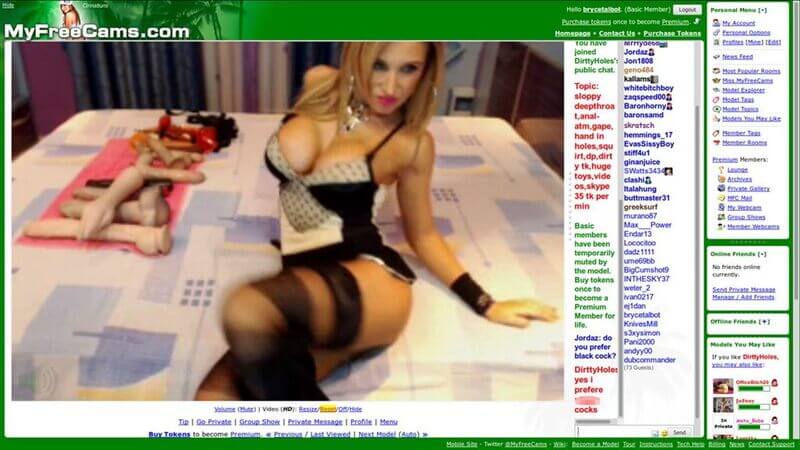 Video quality
The quality cannot be argued with, as most of it is in HD, and you can see which babes have HD an which don't before you join in any chats. Sometimes the cam takes a while to load, and sometimes it doesn't load at all without refreshing, but the cams do run smoothly once they're goin'.
Prices
You buy tokens to use at the site as follows (USD only):
USD $
Price
Tokens
$19.99
200
$49.99
550
$74.99
900
It's one token per second to go private, so for five minutes of private action, you're going to need 300 tokens, which is about $30, which seems a little on the pricey side to me.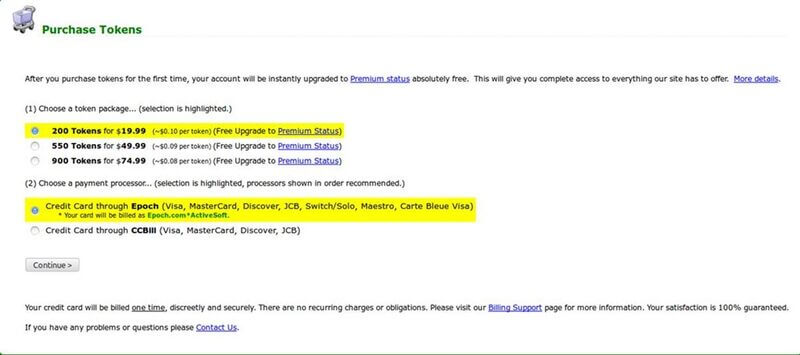 Payment methods
Only plastic is accepted: Visa, Mastercard, Discover, JCB, Switch, Solo, Maestro and Carte Bleue Visa.
Number of models
There are over 100,000 models registered with the site, but not all of them are currently active. If you head on over to the site you'll probably find 1,000 or so online.
Customer support
There's a sizeable Wiki at the site you can consult, and in it you will find a contact form you can use to contact MyFreeCams. You can also email them at members@MyFreeCamsmail.com, and that's about as far as it goes for support.
Pros and Cons
Pros
✔ - There are plenty of xxx babes to go around, and good lookin' ones at that
✔ - Lots of the models are willing to push the boundaries with free chat, more than at other sites
✔ - Going Premium unlocks plenty of extra-special features
Cons
✖ - Despite being My "Free" Cams to get in on the juicy action seems more expensive than other sites
✖ - The site in in serious need of an overhaul
Conclusion
Okay, I'm not quite sure how to put this all together. I like MyFreeCams, that's for sure, especially as the sex cams girls are definitely a cut above the kind of special lady you see at other sites, and they're willing to play the kind of games for free that some girls are reluctant to play for money! But, I don't like the site's design, and there's this kind of double chat window that takes up a lot of space and is full of the kind of desperate chatter I ain't got no time to be readin'. It's also a little bit too expensive for my tastes. Why not head to MyFreeCams yourself and make your own mind up?
Review of MyFreeCams.com
- Reviewed by
webcam-porn.info