Cams.com Review - If You Have Particular Sexy Tastes, You'll Love Cams.com
Well howdy folks, how you doing? I'm fine myself, thanks for asking. I'm fine and dandy and feeling randy (which, in my case, has a real double meaning, if you get it?) and ready to present you with another review of an adult chat site.
This time I'm heading to Cams.com, another site literally chokin' with fine sex cam models all waiting to share their delights with you. Now, before I get into the meat of the reviews, Cams.com does have a kinda interestin' back story that I'd like to relate, as instead of reviewing Cams.com, if events had taken something of a right-angle, I could be reviewing Facebook instead, as horrible as that sounds. In 1996 some dude named Andrew Conru started a social-networking site called "FriendFinder", beatin' Facebook by eight years! The idea with FriendFinder is that you could connect with people you already knew, or new buddies with similar interests. Of course, with people being people, some guys and girls started posting nudie pics of themselves and using FriendFinder as "SexFinder" instead! Mr Conru shunted all these horny people onto a new site: "AdultFriendFinder", which just grew and grew. Cams.com was simply the next logical step in the process, and Mr Conru's company was eventually sold to Penthouse for $500 million. They didn't do so well and "FriendFinder" went bankrupt in 2013. The whole mess was restructured with Mr Conru in charge, and Cam.com lived to supply porn for another day!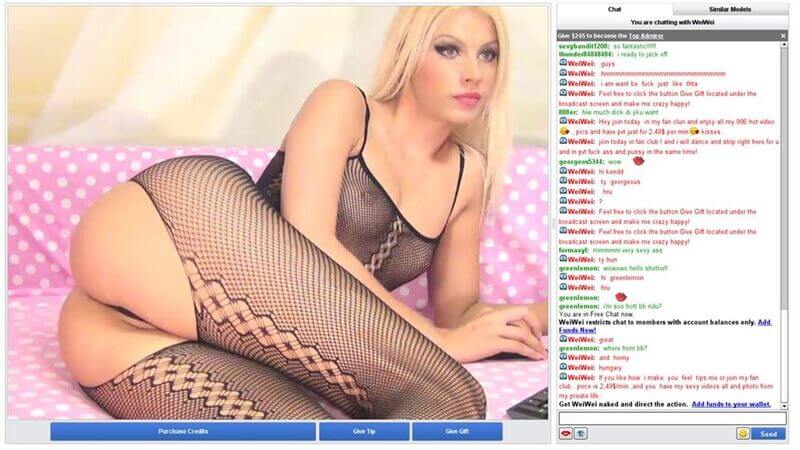 How I found the site
So, how does everything go down at Cams.com? Well, for a start, Cams.com promises the "hottest live sex cams" which is a pretty bold claim to make, especially when you're dealing with a sex cam connoisseur like old Randy here. The first thing you are struck by is how the sexy babes are sliced up into categories - you can choose Age, Ethnicity, Speciality (like Couples, Live College Girls, Porn Stars Cams, Threesome Cams and MILFs), Hair Color, Body Type (sections for "Huge Tits Girls" and "Small Tits Girls"), Kinky stuff (the site has 278 models for "Foot Fetish" and 302 for "High Heels Fetish"), Kinky Attributes (Tattoos), Orientation and Gender. I suppose if you are REALLY fussy about the kind of adult chat girl who want to "chat" with Cams.com will be the mutt's nuts for you. The "Age" category was split into 18 to 19, 20 to 25, 25 to 40 and Mature. I'm sure Cams.com has some kinda age check thing for models in place, but I stayed out of the 18 to 19 category, just in case. All of these sexy babes has a small picture indicating their availability, but unlike other sites, if you hovered your mouse over the pic, the image doesn't switch to video, which is kinda disappointing. Anyhow, registration with Cams.com is free, so that's what I did.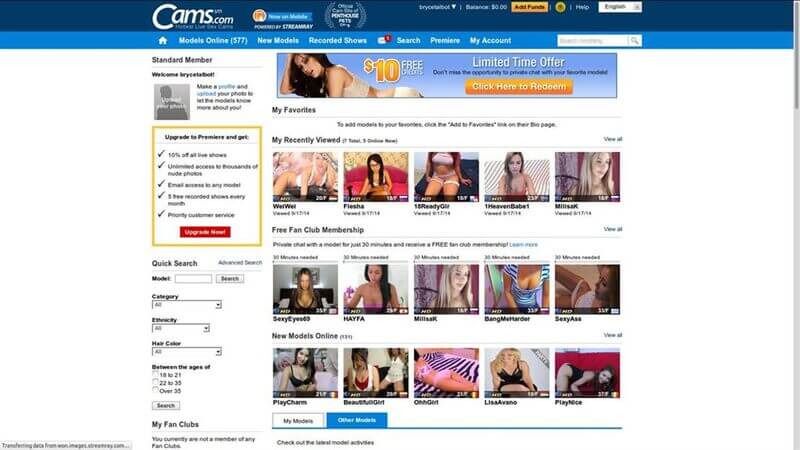 When you registered you get mailed your password. Mine was pretty dumb, but it was pretty darn easy to change. When you sign in for the first time you're taken straight through to the "Buy Credits" page, but it ain't mandatory, so if you wanna do a little explorin' first you're more than welcome. You'll also get a message, but it's only a notr saying hello. Click on the "Models Online" link to get started - there are three categories: "Free", "New" and "Nude". As you've probably guessed, the "Free" and the "New" categories don't cost you anything to look, but if you want to head to the "Nude" category, you're gonna need some credits in your account.
The small pics of the girls list if they're available in HD (and I must say, the streaming is really good at Cams.com), their gender, their nationality (why does that matter?) and their age - two things I must comment on: Firstly, I'm not gonna pour scorn on Cams.com at all, but when it comes to age, I think some of the sex cam girls have been using their subtractin' buttons (just my personal opinion and I admit I could be wrong). Secondly, a lot of the pics are a helluva lot more raunchy than the kind you get on other sites. For free pics, you sure do see plenty of tits, pussies and assholes. I'm kinda guessing Cams.com ain't no place if you're the shy and retiring type, models and punters!
Special features
There's quite a bit extra for paid-up Cams.com members. You can contact the sexy babes directly, and you can get discounts on live video chat and "Fan Club" videos - yes, that's right, if you find an x-rated babe who has your tongue falling out of your mouth then you can join her Fan Club so you can get updates about her "career" at Cams.com, and you can view the sexy nude shows she has recorded. There's the special, cheaper "Voyeur Mode" where you can watch a private chat, although you can't interact with the model, and you can even club together with other Cams.com members to organise a group show. Finally, you can join up as a VIP and enjoy even more extra features, with no limitation on your live chat times, more videos and extra bonus credits whenever you buy some.
Ease of registration
You just type in your email address and choose your username. You get sent your password via your email, but you're probably going to want to change it, which is easy to do.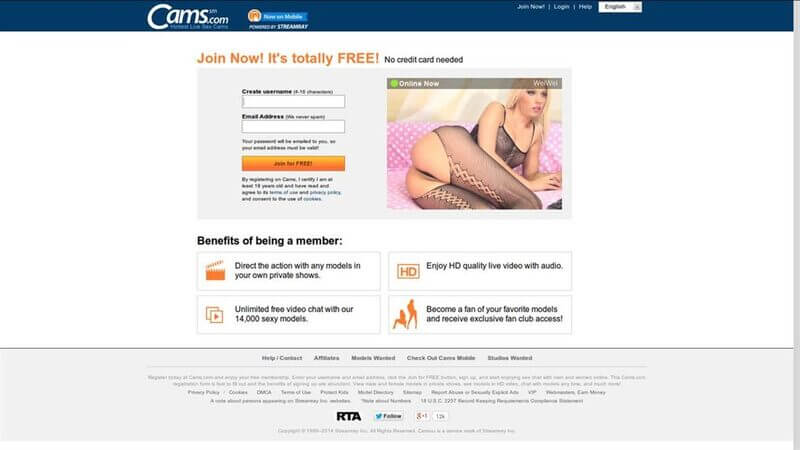 Types of chat
As I said, there's "Free" chat which anyone can enjoy for nothing, and "Nude" chat which will suck those freshly-bought credits from out of your account. The cheaper options are "Voyeur View" which is "Private" chat but you're wearing a gag, and "Group Shows" where you join in with other Cams.com members.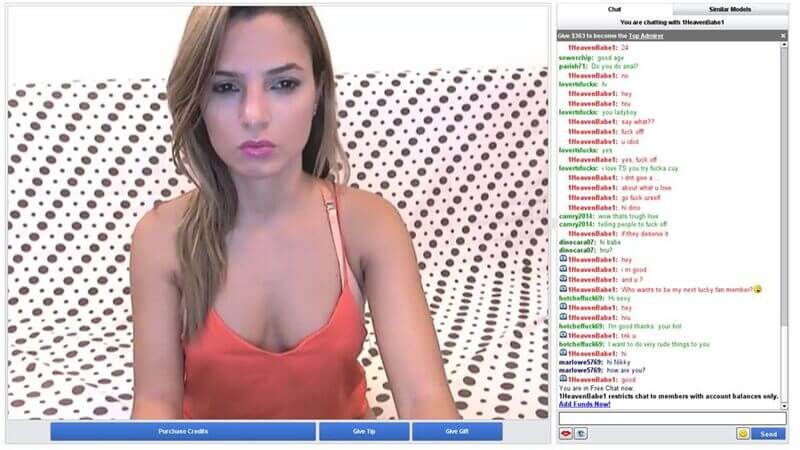 Video quality
Even the SD at Cams.com is really good, and the HD is mighty fine. Most of the sexy babes stream in HD, and you can tell who by the "HD" indicator on their pic in the menu,
Prices
It's up to each model how much they charge, and the prices per minute range from 0.99 credits per minute all the way up to 5.99, although most of the models charge around 3.99 per minute. Both Voyeur Mode and Group Shows cost $2.99. You can either go for Premiere Membership, which is £9.99 a month for three months or £14.99 per month for which you get 10 percent off all live chat fees and five free recorded shows per moth for any model, or you can buy credit packs as follows:
EURO €
GBP £
USD £
Price
Credits
Price
Credits
Price
Credits
€7.71
10
£6.15
10
$10
10
€19.27
25
£15.37
25
$25
25
€30.84
40
£24.59
40
$40
40
€38.55
50
£30.74
50
$50
50
€61.68
80
£49.19
80
$80
80
$77.10
100
£61.48
100
$100
100
If you buy the biggest package then you can get a bonus - such as five free recorded videos by your favourite x-rated babe.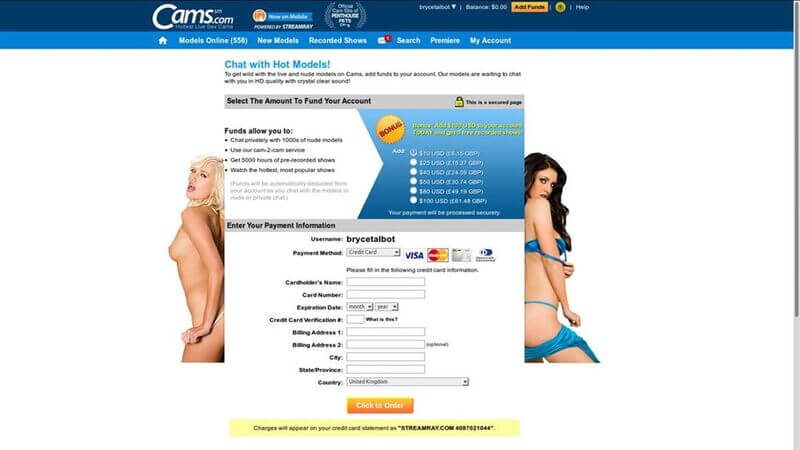 Payment methods
Cams is another site where only credit cards are accepted - Visa, Mastercard, Discover and Diners Club only.
Number of models
Between 30,000 and 40,000 models are registered at Cams.com (exact numbers are tough to find), and you'll find upwards of 500 online whenever you pop across for some sexy web cam fun.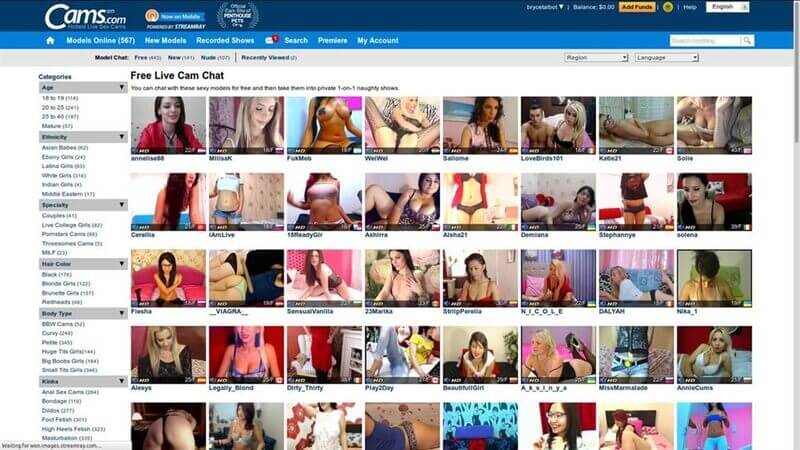 Customer support
The FAQ section at Cams.com is really pretty good, but there's support via email and phone if you have real issues. Premiere members get priority when it comes to customer support.
Pros and Cons
Pros
✔ - If you have very specific tastes, then the categorisation on Cams.com makes it easy to find what you are lookin' for
✔ - The Fan Clubs are great, especially if you find a sex cam girl who really gets you excited
✔ - Five different chat modes: Free, Private, Nude, Voyeur and Group.
Cons
✖ - Private chats can be a little expensive - $3.99 per minute is about the average
✖ - The Voyeur option and videos also cost more than you usually find on other sites
Conclusion
Let's see now, what can I say about Cams.com that's bad? ... Hmm ... very little in fact. True, some of the girls are outta my price range, and I think that some of the web cam ladies are lying about their age (but don't most women do that?), but other than that, I'm really impressed by Cams.com. There are plenty of sexy babes to choose from, and they are all nicely filtered, so if you have a particular niche that gets you excited, then you're really gonna be smilin'. I love the way Cams.com accepts that it's a sex site (unlike others) and allows the girls to submit some really raunchy pics for the menu page (unlike others). I can't find anything dubious at all about the site, and they are even up front and honest about their pricing policies, and transactions are super fast. Yep, Cams.com get a big smiley face from me, so why do you head over there yourself to see if you agree or disagree with my findings? Have fun!
Review of Cams.com
- Reviewed by
webcam-porn.info