Flirt4Free.com - You Can Flirt Free, But Sexy Fun Costs Money!
Hi, and a big thumbs up from your old pal (okay, less of the "old") Randy. I hope you are doing well and are ready to kick back and enjoy another few hundred words from your favourite pervert (heh, only joshin') about another of those hot and sexy adult camgirl sites. Hold on to your hats ...
My attentions this time have been drawn to Flirt4Free.com, which is a site that instantly appeals as those are two of my very favorite words anywhere - "Flirt" and "Free". I even like the number 4 as well, so I should find lots here to share with you that both of us are likely to find appealin'. Flirt4Free is owned by Video Secrets Media Inc and is so old it's nearly of legal drinkin' age! It was founded as long ago as 1996 - Jeez, even I was just of legal drinkin' age then! It's been doing the amateur camgirl business well ever since, and has some tasty awards to polish, such as XBIZ's Live Video Chat of the Year in 2008 and 2009 and as recently as 2014 as it won the Cybersocket Web Awards' Company of the Year. In fact the site has won five XBIZ awards and two Cybersocket awards, which is kinda pleasing to hear when you're visitin' a site for the first time. So, does Flirt4Free deliver? I guess you just better keep on reading ...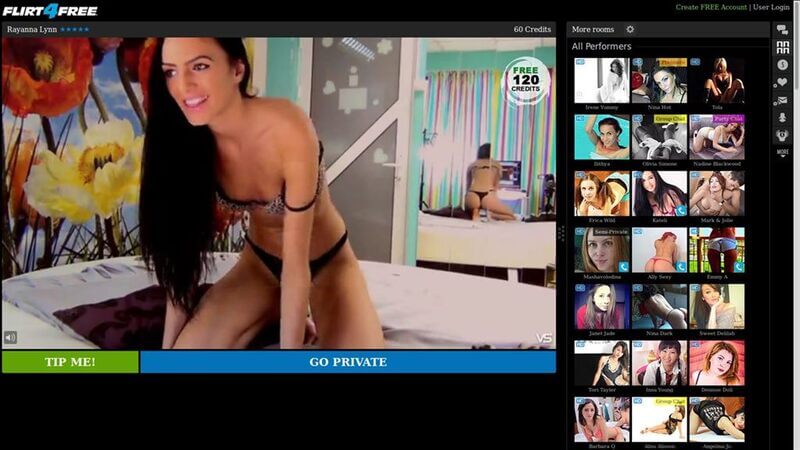 How I found the site
The first time you enter the site (and it's another site that allows free browsin') is you're in familiar territory. There's certainly a common template for these kind of sites, and Flirt4Free.com follows it to the latter. The menu screen has some really nice, big thumbnails of the girls who are up for a bit of x-rated cam fun. There's a selection menu along the top that allows you to switch views between Live Girls, Live Guys, and Live Transgender, so you're really spoilt for choice if you ain't just there for the sexy ladies. Of course, as you should know by now I am just here for the girls - and there seem to be lots of sexy camgirls at Flirt4Free. The other bits of interest (aside from the bits of interest with the camgirls) are the choice of languages (English and some European languages) and the options at the bottom, which includes "Live Chat" and "Videos", both of which I will come to later in the room. In the bottom corner of the site is a promise for "120 FREE Credits" which piqued my carnal interests of course. So far, so good ...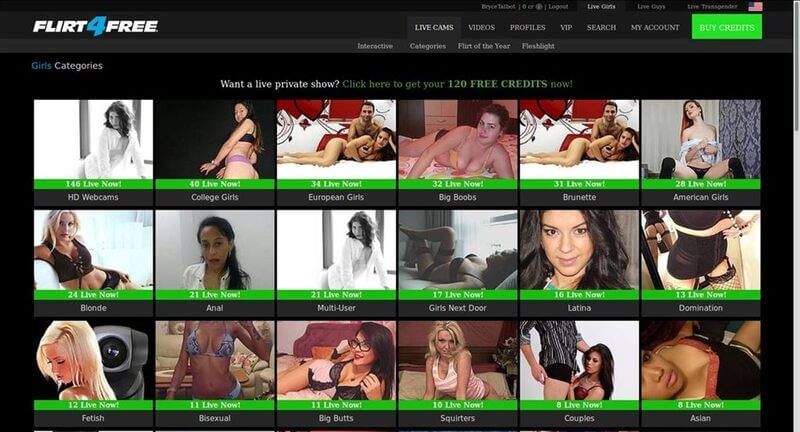 What you might think Flirt4Free is lackin' is an easy specialist menu you see on other sites - you know, "BDSM", "MILFs", "Asian Beauties", that kind of thing, so if you do go to these sites with the idea of seekin' specialist cam model services then you're not going to appreciate this site as you need to find the menu in the menu bar which the obliterates the thumbnails view. The site does allow you to quickly see the cam action by hoverin' the mouse pointer over a chosen xxx camgirls thumbnail, which is always a good thing to see. There's also a cog wheel in each model's thumbnail - hover over that and you get a little bit more detail about your chosen model, includin' how much she charges for 1-2-1 chat, and her chosen category, i.e. "Blonde", "Fetish" etc.
Special features
Not a lot extra special goes on at Flirt4Free, but you can watch videos of recorded sex shows if you're a member and for a fee, plus you can keep a favourites list of the camgirls who turn you on the most. There's also some special contests for the camgirls, such as "Flirt of the Year", and ads for "Fleshlight" - the number one male sex toy in the world! One more thing of interest - Flirt4Free.com has its own Forum where you can chat happily to your fellow Flirt4Free members,
Ease of registration
To register, just click on that "FREE 120 CREDITS!" button I mentioned earlier. All you need is to then enter your Chat Nickname, a chosen password and a valid email address to create a free account. You will then get sent an email on how to activate your acount at the site ... and that's all you have to do!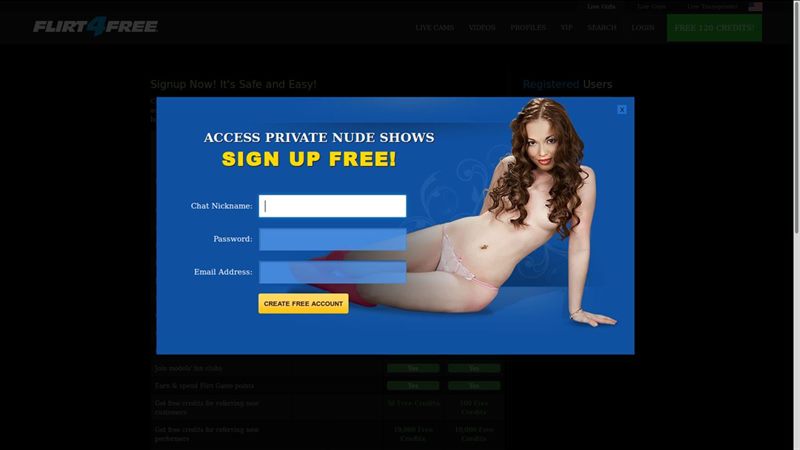 Types of chat
There are lots of ways to chat on Flirt4Free. There's the free chat of course, then the private chat when you get to spend some 1-to-1 time with you chosen camgirl performer. Next up is semi-private, where you can join a private chat that is already on-going but you won't be able to interact with the performer or the person who arranged the show. There's also multi-user chat were a number of cam fans can join together for a private chat, and finally there's a weird type of chat where you can negotiate with a xxx cam babe to set a price for what she will do if you come up with the goodies. Plenty of options, then, which is always good to see.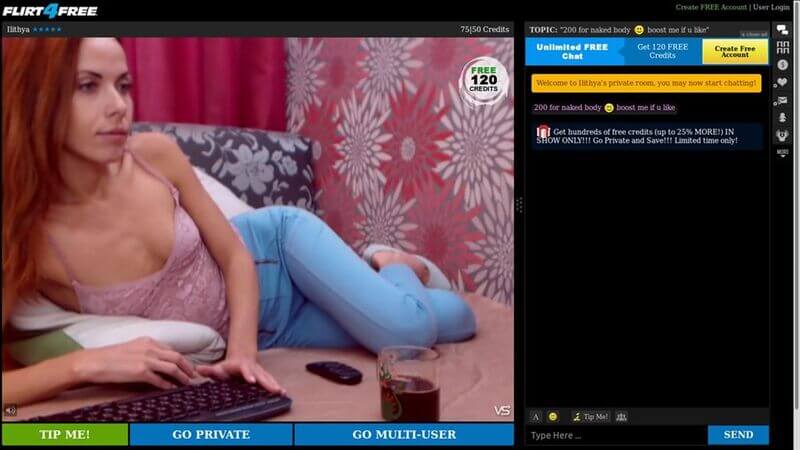 Video quality
Nice! The HD is really cool, and really up with the best of 'em! The SD is pretty cool as well.
Prices
When you join, you can get 120 credits for free as long as you register your credit card at the site. The rest of the time, the prices basically ten credits for one dollar. The xxx camgirls set their own prices, and all the best ones charge 60 credits a minute, or even 90. If you do the math, then yeah, that is about $9 a minute and yeah, that is expensive!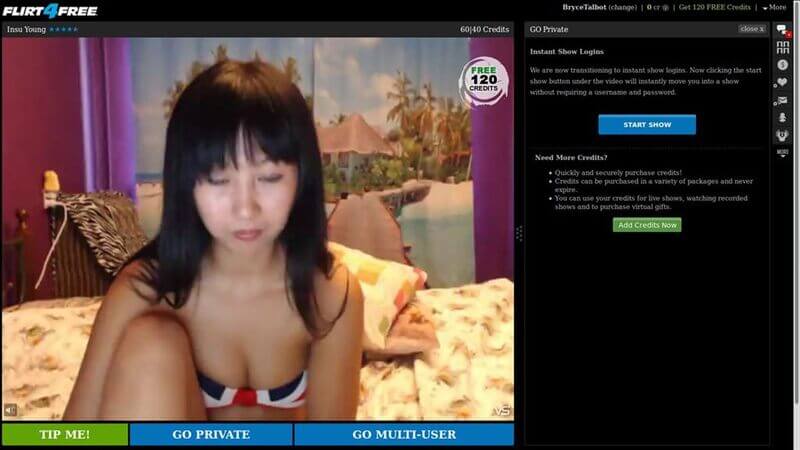 Members have access to additional Credit packages by doing the following: Mouse over the small head icon (top right of the homepage) and select My Account. This redirects you to an account info page. On the left is a menu column. Mouse over Billing and select Add Payment Account. Choose EPOCH.
For first time buyers, you have purchase package options: $10 for 240 Credits (90+150 free) & $25 for 415 Credits (225+190 free)
The additional Credit packages include: 225 Credits - $25, 500 Credits - $50, 1000 Credits - $100 and 2500 Credits - $250.
VIP Membership, at only $49.95 per 30 days (extra 300 Credit bonus) gets you an array of features and benefits which include: free access to 1 hour feature shows with porn stars, access to 1000's of models photos as well as 150 free videos daily.
Payment methods
Nothing but plastic, so if you've an e-Wallet, forget it. Visa, Mastercard, JCB, Diners Club and Discover all get the thumbs up here.
Number of models
Around 5,000 camgirls are registered, but only 100 or so will be online at any one time.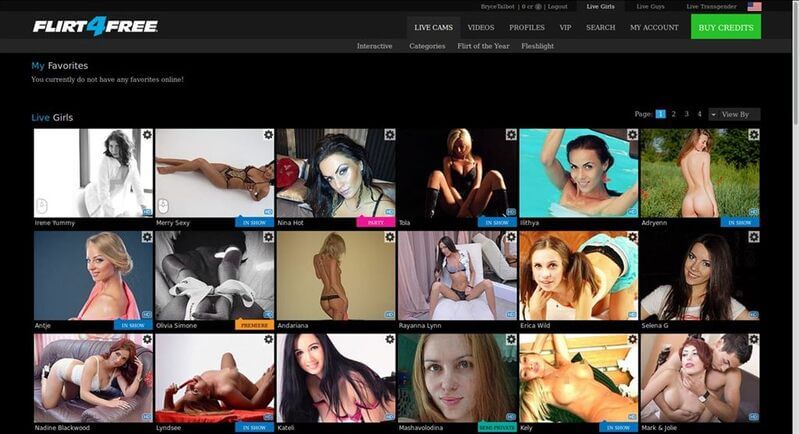 Customer support
For support you can find help in the forums, plus there's live chat, email, phone and even a mailing address.
Pros and Cons
Pros
✔ - A good design that's really easy to use, including those lovely big thumbnails
✔ - Lots of different chat options aside from the usual public/private
✔ - When you're in a live show a ticker window allows you to see how much you've spent
Cons
✖ - EXPENSIVE! $9 a minute for some models. That is A LOT!
✖ - Most of the HD Cams are fine, but a few are not as HD as they appear to be
Conclusion
There's one thing that really stands out about Flirt4Free, and that's how much some of the top camgirl beauties charge to see their excitin' bits. I ain't gonna pay $9 a minute just for a 1-2-1 chat any time soon, even if it is with a really sexy cam beauty. The cheaper girls aren't so bad at all, so I do wonder how those chargin' such rates make a livin'. Other than that, there's not a lot I can say against Flirt4Free. Everything is as it should be, and I like the range of chattin' options that you can take advantage of. Yeah, Randy is happy about Flirt4Free, so why not head over to the site now you're read my thoughts and see what you think?
Review of Flirt4Free.com
- Reviewed by
webcam-porn.info