TSMate.com - If you like Streamate.com's Trannys, you'll love TSMate.com
Howdy again folks! Today's another day for reviewin' another top shemale cam site for all you transsexual lovers out there, so, without further ado, I'm going to be tellin' you all about TSMate.com. If you haven't guessed the "TS" part stands for "TransSexual" - but I bet you managed to work that out all on your lonesome.

TSMate is run via a company called ICF Technology who are based in Seattle, Washington State in the good ol' US of A. They provide the live streamin' options that TSMate uses, promisin' stunnin' high-definition video on the internet. If you want to find out just how good the streamin' is at TSMate, then I guess you'll just have to keep readin' ! The site's been around since September, 2007, and apparently works on the same network as Streamate.com, so I'm guessin' it's the same kind of deal that connects LiveJasmin.com and MyTrannyCams.com. If you've read my review of Streamate.com, then you'll know I was largely positive about the site. Wonder if I'll feel the same about TSMate?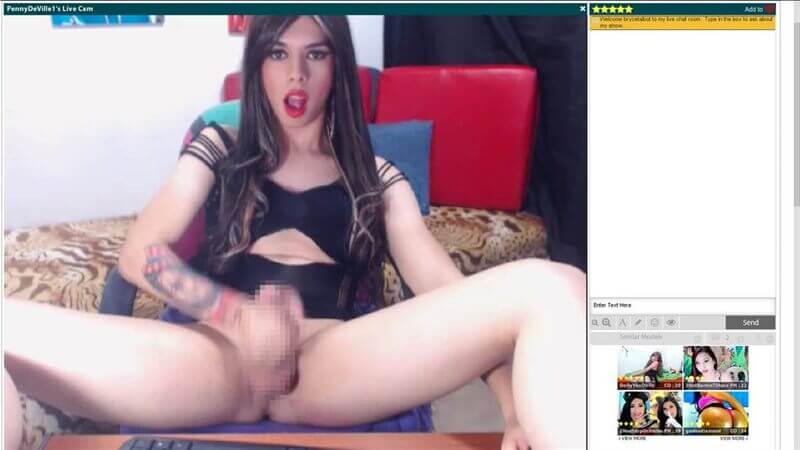 How I found the site
To be honest, the first impression you kinda get at TSMate.com is that it's an old version of Streamate.com. The site does kinda look a little old school, and I've no idea why the same design upgrade that Streamate.com has gone through hasn't as yet been applied to TSMate.com. Perhaps they will get round to it one day. As soon as you enter the site (which you can do for free - always a good sign) you're presented with the a-typical porn cam site view - lots of little thumbnails, with menus to the side and above. You can choose from a few speciality cams such as BDSM, Latino, Mature and Teen 18+ ... you know the sort of thing (and if you don't by now, then you should!). You can also filter the thumbnail menu by languages, regions and features, and sort in whatever way takes your fancy.
The menu has little pointers which tell you what the porn cam shemale is likely to get up to - "If u r looking for something special I'm waiting for you" - that sort of thing. You can also see what sex they are (! - most of 'em have the half male/half female sex symbol), their age, and their location. All the models have a five star rating given by past viewers of their raunchy shows. One disappointment - there's no mini cam view you can see if you hover your mouse over the thumbnail. That's kind of a given at most sex cam sites, so no idea why it's missing here. If you wanna see the cam, you gotta go see it, if you see what I mean.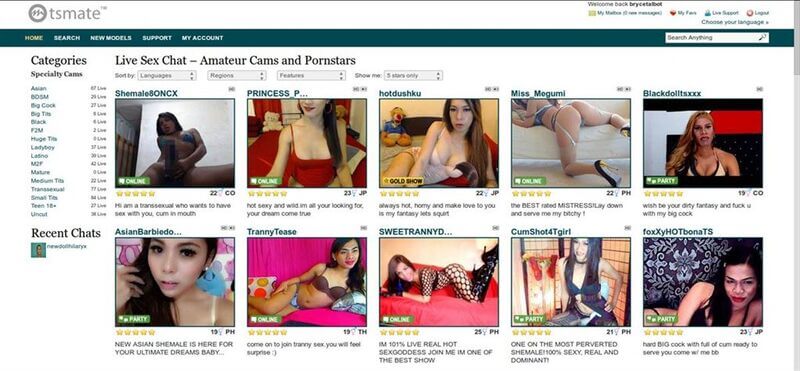 Other than that, there ain't a lot extra to see or do at the site. You can read each model's profile and - if you're a member - look at some videos they may have posted, and review comments other cam viewers have left about them. Some tranny cam models will schedule times when they will be online, so if you have a favorite, you can see when they're likely to be available.
Special features
Nope. Look elsewhere if you need 'em!
Ease of registration
You start off your paid TSMate.com odyssey by filling in your email address, name and country of origin, then you need to register your plastic. Then you're all set! Of course, if you understand how these things tend to work, then if you'll know that if you're already a member of Streamate, then you're automatically a member of TSMate!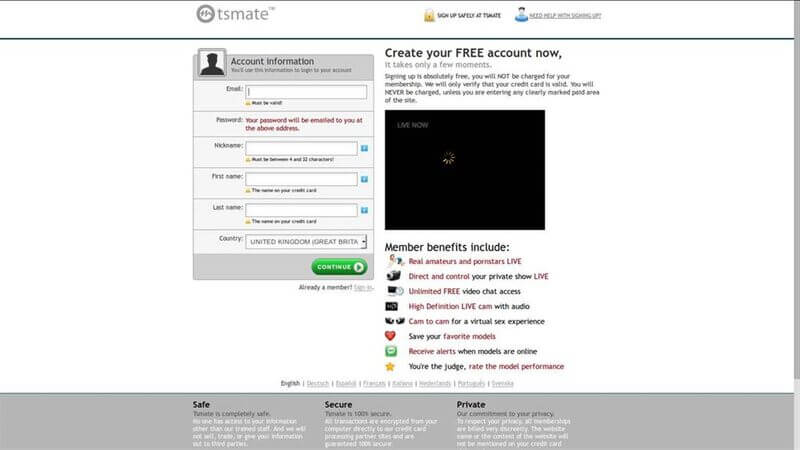 Types of chat
There are four types of chattin' available - free chat, party chat, gold show and private show. Free chat is free of course (you don't need to be registered for free chat). Party chat is kinda like free chat, except that everyone can see what you are typing. Gold shows are where a sex cam perfomer will do a show if they reach a certain level of "gold" within a certain time limit. Anyone can chip in with gold ($1 per piece), and once you do you receive an invite to the show when and if it starts. If it doesn't happen then you get you gold back. Private shows are as you'd expect. Models can charge what they want per minute, but most seem to charge between 0.99 and 9.99 credits. The average price is 1.99-2.99 credits, which ain't too bad.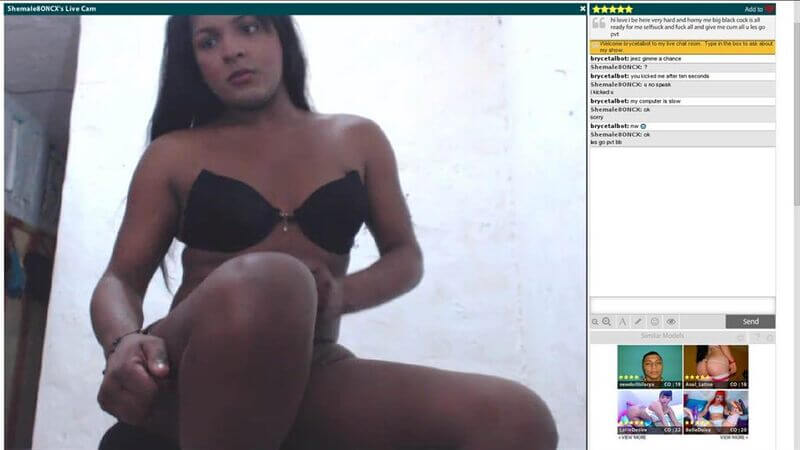 Video quality
That promise I told you about earlier does kinda hold water. The cams are genuinely smooth, although that smoothness sometimes means the definition ain't too great. The HD is generally good - on a par with some of the best sex cam sites I've reviewed so far.
Prices
TSMate.com has the same pricin' policy as Streamate, as you'd expect. You "pay as you play" - no credits, just hard cash, that's pooled and comes off your card. Easy to keep both eyes on your spendin' as you can see how much you've been splashin' on sex cam models!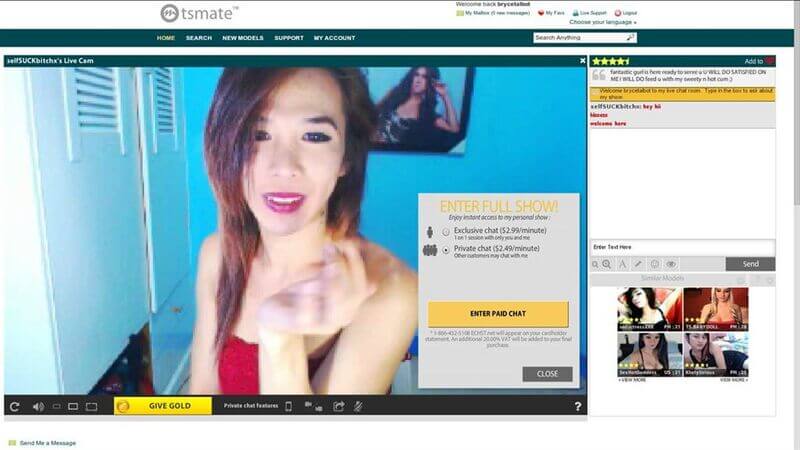 Payment methods
Plastic only - Mastercard, Visa or Discover. Be careful when you sign up - when I did at Streamate.com the guys shoved somethin' called "Eroticmatch" onto my card without my asking, at $24 darn dollars a month. I contacted support and they apologized, canceled the payment and refunded me.
Number of models
A good number at 1,400, and there's usually a very good number on site whenever you pop across.
Customer support
Live chat, email and phone. Probably (again) the same people at Streamate, and I used their support and didn't have any problems whatsoever, and my requests were dealt with in the manner I was expectin'.
Pros and Cons
Pros
✔ - I like the "pay as you porno" payment methodology - nice and clear.
✔ - No complaints about the standard of the cams
✔ - The site's easy to find your way around
Cons
✖ - A few extra features wouldn't go amiss
✖ - Most of the models can't speak English very well
✖ - Has a mobile version for iPhones and iPads, but it's not the best
Conclusion
I sat on the fence with Streamate.com, but I'm edgin' towards the positive side with its shemale sister-site. My view of Streamate.com was clouded when they stuck that extra stuff on my credit card without askin', but as I didn't have to do no registerin' at TSMate, I've no idea if they'd do the same thing. Other than that, I like the standard of the cams, the clear payment method, and the good number of models. Some extra bits and a more modern site design wouldn't go amiss, though.
Review of TSMate.com
- Reviewed by
webcam-porn.info