Worship Feet and Pop Balloons on XLoveFetish.com
I have been writing adult webcam reviews for a while now and it's always fun to dive into a new portal. Each sex chat community is a promise and I never know if the one I'll sample next will be next year's leading player. Yet with all due respect to the variety of categories and live webcam niches, I have to admit that I have a soft-spot for fetishes. The simple truth is that when you've got a babe in latex, the live sex show isn't very likely to get boring and there are always new games and punishments to explore.
I hope that you're going to like this XLoveFetish review – I've done the researched and put all the facts together, just for you. This is a sexy, dark site, although it's far from being big. Are you ready to get to know it better? Keep the ropes handy and your mind open and let's go inside.

How I found the site
The first impression I had of XLoveFetish was quite positive. This live adult web cam site certainly send that kinky vibe that transforms a standard video chat community into a dungeon where you can imagine consenting adults spank watch other's booty until they scream of pain and pleasure. You know, something like that. In any event though, this positive impression ended abruptly when I saw that there were only like 20 live camgirls. This was a pretty disappointing number and I was actually surprised. The platform was obviously there and so were the tools, and I noted that there were at least 8000 registered subs and fem doms – so why so few online babes?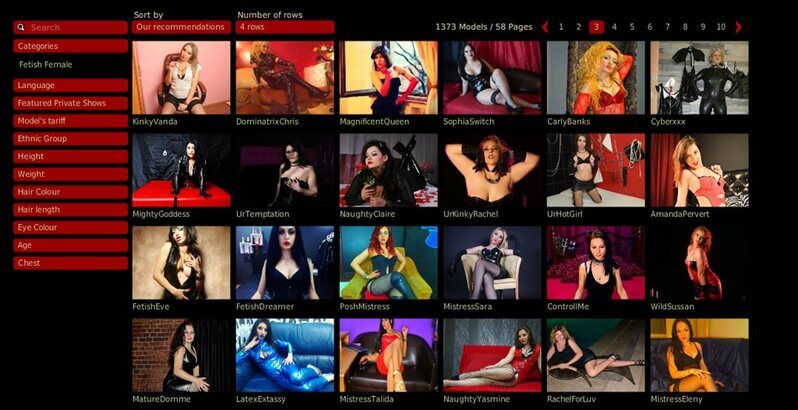 Well, I didn't let the number of webcam models deter me for long, as I was committed to giving my reader the most insightful XLoveFetish review possible. I started looking around, chatting with some dominating women and sexy submissive chicks and I liked all of the ladies I got a chance to meet. I know a professional fetish webcam site when I see one, and in this case you only get skilled camgirls – none of that "I feel kinky but can't manage anything naughtier than fishnet pantyhose". Nope – these babes mean business and they know how to hogtie. I especially enjoyed the role playing – the babe I chatted with had some crazy outfits and accessories and she wasn't shy about using them.
Special features
You can send the models that you like "Love", which is like flattering them, although if you're chatting with a harsh dominatrix I'd ask for permission first. In any event, I am sure that the babes will appreciate a click on the "Bonus" button which actually transfers a tip to their account, but I usually feel that a bonus ought to come after you watch a live fetish porn show – not before. However, in some cases enough guys tip during free chat and things heat up, so keep your eyes open and hope that one of these days you will get to watch a live nude show just because some guy decided to show off as a big tipper.
Ease of registration
Choose a user name. Done? Great, now choose a password, and please don't just type in your user name with a 1 at the end – that's just unsafe. Next comes the really challenging part – enter your email. Done? Wonderful, you are an official member – knock yourself out.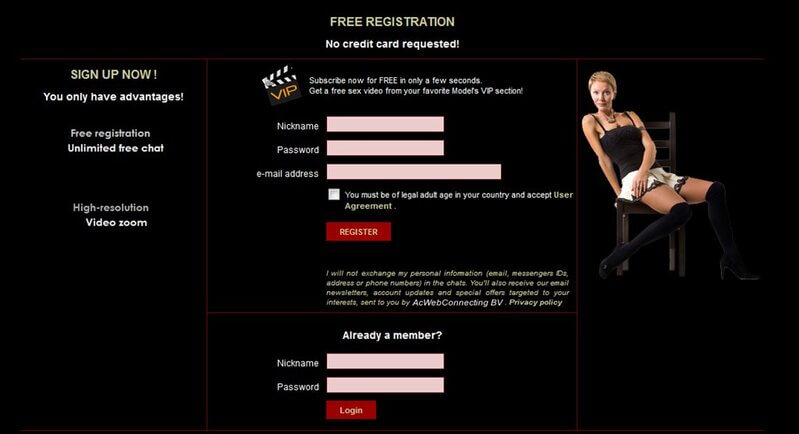 Types of chat
As I just mentioned, there's a free fetish chat and as I just mentioned, it sometimes gets sexy, assuming people send bonuses. Sadly though, in the majority of cases nothing much will happen during free chats. The dominating woman might sit on a crown or talk dirty to you or show off her sexy feet, if you lucky, but this is where it ends. The real thrill only begins when you start a private chat and then… well, I'd tell you, but I don't want to make you blush – or tremble.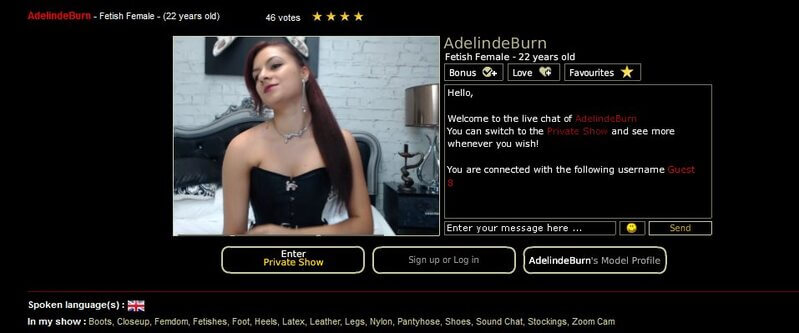 Video quality
Most of the webcam models that I've visited on X Love Fetish had okay webcams – not the kind that leaves a long lasting impression, but certainly good enough to enjoy a live porn show.
Prices
It's hard to find transparency in the adult webcam arena. In most of my sexcam review I had to dig deep to find out what the prices were and there was usually no way a website would disclose costs to an unregistered visitor. In this case though not only are prices out in the open, you can even search models according to their rates. That's awesome. Price is between 1.50 and 2.50 per minute, and we're talking about credits, not dollars. How much does a credit cost? Take a look at the chart below and get the exact stats.
| | | |
| --- | --- | --- |
| Number of Credits | Cost in USD | Cost Per Credit |
| 25 | $31.20 | $1.24 |
| 50 | $62.41 | $1.24 |
| 100 | $124.83 | $1.24 |
Payment methods
This is a reliable and secure adult webcam site, so you can choose form reliable and secure payment methods such as Visa and MasterCard (if these two work with you, you're usually fine) as well as Maestro, PayPal, Bitcoin, Bank Wire, Paysafecard prepaid cards, DirecteBanking and if you're unhappy with these options, pay over the phone.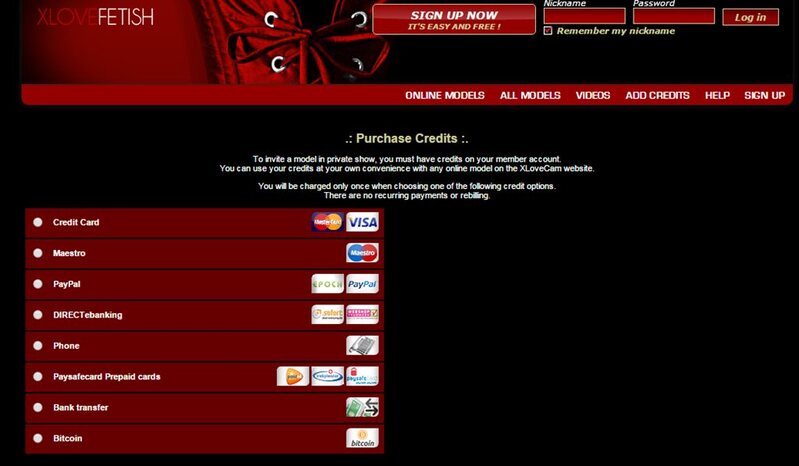 Number of models
There are around 8,000 registered fetish camgirls on XLoveFetish.com, but only between 20 to 30 or so will be online. There will be very hot, all of them, but if you are looking for something extremely specific – an Ebony dominatrix with red hair for examples, you might need to compromise. Note though that most of these hotties know their fetishes and they certainly know how to serve as foot mistresses, pop balloons, spank, bind, gag, tease and control.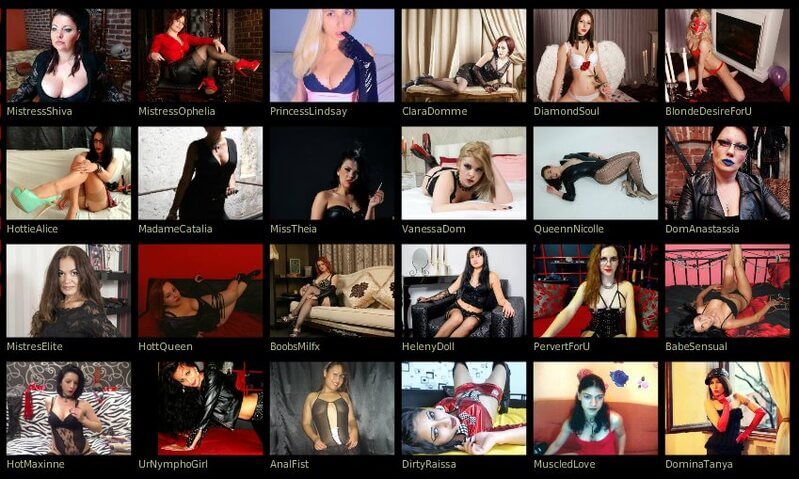 Customer support
You can find the FAQ page under the Help button at the top and it will also include useful contact information. Use it if you feel that something is unclear, although for the most part, this website is very easy to understand.
Pros and Cons
Pros
✔ - The live camgirls know a lot about diverse fetishes
✔ - Private chat prices are relatively low
✔ - Profiles include amazing fetish sex pics
Cons
✖ - The number of online camgirls is low
Conclusion
The only problem I have with XLoveFetish.com is the selection of live sex chat rooms. All the rest: Features, webcam porn shows, level of performers, number of available fetishes, average prices – everything works for me and I have had a few splendid porn chats here with femdoms and subs who knew the business. This platform will allow you to play games, to explore BDSM and basically to enjoy every mainstream fetishes and a few who aren't all that mainstream and I really believe that most of you will be so mesmerized by the online women that you won't even notice that there aren't all that many of them. Can you manage this fact or is it a deal breaker? Only you can answer this and if you can't, stop by XLoveFetish.com and let the stunning fetish cam models work their magic. They might even manage to whip you into submission or let you dominate them on XXX cams.
Review of XLoveFetish.com
- Reviewed by
webcam-porn.info