Check out Gay Sex Cams, Pics and Vids on Supermen.com
Hi there readers. My name is Randy, and in case we've never crossed paths before, let me just tell you a little bit about this website: An adult webcam review portal where I look into the best sexcam sites in the industry and assess the good, the better and worth choices standing before users. As far as gay sex cams are concerned, I have to work a tad harder. There are a lot of sites that claim to offer hot sex chats for homosexual men, but not all are good, or even have descent. This is why I think Supermen.com review is a great opportunity to show you what a gay webcam site can be and how diverse it can be. This particular website has a variety of options, and I am not just talking about live sex cams. What am I talking about? Read this review and I will tell you everything: prices, choices, gay webcam features – and plenty more.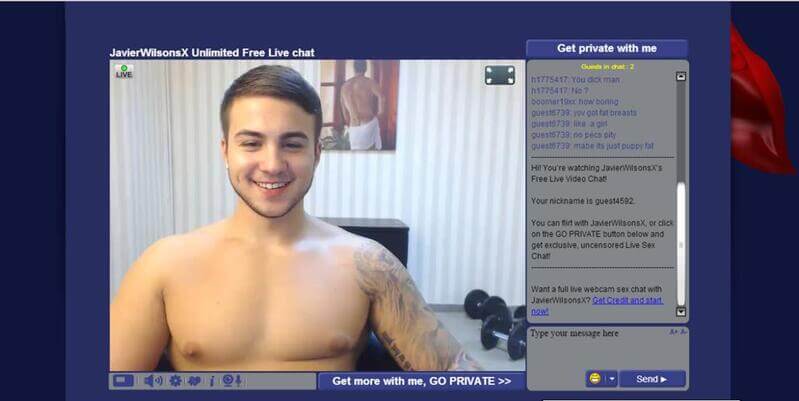 How I found the site
My first visit the Supermen.com was overwhelming. I couldn't quite understand why an adult webcam site had so many additional categories other than chat rooms and then it dawned on me: This is not actually a cam site, but kind or, sort of a gay sex hub. I went through the different tabs – there were videos which looked hot, but all cost money, and there was a Local Spot tab that listed all kind of club and bar recommendations – weird. I even glanced at the magazine before I remembered that I am not much of a reader. The pics were cute, but there were far better images on the guys' profile pages.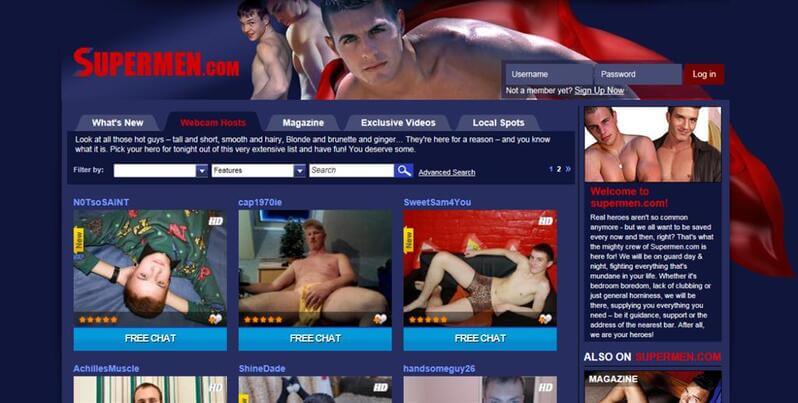 When I finally made my way into the chat rooms on Supermen.com, I was more pleased. The sexcam models were all bubbly and seem to be more than happy to make my acquaintance. Sometime, when you're chatting on amateur cam sites, the guys are a bit of a hit and miss – some are amazing and some look tired or bored, but all of the men I chatted with here appeared to be into the live porn shows and ready to give me a good time.
The private shows were even better of course, and I tried chatting both with a few solo men and with a couple. I even had one Happy Hour session, but personally I prefer the 1-on1 experience – the group thing got a bit too crowded for my taste, although the model was doing a good job in keeping everyone well-entertained.
Special features
Supermen.com has plenty of features. You can add guys to your Favorite list, participate in special pornstar events and use 2 way cams – which means you activate your own web camera during shows and let the model see you, while you watch him. You can check out the kinky online magazine, enjoy porn videos – for a price and send messages to the guys. You can also try the 'local spots' if you're looking for a gay club or bar, but I find the whole presence of this section a bit weird on an adult webcam portal, and besides: This is hardly an updated section and it only mentions places on the biggest cities in Europe and North America.
Ease of registration
Signing up to Supermen.com only takes like thirty seconds, but I was a bit disappointed to discover that I had to purchase credits in order to become a member. I was going to buy some anyway (you can't do a proper research unless you watch a few nude shows), but I would prefer to do it on my own time – not under pressure.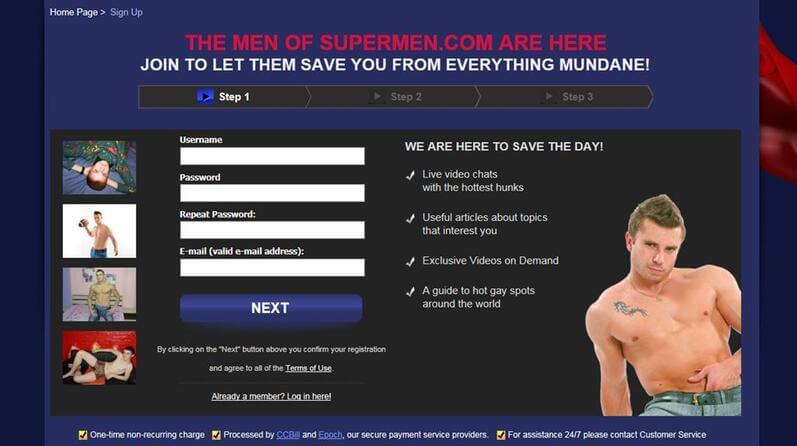 Types of chat
You don't need to be especially experienced with chat rooms in order to start chatting on Supermen, but the names and types of chats might confuse newcomers. For example, Happy Hour is not simply a low-rate chat, but a group show where users take turns directing the hot model. 'New' chat rooms showcase the newest models, free chats are free – obviously, and private chats are your standard nude gay webcam shows. There are also the special webcam events which are monthly shows which users, assuming they have silver membership or higher, can watch for free.
Video quality
Will you be amazed by the quality of web cameras on Supermen.com? You will not. This is an amateur sex cam community, so there is no wow factor as far as technology is concerned. However, the site has a very professional platform and for the most part, the guys have good cameras. There are no HD webcams though, which is a bit disappointing.
Prices
Supermen.com is a surprisingly affordable gay sex cam site – I would even go as far as saying that it is one of the cheapest in the industry, certainly among the leading bunch. Nude video chats begin at 0.88 credits per minute and even the priciest sexcam models usually charge a max of 4.98 credits per minute – not including the big pornstars, and there are a few of those. For the most part, one credit costs one dollar and members enjoy plenty of extra benefits and discounts – including Cash Back.
Here is a simple chart featuring the credits and the bonus miles you receive for each and every purchase. If you don't know what miles are, and how would you know – I still haven't gotten to that part, be patient – I will mention them when discussing memberships.
| | | |
| --- | --- | --- |
| Number of Credits | Price | Bonus Miles |
| 25 | $25 | 2 |
| 50 | $50 | 6 |
| 75 | $75 | 9 |
| 100 | $100 | 13 |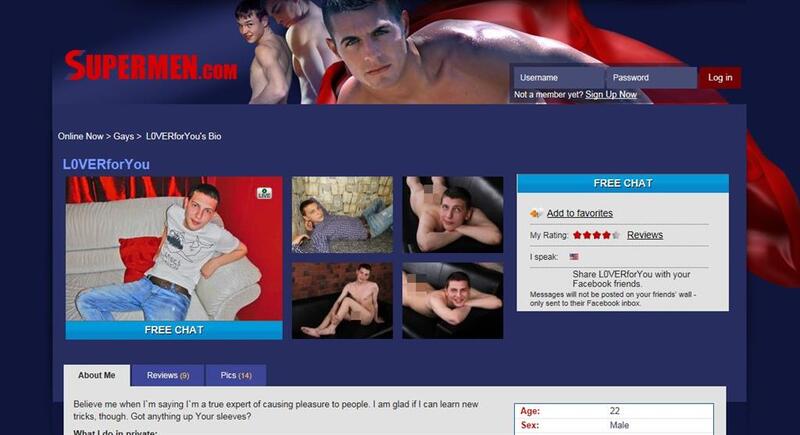 Payment methods
You can buy credits on this homosexual webcam community using the regular Visa, MasterCard and E-Check, but that's only the beginning. You can also use your Electron, Maestro, Bleue, MasterCard Debit, Delta, Discover, JCB, Switch and Solo. That's enough options in my book.
Memberships
I will invest exactly three minute in running through the membership options on Supermen. I am not going to get down to all the specific details because I don't have the time or the inclination. You can get the full info on the site's FAQ page.
Silver Membership
Once you collect 15 miles, you will become a silver member. This comes with a 10 credits bonus, 1% bonus when buying credits and discounted chat rooms (called happy hour) will only cost you 0.50 credits per minute. You will also be able to enjoy free porn events when the site holds them – and this will remain the same through all other levels of memberships.
Gold Membership
When you collect 200 miles, you will become a gold member. This includes a 100 credits bonus, 3% bonus when buying gay cam credits and happy hour chats will cost you only 0.35 credits per minute.
Platinum Membership
It will take you awhile to collect 500 miles, but once you do, you will become a Platinum member.This includes a 200 credits bonus, 5% bonus when buying webcam chat credits and an even cheaper Happy Hour shows: Only 0.20 credits per minute.
Number of models
There are 8,000 guys, give or take a hundred, registered to this gay webcam chat community, and about 70 are likely to be online, waiting to chat with you, when you come by. This is an average figure of course. As part of my research for this Supermen review I have visited the site on different times. Sometimes there were as many as 80 guys online and on other times there were only 50.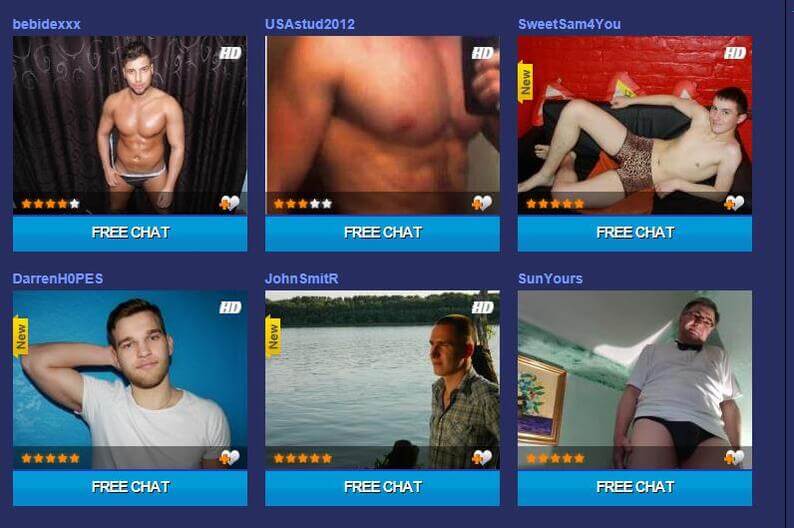 Customer support
If you need some assistance, there are a few ways of getting it. You can start off by stopping by the FAQ page and seeing if you find your answer there (notice that you must be a member to see the full FAQs - visitors just see like 5 or 6). No luck? Fill in an online form or email – you will find this information under the 'Contact Us' tab, which is at the bottom of every page.
Pros and Cons
Pros
✔ - There are many ways to save cash
✔ - The amateur gay guys are very energetic
✔ - The Happy Hour group shows are very entertaining
Cons
✖ - There are no HD chat rooms
✖ - The site doesn't focus just on live webcams
Conclusion
I am going to keep this conclusion short and sweet, because I really feel that this Supermen review included everything you need to figure out how good this website really is. Do you like gay porn videos? Are you into chatting with sexy amateur men online? Do you feel like truly immersing yourself in the LGBT lifestyle and sharing your passions with men that are very much like you? Supermen.com has it all, and probably more than you expect. With so many angles and choices, I am convinced that any guy could find something to like. Prices are pretty low, so you may as well have a couple of sexy chats and see how it feels. If you have fun, stick around, if not – I have plenty of other gay webcam reviews you can choose from.
Review of Supermen.com
- Reviewed by
webcam-porn.info