Sexier.com - Pay with PayPal to Enjoy Some Hot and Steamy Adult Chat!
Well, howdy everyone. It's Randy here again, all ready and raring to go to bring you another simmering sex cam review. You just keep reading on to find out what comes across my mind when I am at Sexier.com, an xxx cam site with one or two unique features and of course, lots of lovely x-rated sexy babes.
Sexier.com is an adult cam site that's been hanging around the old internet for quite some time now - since 1997, to be exact, which probably makes it one of the longest runnin' adult chat sites around. It's based in New York, in the good old United States of America, and welcomes lovers of sex chat sites from all over the world. For some reason the site is very popular in Colombia, with one in five users coming from the home of the old marching powder. Despite the slightly dubious (but in a good way) goodies that Sexier is peddlin', it's been approved as a Google Safe Browsing site, so if you head on over there it ain't likely you're gonna get scammed.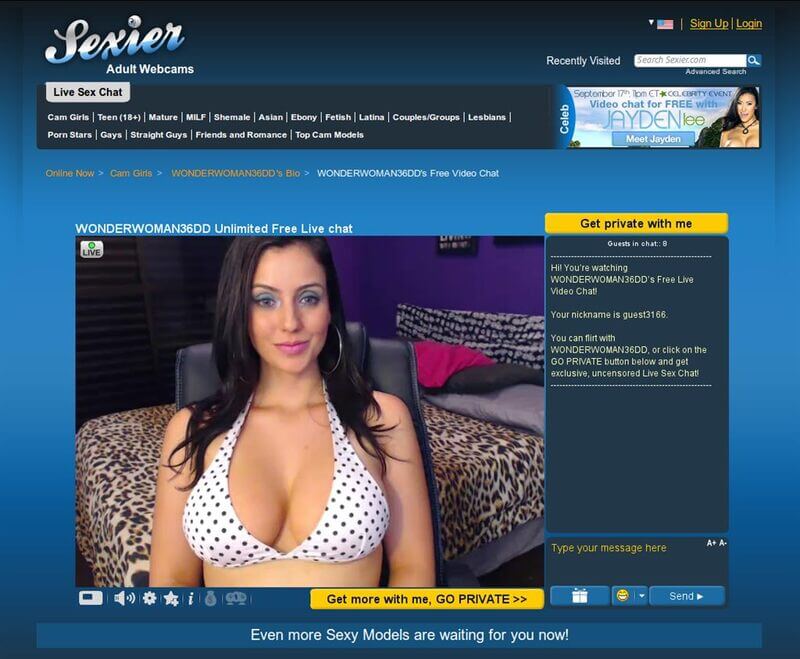 How I found the site
Now, the first thing I'm gonna tell you about Sexier.com that's really gonna get your heart jumping like popcorn poppin' on the stove is that Sexier.com is free, and free in the true sense of the word, because if you want have a poke around to see what fine offerings are available for a touch of perusin', and what kind of gorgeous girl you're gonna be able to meet on the site, then you don't have to do a thing - and that includes signin' up. If a luscious lady is there for a little bit of chattin' then you can go and take yourself a look, although as you may have guessed, there's not going to be a lot real excitin' goin' on. For the heavier stuff, including nude chats and sexier antics, you have to register, and when you register you have to buy credits - there's simply no other way. That's a great way of allowin' you to take a gander around the site and look at a few sexy cam babes, without you abusin' your membership by signing up and then never spendin' a bean. I don't have a problem with that as them good folk at Sexier.com have put a lot of shoulder grease into their site, and I don't think it's fair if you go on and expectin' something for nothing.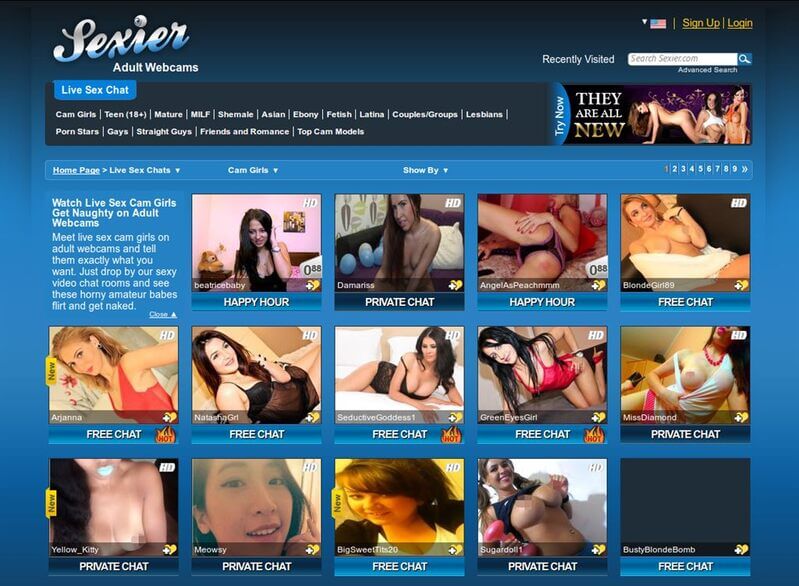 Now here's where things get really interesting'. All the girls (and some guys) are split into different sections, but more are just under the "girls" section. For those with more ... distinct tastes, like couples and groups, lesbians, fetish girls and transexuals, there are categories for them to browse around. There's even a section for "Friend and Romance", which I happen to think is kinda sweet. When you choose your section you get put through to the main screen, and lots of lovely xxx chat girls will appear. All the girls will have a banner under their handle, which will say "Free Chat", "Happy Hour" and "Private Chat". Free Chat is kinda self-explanatory, and if you hover your mouse over the xxx babe's pic, you see her ready and waiting to chat. "Happy Hour" is for cam models who are ready to chat for you a cut price deal - you can see how much they are chargin', but that's it. "Private Chat" is for those ladies who won't chat unless your payin' for the priviege. If you hover your mouse over their pic, you'll see a swift and steamy video of the dirty diva that pops up, plus you can also see her profile and some more pics of her in all her glory.
Special features
As I said, the best feature of Sexier.com is that you can experience Free Chat without signing up or even giving anyone your email address, which I think is kinda neat, although after ten minutes on the site I'm sure you're gonna be bustin' for more. The site also has a section for "porn stars" - that's the really sexy ladies who you may have seen gettin hot and heavy on porno sites. There's some real super hot babes on there, I can tell you - over 300 in fact, but only a handful seem to be readt to get down to some xxx private chattin' at any one time. The final special feature is one that's gonna appeal to all them married fellahs out there who don't want their other halves to be sniffing around their private activities by looking at credit card statements. Sexier.com is one of the few adult sex cam sites where you can pay by PayPal! Now that should make you secretive guys happier than a kid who's been given the keys to the ice cream shop!
Ease of registration
Free chat is free, as you know by now, but to get into those sexy xxx chat you're gonna need to register. This ain't so tough, you only need to fill in your registration details which is a user name and a password, plus your email address. Next step is to set up your account, which you do by setting up your chosen payment method. If you wanna pay by PayPal you can, even though it don't say so on the registration page for some reason, You just need to select "Payment Via Epoch" on the main screen and then the radio button for PayPal on the next. Once your transaction is completed, you're good to go!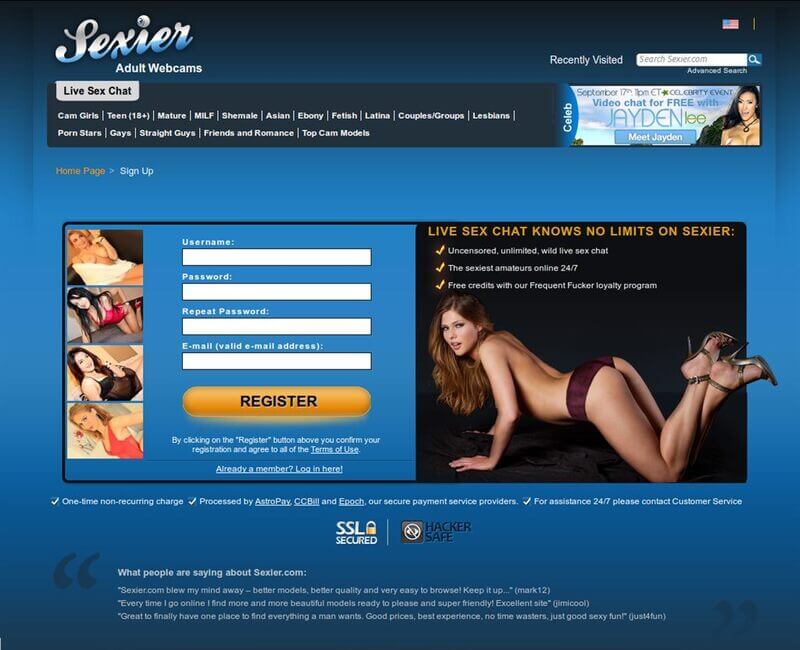 Types of chat
At the risk of repeating myself, free xxx chat at Sexier.com really is free as any girls who offer it can be chatted with without the need to register. To use the "Happy Hour" aand "Private Chat" options you will need to get some dollars (or whatever) in your account.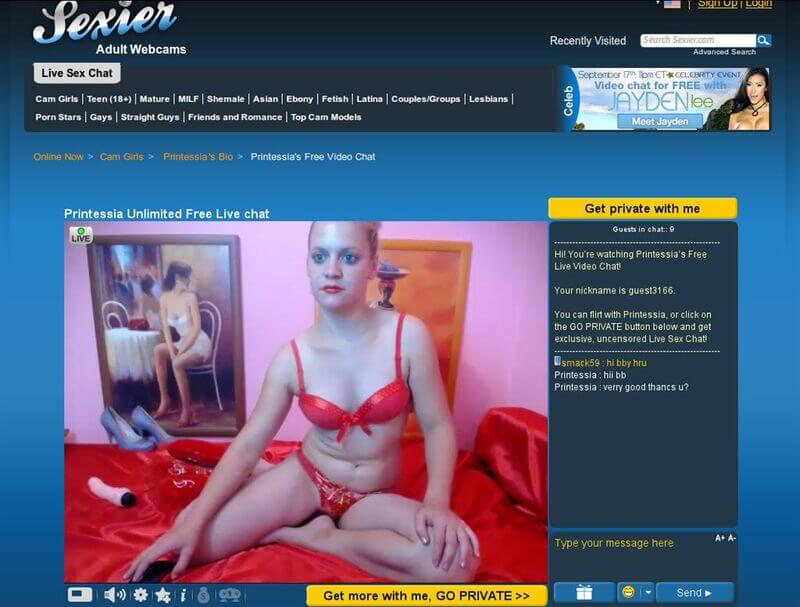 Video quality
Lots of girls have HD chat available - you can tell who when you're at the site as their menu pics will have a little "HD" symbol, so if you've got the bandwidth to support HD, which is about 1.8 MBps, then you're ready for some hi-def xxx chat fun. The rest of you mortals will have to make do with normal standard definition video.
Prices
Each xxx model determine how much they want to charge for chat, from 0.98 and 5.99 Sexier.com credits per minute. You can buy Sexier.com credit packages as follows:
EURO €
GBP £
USD $
Price
Credits
Price
Credits
Price
Credits
€25
35
£25
35
$25
35
€50
60
£50
60
$50
60
€75
85
£75
85
$75
85
€100
110
£100
110
$100
110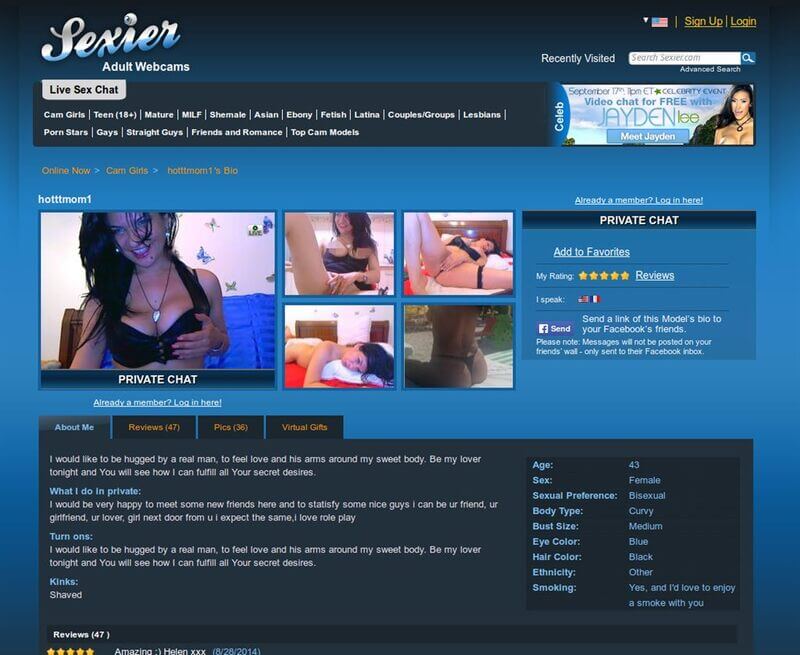 Payment methods
Again, at the risk of repeating myself, you can pay by PayPal at Sexier.com for hot web chat that's more secret than most. You can also pay with Visa, MasterCard, JCB, Discover, Maestro, Switch, PaySafeCard and UKash. You get yourself 10 bonus credit free each time you pay, which is kinda weird, as if you pay in smaller amounts, you get more credits, so I ain't sure they've thought that one through.
Number of models
There are ... now hold on to your hats ... 100,000+ models registered at Sexier.com, and around 1,000 red-hot babes (and a few guys) will be available for sex chat whenever you visit.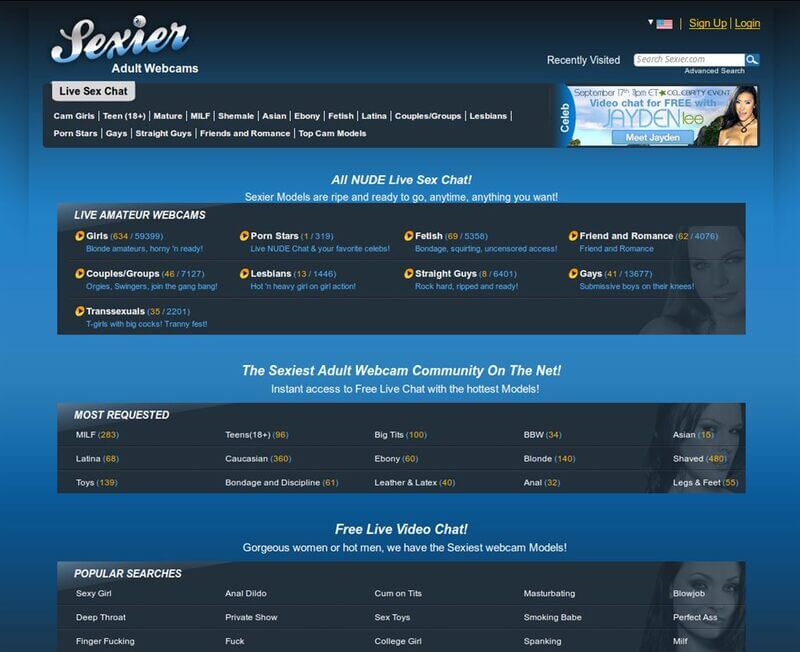 Customer support
The only way you can contact the site is via email, which is a bit of a disappointment, truthfully
Pros and Cons
Pros
✔ - You can have a look around the site without registering
✔ - The only sex cam site so far to accept PayPal payments
✔ - More registered models than most other sites, although the number online at a time is smaller
Cons
✖ - Can't join the site for real unless you pay credits
✖ - Customer support ain't get a lot going for it
Conclusion
So, what makes Sexier.com a site worthy of your consideration? Well, for a start there's the free chat sessions you can join just by taking a look at the site, with no registerin' needed to do so. That's one thing that gets my vote. Second is the fact that you can use PayPal, which makes it for easier to pay than hunting down your credit or debit card, and hopin' the wife or girlfriend don't go examinin' the next bill too closely. The downsides are the lack of customer support, and the fact you can't finish registering until you've you paid - but then what are you doin' at an adult cam site if yer hopin' to get everything for free? A lot of effort has gone into Sexier.com, and with the amount of gorgeous sex cam girls on there, you can take it from yours truly that it's a site that comes recommended.
Review of Sexier.com
- Reviewed by
webcam-porn.info