LiveSexAsian.Com - Where You'll Find the Hottest Asian Cam Babes
Howdie again, folks, or should I say "konnichiwa" ? Heck, don't worry, I ain't trying to be clever - wouldn't suit me anyhow! Konnichiwa is how them folks in Japan say hello, and I was tryin' to just introduce you to the latest "specialist" section of my site, which is for those people who love Asian cam models.
Before I get started on my latest review, I must say those of you who have sneaked ahead might think they're experiencing a touch of deja vu, as you should if you've any experience whatsoever with adult sex chat sites, be they Asian or not. If you've no idea what I'm gabbin' on about, then keep readin', as this is probably one of your first experiences with the wondrous world of adult porn cam sites. Suffice it to say, the site which I am goin' to be reviewin' is LiveSexAsian.com.
Kinda looks like they got them words in the wrong order, don't it? Well, both the domains LiveAsianSex.com and AsianSexLive had already been snapped up by the time this site hankered around, so LiveSexAsian.com had to do, I guess! This domain has been around since 2007, providin' lovely Asian babes for lovely Asian babe lovers - and if you haven't guessed by now - the site is provided for you by those good folk responsible for LiveJasmin.com and MyTrannyCams.com.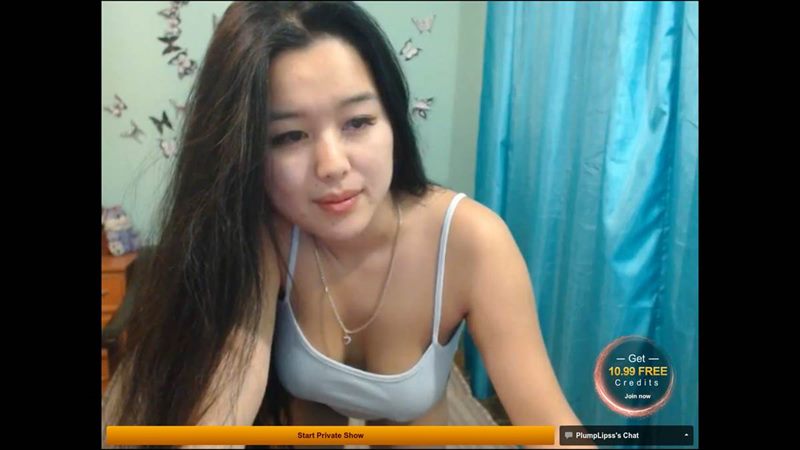 How I found the site
Of course, first thing I thought about the site was that I had stumbled onto LiveJasmin.com by mistake, but then I noticed the ever-so-slightly different color scheme - a kind of scarlet compared to LiveJasmin.com's deep red and MyTrannyCams.com's brown. Everythin' else is the same though, includin' LiveJasmin's patented menu section screen with it's nice, big thumbnails which "as if my magic" turn into cam views when you flit your mouse over them.
The site is a bit sparse, though, especially when compared to LiveJasmin.com. There's two menus - one that switches between girl, boy and tranny, and another where you select more precise attributes, such as girl/lesbian/fetish etc, language, appearance, age, willingness - you know the type of thing. There's also the chance to look at the current 100 top models, and your favorites list if you've saved any of the porn cam models to it. Other than that, there's the login or join button, and details of the latest special deal if you join, and that's your lot!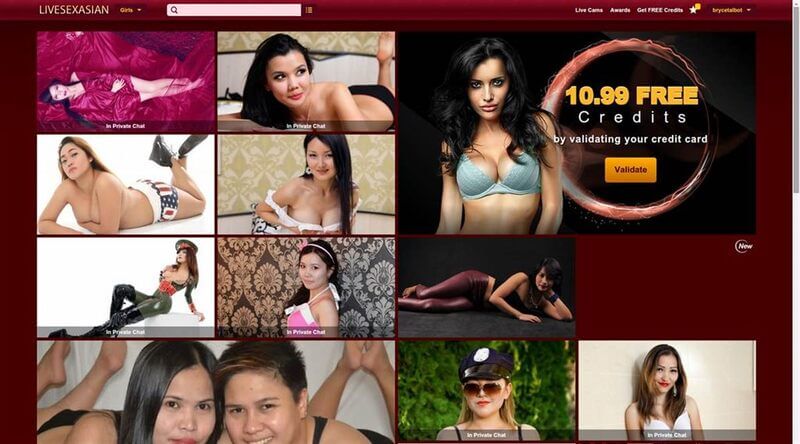 There's not a lot else you can glean from the menu screen. From the chat applet you can view a gallery of the model's photo galley, but that's about all there is!
Special features
Disappointingly, for a LiveJasmin-related site, there ain't a lot extra you can get your hands upon.
Ease of registration
You just need to give in your username, password and email address, and to accept the T&Cs. If you're a new member you can get 10 free private teasers, which allow you to sneak into a private chat for precisely twenty seconds. You can also get 10.99 worth of free credits if you register a credit card with the site. Naturally, if you are already a member of either LiveJasmin.com or MyTrannyCams.com, then you're already a member of LiveSexAsian.com.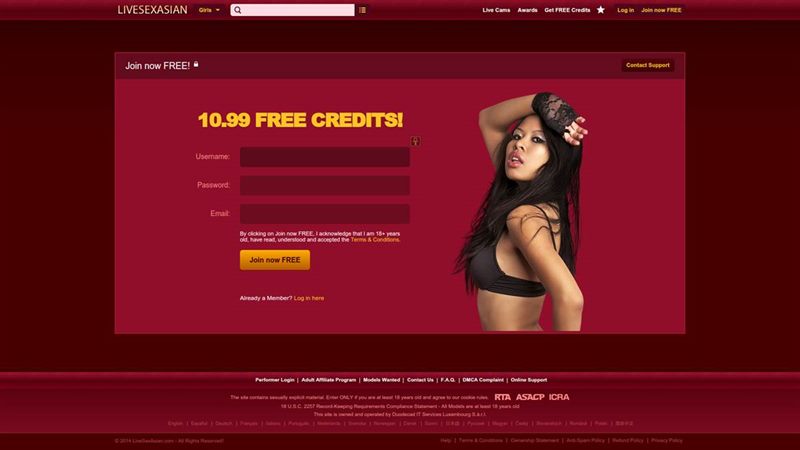 Types of chat
You start off your dealings with free chat of course, but you can move into private chat for the set fee set by the porn cam model herself, at a rate per minute. You can also use "sneak peeks" to look into a model's show with someone else, although you can't interact with either the model or the punter.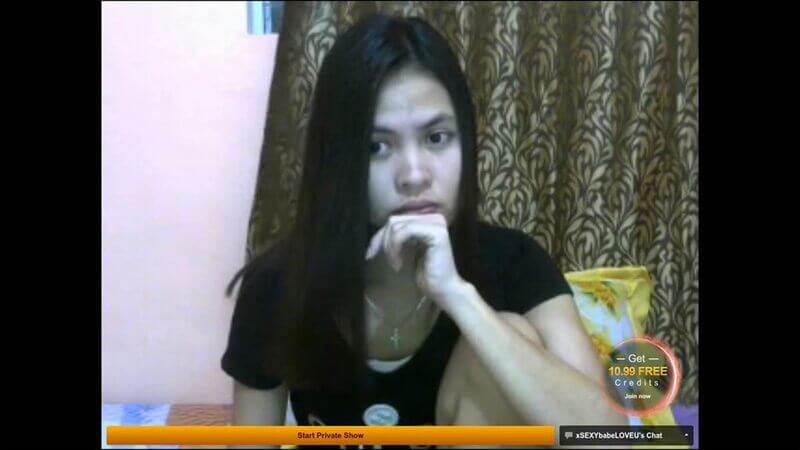 Video quality
We're talking LiveJasmin.com, so you can be assured that the cams absolutely hit the ball out of the ballpark. The HD is perfection, and lovely and smooth, and the SD ain't too bad either!
Prices
Same charges as with LiveJasmin of course. Note that the prices are based on US dollars, so if you ain't lucky enough to live in the USA then your fees may vary due to currency fluctuations:
EURO €
GBP £
USD $
Price
Credits
Price
Credits
Price
Credits
€29.99
28.99
£18.99
29.98
$29.99
29.99
€69.99
58.99
£27.99
43.97
$69.99
75.98
€99.99
98.99
£65.99
86.97
$99.99
108.98
€159.99
158.99
£93.99
118.97
$159.99
169.98
-
-
£149.99
180.97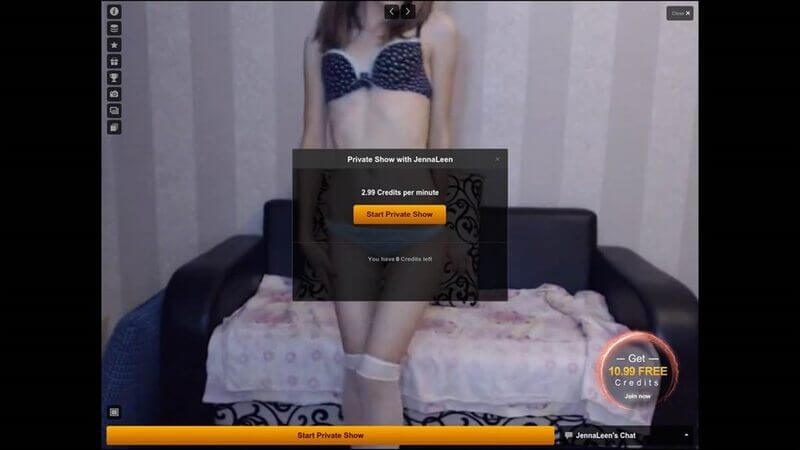 Payment methods
You have four options:
Credit/debit cards: Visa, MasterCard, Discover, JCB, Diner's Club, Switch and Solo.
Sofort banking: Straight from your own internet bank account.
Direct debit: (Europe only) Set up regular payments from your bank.
Pay by phone: You're given a phone number to ring which automatically adds credits to your balance.
Number of models
Suprisingly few - I only counted 40 girl profiles, 5 boys and 26 trannies.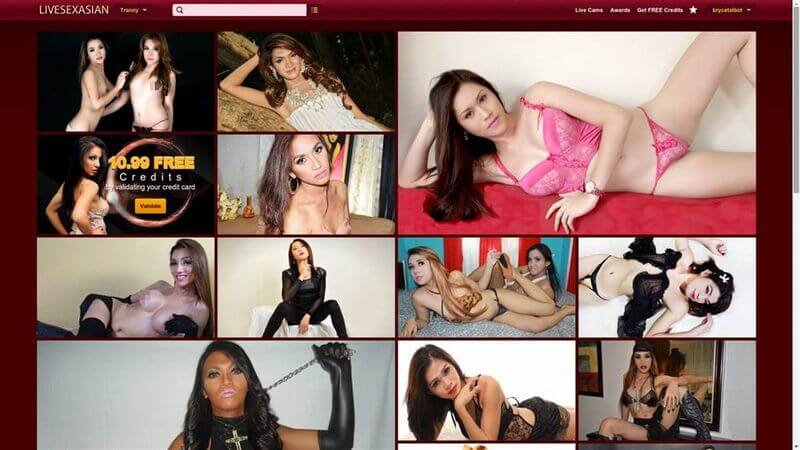 Customer support
The usual high levels from a LiveJasmin-led site: You can get in contact with the site via phone numbers for both technical and financial issues, plus there's a decent FAQ at the site, email support and a live chat applet.
Pros and Cons
Pros
✔ - The quality of the cams - as it's LiveJasmin they're the best you'll find anywhere
✔ - Very high quality models - lots of sexy loveliness
✔ - The site is extremely easy to use
Cons
✖ - Needs more models
✖ - Could be expanded to include a few more (okay, a lot more!) extras
✖ - One of the more expensive sites, but then you are paying for quality!
Conclusion
There's not a lot more I can say than this is an Asian-porn-models-only portal of LiveJasmin.com, with the Asian tranny models from that site and MyTrannyCams.com thrown in. LiveJasmin.com is the game leader when it comes to adult porn cams, and the same high standards that you find at LiveJasmin.com are of course echoed here. Just a shame that there are so few models, as yet, but everythin' else at this site cannot be faulted.
Review of LiveSexAsian.com
- Reviewed by
webcam-porn.info