Shemale.com - the Top Tranny Site with Lots of Sexy Stuff to See and Do!
Howdy folks again, and I am glad that you can join me as I embark on yet another stage of my journey around all the marvellous adult web cam sites the internet has to offer. Today I'm goin' a wanderin' off the beaten track a little again as the site I am going to be tellin' you good folk all about is Shemale.com, which should give you more than a little clue as to the content of the site.
As usual, I'm gonna start my review by taking off my cowboy hat and putting on my detective hat and tellig you any juicy tit-bits I feel you might need to know about. Shemale.com is old, and I mean real old. I managed to find traces of it all the way back to 1997. It wasn't a cam site then of course (I'm kinda doubting cam sites existed back then) but you could message shemales, buy female clothing and watch a handful of shemale videos. It had a time as a re-direct site to other transsexuals sites until it fell dormant. By 2007 the domain name was up for sale and the sexy cam-fest came alive as a shemale cams site in April 2007. It has been providin' sexy shemale models for ladyboys fans ever since.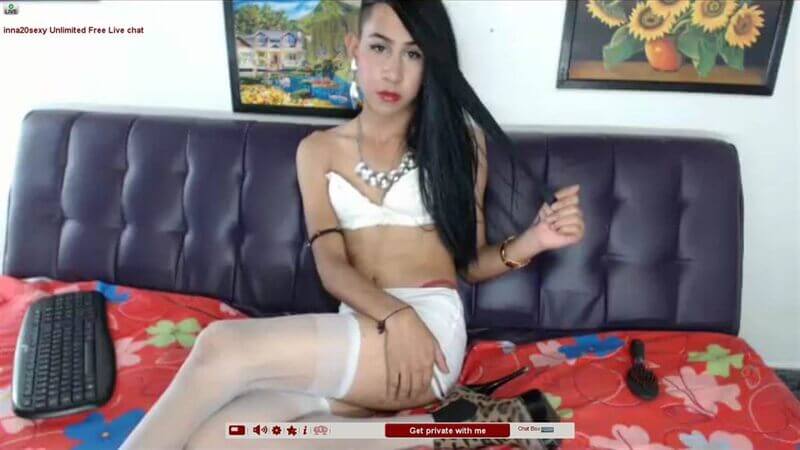 How I found the site
There's a lot that's familiar at Shemale.com, but there's also a lot that's refreshingly different as well. Instead of just dumpin' you into the cams menus as most cam sites do, at Shemale.com you get a much warmer welcome, listing all the varied goodies that the site has to offer. There's the live webcam shows of course, but there's also the all-shemale magazine to take a gander through, access to exclusive videos, and even a guide to the local shemale hangouts all over the globe - impressive stuff, and much more useful to the shemale community than just thumbnails of shemale models willing to flash their bits at you.
Of course, as this is a porno cam site you've very probably come here looking for cams, so all you need to do once you have entered the site is to click on the "Webcam Hosts" tab on the top menu and you're through to your typical adult sex cam selection menu screen. You can see all the shemale sexiness that awaits you. As a nice little bonus, if you hover your mouse over a menu thumbnail when a model is in free chat you get a glimpse of her cam, but if the model is in private chat, you (if the model in question has done one) can watch a nice little preview video where the model will say a quick hello. I think that's pretty darn cool. You can also bring up extra bits of porn-related info, and you can click to see some of the shemale's preview pics and read her bio.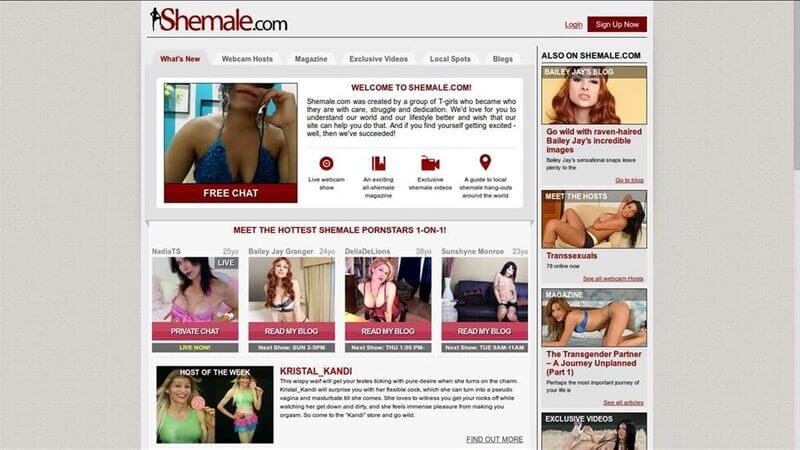 There's lots to do at the site and lots to get your shemale bone tingling, if you see what you I mean. You can very easily have yourself a mighty fine time at the site without ever clicking on a single sex cam! That kinda defeats the whole point, though, so I ain't gonna recommend it.
Special features
Okay, where do you want to start?
You can view hot shemale pornstars who do special shows at appointed times, and read their blog!
"Host of the week" showcases the latest super-hot shemale you'll no doubt love to get acquainted with
Reviews of some of the best shemale hot-spots all across the globe
A guide to surgery, just in case you're thinking of becoming transgender yourself
A "magazine" full of articles about the transgender lifestyle
Exclusive videos you can pay to play
A guide to shemale clubs and venues near you!
A great selection of shemale blogs from the sexiest cam performers.
That should be enough to keep you going - if not, you're being too demanding!
Ease of registration
After such a good start, this is where Shemale.com starts to let itself down, as you can only join the site by buying credits. Registration is a three-step process. Step one is to fill in your email address, username and password. Step two is to fill out your public profile, although this step is optional.
Step three is the credit-buyin' step and unfortunately there is no way past it. Every time you log on you get taken to the credit-buyin' page, and you cannot get no further, which is a bit of a shame.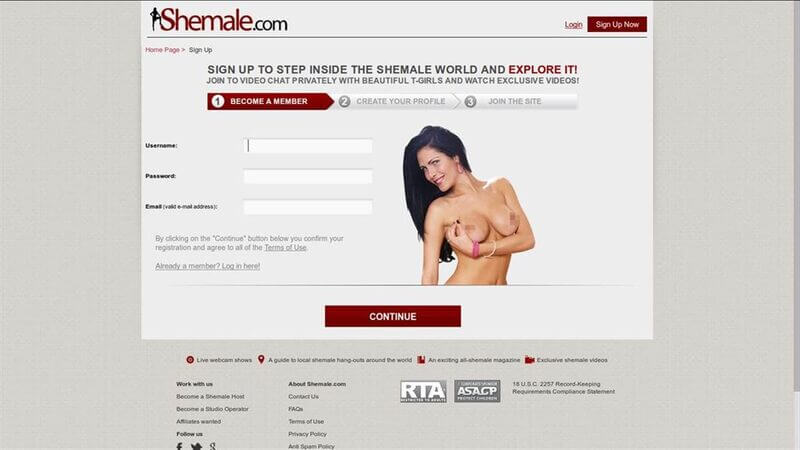 Types of chat
You can join in the free chat without registerin', or private chat by buyin' credits and spendin' them. No other chat options aside from public or private.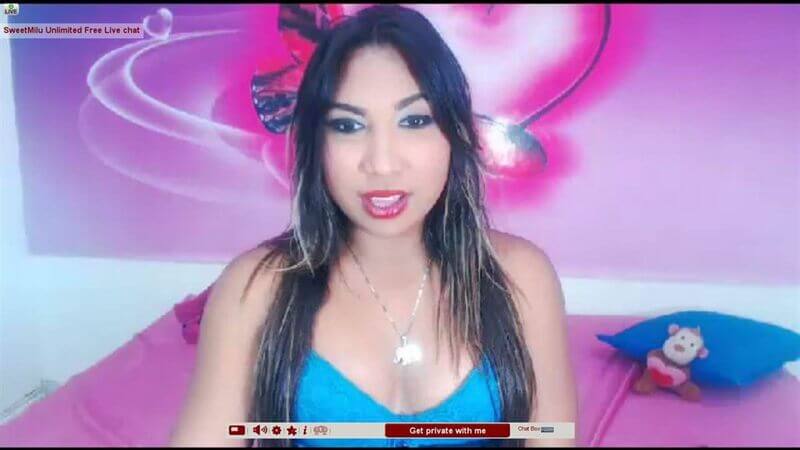 Video quality
No problems with the HD at all - not quite the supreme standards of MyTrannyCams.com, but still pretty darn tootin'. The SD ain't so bad, either.
Prices
Nice and easy pricin' structure: 1 credit for £1. You can buy credits in packs of 25, 50, 75 or 100, although you don't get no discounts for bulk buyin'.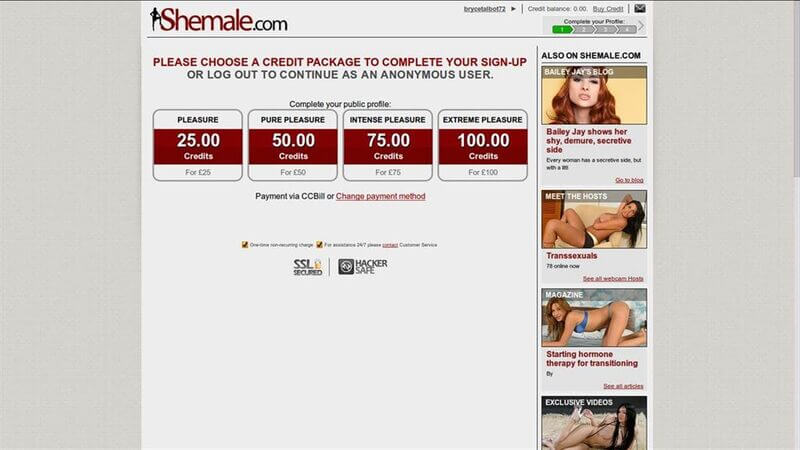 Payment methods
Payments are handled by CCBill (Credit/Debit Cards) or EPOCH (Credit/Debit Cards or PayPal).
Number of models
Accordin' to the sources I have found, only 400 porn models or so are registered at the site. You are not exactly spoilt for choice when you take a gander around the site, either.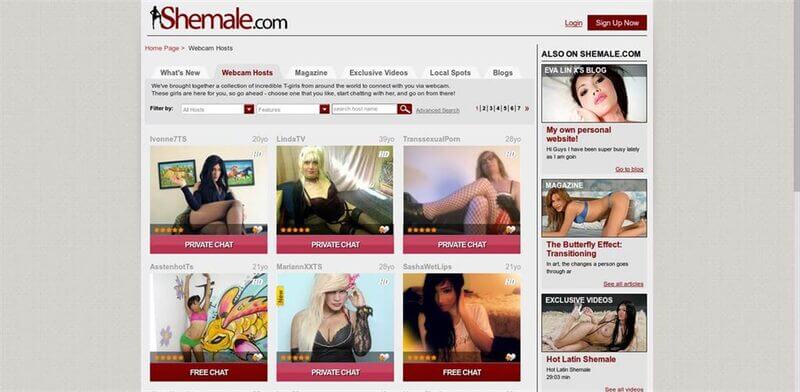 Customer support
You can use email or send a message via the internal messagin' system. No phone numbers or live chat is available.
Pros and Cons
Pros
✔ - Lots of extra features about the transgendered lifestyle
✔ - The cams are of a decent quality, as are the cam performers
✔ - Transparent pricin' structure
Cons
✖ - You can't join without spendin' at least £25 on credits
✖ - Very poor support options
✖ - Extremely low number of models
Conclusion
Shame I can't stand soccer, as this review is definitely a review of two halves. I was swingin' happily along, really impressed with the site and the layout, and all the great number of superb extras, then BAM! You can't join up without spendin' at least £25 ... BAM! The support options are really quite poor ... BAM! Only around 400 models, leavin' only a handful online at any one time. Ah well ...
Still, I suppose the good side of the site does still outweigh the disappointin' side, and if you really want to experience the ladyboys side of the wicked world wide web then £25 ain't too heavy a price to pay. There's plenty to keep you busy while you're waitin' for a hot shemale to appear free to chat ... and I think at times you might just need that!
Review of Shemale.com
- Reviewed by
webcam-porn.info