Asians247.Com - Asian Sex Cam Babes Available 24 Hours a Day!
Allow me to tip my hat towards you once again. You'll have to imagine that I'm wearing one, so it's a metaphorical hat. Just being polite, is all. Please feel free to join me on my quest in explorin' another tasty sex cam site with a definite Asian flavor. You obviously love Asian girls else you wouldn't be here, so how does a site sound that promises Asian live cams and live sex 24 hours a day, 7 days a week? Sound good? Then off we go!
The site I shall be reviewin' for you today is Asians247.com. I had a quick look around the site and it struck me as familiar in some way. I wasn't quite able to put my finger on it then I had it! This site looks very similar to LadyboyCams.com! In fact, it must be the same dudes, especially as the contact phone number for both sites is the same.
Anyhow, just a bit of the old background buzz before I get cracking on with the review. The site has been around since 2007, and aside from a bit of a color change, hasn't really changed much at all since then. I did notice at the time that most of the models at LadyboyCams.com were Asian in origin, so I'm thinking that LadyboyCams.com is a ladyboys-only portal of Asians247.com? But then LadyboyCams.com has been around longer ... oh heck, I'm getting a headache thinking about it ...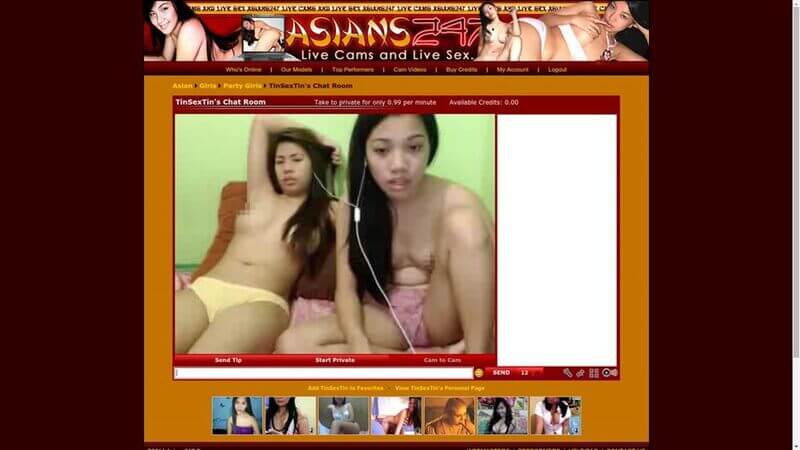 How I found the site
Well, Asians247.com does look a little old school, it must be said. I think they've done a little bit of updatin' comparin' this version to the older versions of the site, but not a great deal. Oh well, I suppose if it ain't broke, then don't fix it! There's not much in the way of functionality with the site, just a link to the home page, a list of all the profiles (all 32,000+ of them!), a list of the top performers, and the login and sign up screens.
The number of current live cams is given under the menu, and you can access each specific "grouping" from there - such as girls (the biggest category of course!), lesbians, couples and groups. There's also a very important section called "99c Models" which I will tell you all about when I get to the monetary side of things!
There's no preview mode available by accessing the menu thumbnails - it's the same deal as the sister site - you get a little camera icon which reveals a still image from the cam if you click on it. Underneath the model's name you can see the type of chat any particular model is currently available for.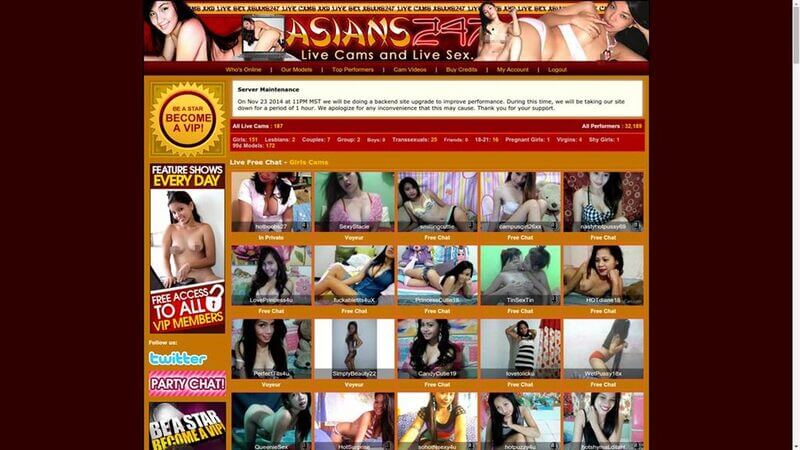 Naturally, clickin' on a menu thumbnail gives you a nice little profile include a little bit of a bio that the model will have written herself. There are also photo galleries, video galleries (if the model has recorded any), and even a list of awards the model has managed to achieve on the site. You can also review the ratings and comments of people who have viewed the Asian sex cam girl's private shows, and even how many punters have selected her as one of their favorites.
All this goes a long way to makin' sure you're only gonna be dealin'g with models who are likely to make your experiences at the site mightily entertainin'!
Special features
When I did my review of LadyboyCams.com I did think it strange that the "VIP Special Benefits" screen was a kind of infographic thing which contained only sex cam ladies. Now that little mystery is solved as the same infographic is served up here! VIP members get 10 percent off all private sessions with performers, and free access to all live feature shows, and live feature show archives. It's also promised that VIPs are treated in a better manner than the average punter!
Ease of registration
I must kind of say that if you're already a member of LadyboyCams.com, then membership of Asians247.com is automatic. Not sure why you'd have such diverse-like tastes, but takes all sorts I guess! To join, type in your chosen username and password and see if you can pass the robot verification test. Once you've replied to your activation email, you're all ready!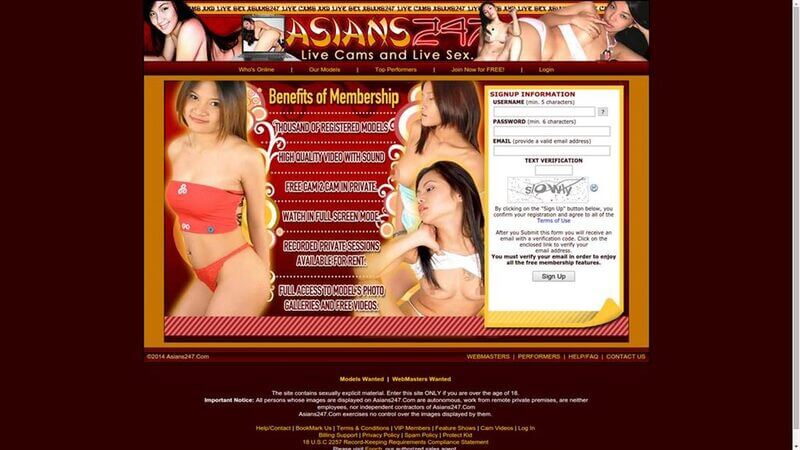 Types of chat
You can free chat as long as you want, or at least until a payin' customer hops into the room and whisks the Asian porn cam girl away from you! You can "Nude Chat" which is a premium chat with multiple punters, and "Private Chat" which is a one-to-one show. Some models allow Voyeur Chat where you can watch a live show without being able to interact, for $0.99 a minute.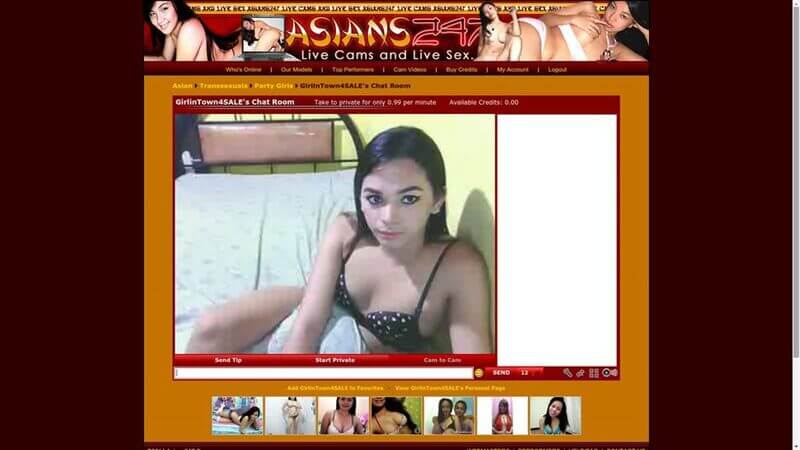 Video quality
Yeah ... it depends on the model's cam and streamin' ability I guess! The cams are not the greatest quality I have had the privilege of seeing, to be honest with you.
Prices
It's one dollar per credit, and you can buy credits packs for $29.95, $49.95, $79.95 or $99.95. If you fancy that extra VIP goodness I spoke of earlier, then its a regular payment of $29.95 per month. You can filter the sexy cam models for those available at "99c" - which seems to be most of them!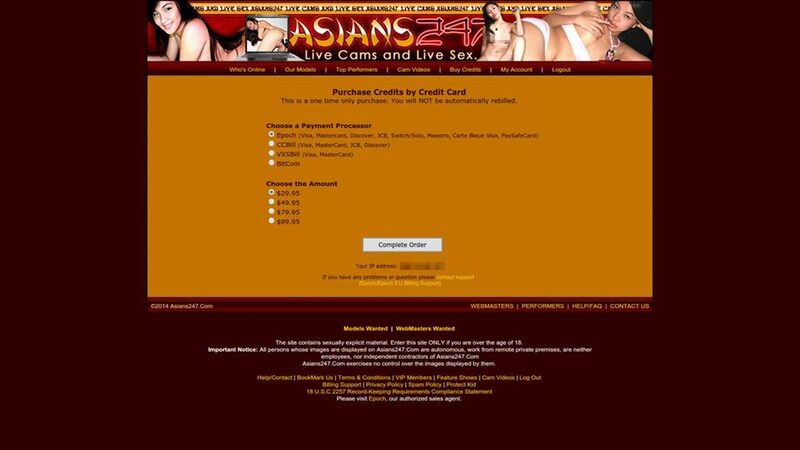 Payment methods
You can go for Epoch (Visa, MasterCard, JCB, Discover, Switch/Solo, Maestro, Carte Bleue Visa or Paysafecard), CCBill (Visa, MasterCard, JCB or Discover), VXSBill (Visa or MasterCard) or BitCoin.
Number of models
Well, the site says 32,000+, but I don't think there are those kinds of numbers active. There are usually a very good number of models to choose from when you visit - usually approaching a couple of hundred.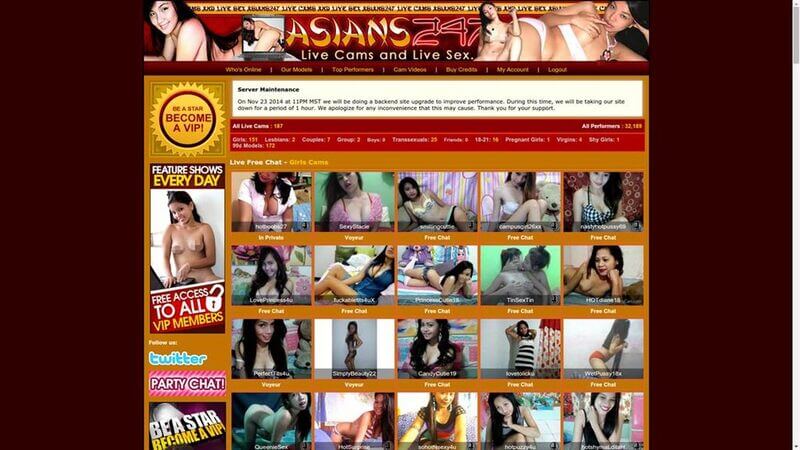 Customer support
You have the choice of a phone number, email addresses and a contact form. The only option that's lackin' is a live web chat function.
Pros and Cons
Pros
✔ - A good number of models online - 24/7!
✔ - Talk appears to be cheap, here, with the majority only chargin' $0.99 a minute.
✔ - Nearly 400,000 videos to watch, although you do have to pay for them!
Cons
✖ - The cam quaity is a little poor, some of the time
✖ - The site's design need to be updated
Conclusion
My first viewin' of Asians247.com did not exactly inspire me - but first impressions are not always 100 percent correct, and I was not 100 percent correct on this occasion. There are lots of lovely, sexy Asian Girls here ready and willin' for you to chat with, and most of them (95 percent or so of them I think) are willing to do that chattin' for a bargain 99 cents a minute!
Everything else is ticking the right boxes for me here as well, aside from the quality of some of the cams. I'm kind of thinkin' Asians247.com is a bit of a gold mine for sexy Asian cam babes, and I hope that you will feel the same way when you visit!
Review of Asians247.com
- Reviewed by
webcam-porn.info