Streamate.com - Where the Sexy Porn Models Are Always Asking You to Toss ... Your Gold!
I guess it's time for me to tip my hat towards you once again as I get to reviewin' yet another steamy adult sex site. The site I'm going to be mullin' over this time is Streamate.com, which promises live sex cams 24/7. Sure sounds good to me, but just how good is it?
Naturally, before I start tapping my review at the old keyboard, I like to do quite a bit of background checking so I'm sure what I'm recommendin' to you ain't somewhere you're likely to get ripped off. What sort of reviewer would I be if I was to let that sort of thing to happen? So, I did my background checks on Streamate.com and was surprised by what I found. I have never seen such a load of diverse opinions on an adult cam site before. Some people are sayin' Streamate.com is the best live cam site there is, while others say it's one giant rip-off site. It's all rather confusin', and quite beguiled old Randy here. I wonder which side of the argument I'm going to end up believin' in? If you wanna find out, then I suggest you keep on readin' !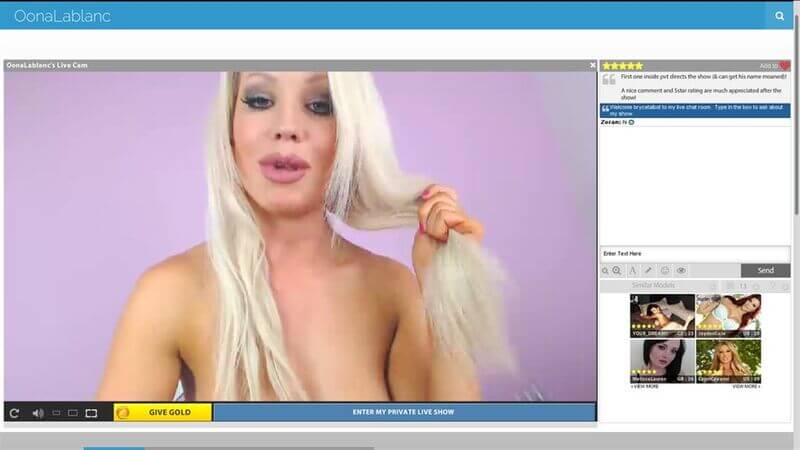 How I found the site
First up, the site looks fine, although it does take a while to load, and I could only get it working in Firefox - the menu buttons just did not work for me in Chrome, which is odd. You can jump straight onto the site and have a good look around without havin' to register or nothing'. Some top cam babes appear in the menu section, and on the left hand side you'll find a pretty good menu outlining most of the particular porno categories you could possibly think of, including some tastes that to me border on the peculiar, such as Co-Eds, Grannys and Smoking, but each to their own, of course. There's also the most bizarre category of all: "Non-nude". Jeez, if I want to see some pretty non-nude girls I'd just head on down the local mall on a Saturday afternoon! Each menu thumbnail has a little bit of info, including the age and location of the porn-lovin' babe, and a quick two-line bio that pops up when you move you mouse over the pic. They are no video "sneak views" at Streamate.com - the kind you see at other sites.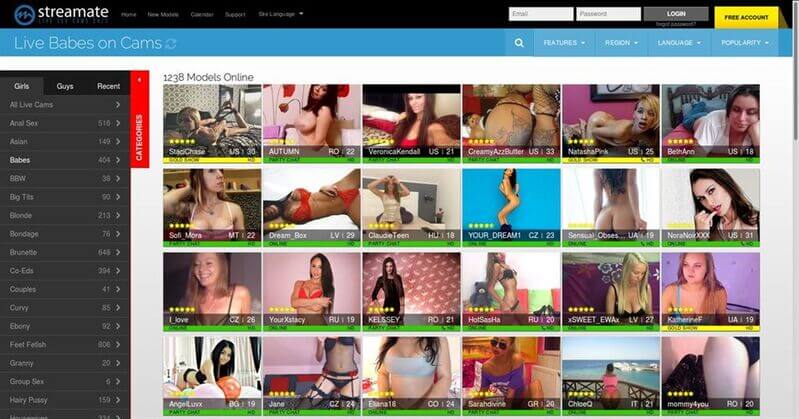 Find yourself someone to have fun with and click on their thumbnail to take a visit to their cam. Oh yeah, one thing I forgot to bring to your attention ... each model has a five-star rating, voted on by members of the x-rated babes' private shows. They're listed by this rating, so you can easily see which cam models are likely to be the most accommodatin'. Things work a little differently on Streamate.com when it comes to anything aside from free chat, but I'll go into that a little deeper later on in this review. Free chat seems mostly about the models trying to get you to join in with the steamier things they are willing to do, and you can free chat without signin' up. To join in with the more exciting stuff you need to become a member and pay for some credits so you can start contributin'.
Special features
There doesn't seem too much deservin' of the title of "Special" when it comes to Streamate. You can filter out the porn models by locations, stream quality, and the type of show that they are willin' to put on, but that's about all.
Ease of registration
There's a large gold button at the top of the site marked "Free Account" which is of course how you get to registerin'. Click on it to bring up the registration page where you have to fill in a few details about yourself. Once you have done this, you need to register your credit card. Of course, Streamate.com jumps through all the hoops to explain that this is just a precautionary measure and that your card won't be charged unless you expressly wish it to, but you have to know that you ain't getting anywhere unless you've got a card to register at the site.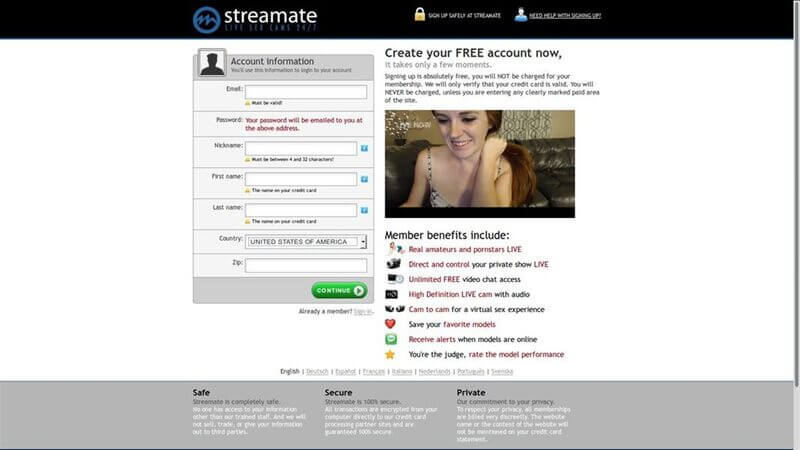 Types of chat
There's quite a few choices of chat at Streamate.com, and aside from the free chats the type of chat the sex cam model is willin' to participate in is up to her. First off is the "Gold Show". The model sets up a show and tells everyone who might be interested what she's gonna do in the show. She also sets a price and a time limit. Anyone and everyone can contribute gold to the goal price. Once the goal is reached, the model will start her show and everyone who contributed something to the show is allowed to view. Next up is "Party Chat". This is like free chat, except you can tip the sexy cam model in order to try and persuade them to do something extra-naughty for you (but they ain't obliged to). Finally, there is the "Private Chat" which works just like the kind of chat you're probably used to on other sex cam sites. This is charged straight from your credit card at the rate the sex cam babe chooses. One more thing - if the model ain't too happy with you just hangin' around, then she can kick you out of the room.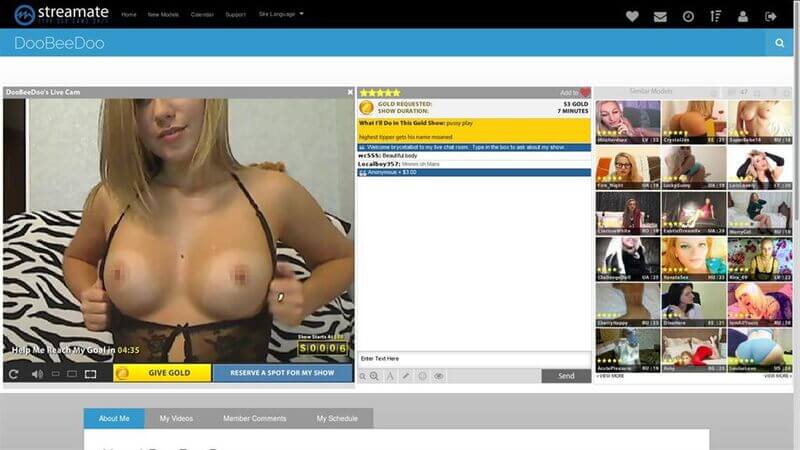 Video quality
There's three levels: HD, High quality and normal. You can see at the bottom of each performer's thumbnail if she has HD. I have to say the HD at Streamate ain't too bad, but it ain't too spectacular either, and often freezes with audio/video sync issues.
Prices
Unlike most other sites, the money from your usage of Streamate.com comes right out of your credit card account - you don't have to pre-buy credits or tokens or anything. This is convenient, but if you are scared you'll end up overspendin' you can set a daily spend limit on your card. The Private Shows at the site are set by the porno models themselves, upwards from $0.99.The "gold" you use for tipping is either £1, €1 or $1 per "gold piece" depending on where you are in the world.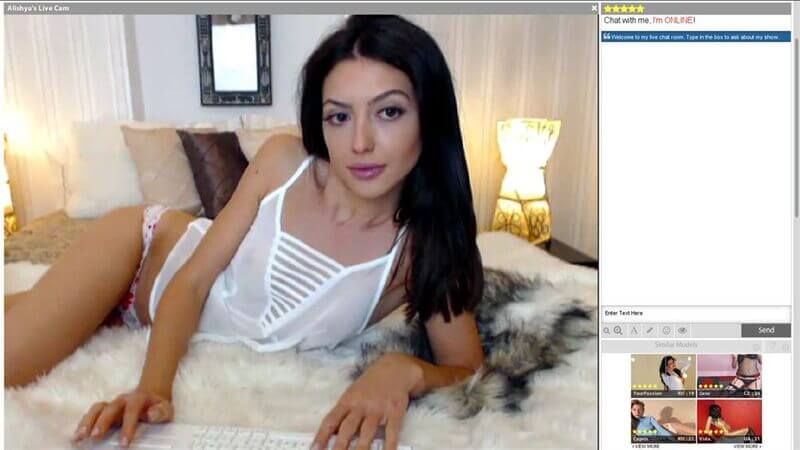 Payment methods
Credit and debit cards only. Visa, Mastercard or Discover.
Number of models
There are a good number of models online at Streamate at any one time - almost over a thousand all the time. The site says it has 10,000+ models registered.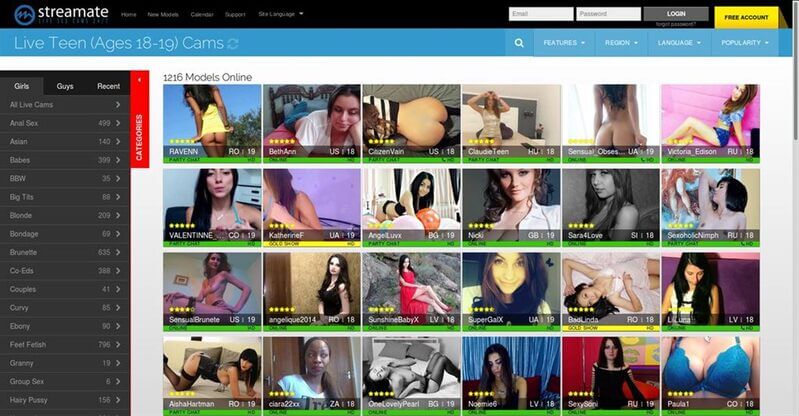 Customer support
There's a pretty good live chat function - I used it and wasn't kept hangin' around for answers to my questions too long, and they were answered to my satisfaction. There's phone and email support as well.
Pros and Cons
Pros
✔ - Some of the HD Cams are of really outstandin' quality
✔ - Lots of xxx cam babes available at any one time
✔ - The site is pretty responsive and easy to use, although loadin' times are slow sometimes
Cons
✖ - Some of the models charge too much for private and "Gold" shows
✖ - Models can kick you out of free chat, and are constantly beggin' for tips
Conclusion
I think I'm going to sit on the fence a little when it comes to Streamate. Some of the site is very good, but some of it is not so appealin'. It can be frustrating trying to find a porn cam model who doesn't kick you out of the free chat after a minute if you're not filling up her tip jar, and I'm not too enthused about the "Gold Show" idea. It can seem to me to be quite easy to overload your plastic if you take your eye off the ball. On the positive side, there's always a decent amount of babes online at the site, and some get quite frisky as they're trying to get you to toss your gold into the tip jar. I think you really need to take a look yourself and see what you think. Streamate might just be the adult sex cam site that you're lookin' for!
Review of Streamate.com
- Reviewed by
webcam-porn.info