Flirt4Free Transgender Review - Sexy Shemale Chat Rooms
Well howdy y'all and welcome back. Yup, you guessed it, it's that special time again where I bring to ya'll pearls of wisdom, and share with you some hidden tranny treasures. This week, I zoom in on an award winning site with big bite, I'm talking about Flirt4Free, and I'll be focusing on the seductive world of sexy shemale cams and explore the flourishing world of live tranny chat.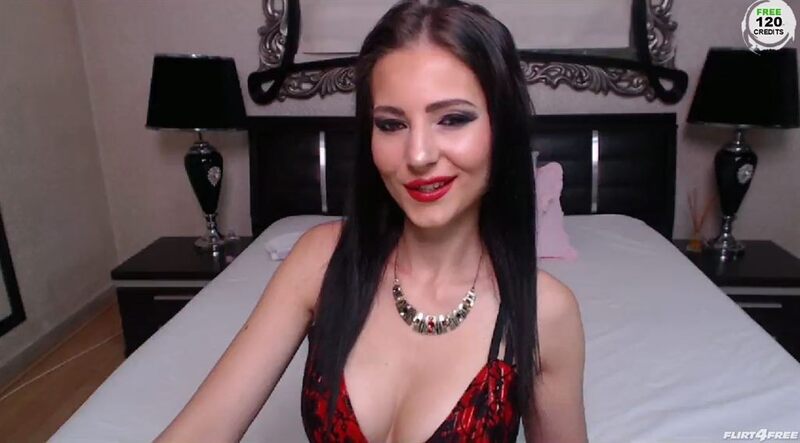 So buckle up those belts (or not) and get ready for a wild ride. In this Flirt4Free transgender review, find out how you too can enjoy the pleasures of this underworld and discover how these gender benders please with ease. Find out which sexy shemale cams are best for you.
How I Found The Site
Enter the site as a first time user, and immediately you are pleasantly surprised. The home page is slick looking with pictures, and the site's navigation info centered at the top of the page. Seeing as I'm in the mood for chicks with dicks, I mouse over the categories button and select transgender, click.

Bam,
A page of spicy transgenders opens. The layout is crisp and clean with fair sized sexy profile pics. The background color is solid black, adding to the overall elegance of the site. At the top of this page, Flirt4Free have even gone so far, as to include a brief explanation of exactly what a transgender person is, which I thought was a nice touch, and pretty helpful for the uninformed.
Scroll through the page and you will notice that mousing over different pictures, gives you different information, namely the models name, the prices that the model charges, category of the model, her location and the quality of the video. I'm not too sure why they felt it necessary to include both category and location information, as I have already selected transgender, I know which category I'm in already?
As far as location is concerned, I'm not too sure that it matters to me, as far as I'm concerned, her location is right here on my screen! At the top of the information box is the type of chat, and at the bottom of the page, a 'start watching!' button. All very clear and well displayed.
Back to mousing over those shemale pics, trannies who are 'online' have a box with a blue header appear, while those shemales who are 'offline' have a box with grey headers appear. I select a Hispanic chica and enter into her Open Room and begin to chat. After some time, a blue popup appears explaining that my trial time is up, prompting me to signup.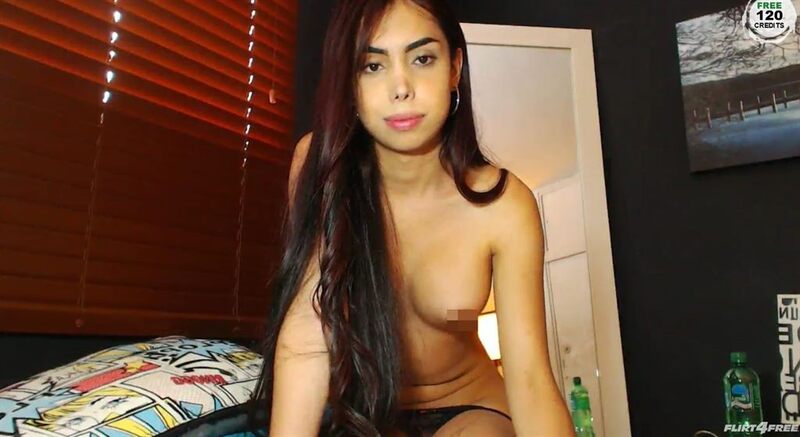 Off I go,
I take a few moments to complete the basic registration, which includes giving a Chat Nickname, choosing a Password and supplying an email address. I don't forget to check the Terms & Conditions, and then proceed by clicking the 'Create Free Account' button. A few moments later, and a confirmation email arrives to my inbox. It's all above board, and I'm good to go, a world of sexy shemale cams awaits me, and I'm rearing to go.
Special Features
Let's be clear about this folks, Flirt4Free.com is after all a multi award winning adult cam site, racking up awards since 2004. In 2015, they were also voted 'Best Live Gay Cam' at the AW Summit, which was held in Mamaia, Romania. Yes, this site has some pretty darn special features! Follow me to find out.
I'll begin with features or conveniences that I discovered whilst visiting and chatting with a sexy shemale cam babe in her public chat room. First of all, under or on the live video stream, far right there are 3 icons or buttons.
The first is a 'play' button, which allows users to switch between a Flash Video Player or play direct from your browser. This is a cool feature as not all videos play the same on different browsers, and being able to choose the best player for yourself, is a thumbs up from me.
The second is a 'volume' button, self explanatory, but awesome that I can make volume adjustments straight from the chat room, let's be honest over here, for me it was more of a convenience, but nonetheless made me happy. For me, sexy shemale cams are
The third button is to adjust the chat interface size, there are 3 settings to choose from: small video, large video & full size. This again is more of a convenience, and one that you could find on sex cam sites such as CamSoda, for example.
Under the chat column, there are 2 buttons. The first button is a settings button, click and you are able to make a few setting adjustments, such as the size of text and having text bubbles on or off, to name a few. Please note that only VIP users are allowed to block grey users. By the way 'grey users' are guest users.

Here's where it gets pretty interesting:
Situated on the far right of the page, just next to the chat column, are a bunch of grey icons, 7 to be exact including an icon that says more, click and your choices expand to 11. Hmmm, Some of these features are easy to work out and include, 'view other online performers', 'add credits to my account' and 'add to your favorites' to name a few, and then there are the others.
Clicking the 'view other online performers' opens up a window profile pics of other models online, a cool feature, as you don't need to keep returning to the site's homepage, to navigate to the next sexy shemale. It can all be done from the comfort of the chat room that you are in.
Icons?
The rest of the icons are cool and fun, and include 'view profile', 'browse my videos' as well as a 'power boost' function. Boosting is free and a great way to give back to the model, helping her rise through the ranks, and ultimately resulting in her appearing higher on the Flirt4Free home page. I think anytime users, like you and me, can salute our favorite sexy shemale cam performer, it's a good thing.
Another feature that you will notice, is the 'test your webcam' icon, should you wish to engage in 1 on 1 live tranny chat, otherwise known as Cam2Cam. Interesting to note that this hands-free experience, is only available while in a Private Show. There are no additional fees for this feature, and it's guaranteed to take your gender-bender flirting to the next level.
I like my porn, and watching sexy shemale cams on Flirt4Free is easy and exciting. Some of the performers have an added feature to their profile which is called Flirt Phone, this is a paid service, whereby 100% private and secure calls can be made to the model at a per minute rate, just like in a private show. Live tranny chat, personal and when you want it cowboys.
Some sexy shemale cam babes have a 'join my fan club' button. Joining a shemale honey's fan club scores you discount savings on her live shows and private videos. Fan club members also enjoy access to exclusive content, and also show up in a different color in her chat room, that the model chooses especially for her fans.
Scheduled Shows are indeed a special feature found on Flirt4Free, for those who are um, impatient and like knowing exactly when there favorite sexy shemale cam babe will be online. Plan your time, don't be left out and miss quality live tranny chat!
Another interesting feature to be found on Flirt4Free is something called Flirt Rewards, which you can find when you mouse over the icon for My Account. This program has been created to acknowledge and reward highly active users with special gifts and bonuses.
How does this work?
As you continue to flirt with the honeys, you earn points and grow your Lifetime Status and Current Level, unlocking new rewards as you progress. Now there are various ways to earn, including Achievement Missions, and I suggest checking out the site for more details on how to earn points as well as how you can redeem them.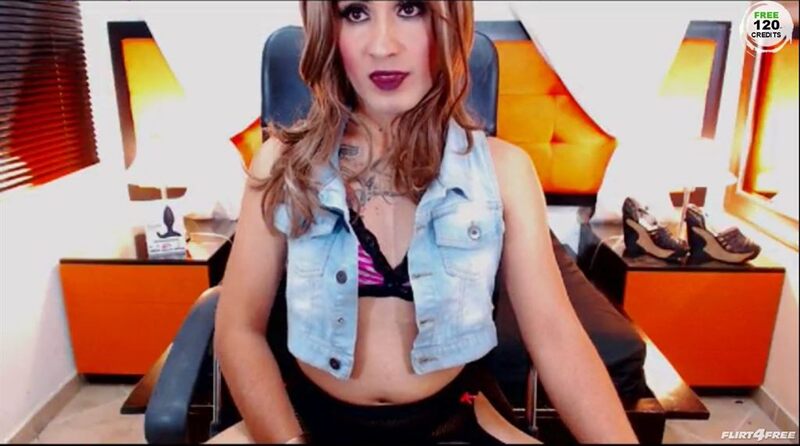 Membership Features
What are the different memberships?
Flirt4Free offer 4 different memberships: Guest, Basic, Premium and VIP.
Guest
These are users who have not registered and have not created a free account. In chat rooms, the guest username shows up in grey font. Guest users enjoy 1 hour free chat time per day, should guest users want to continue chatting, they would first need to create an account. Models can restrict guest users by turning off the chat.
Basic
The moment a user has created an account, they become a basic user. Basic users get personalized chat nicknames that shows up in white font, in the chat rooms. Basic users also enjoy unrestricted access to the chat rooms, and models will see all of your messages. Basic users have unlimited free chat time, and have the option of larger video (screen size) in chat rooms.
Premium
Premium members score all the same benefits as Basic members plus more. You become a Premium member when you have entered credit card details, and have received your 120 Free Credits. These Credits can be used for Group Shows, Private Shows, tips, gifts or videos. Premium users also enjoy free access to all Party Chat Shows, and can watch free previews of all videos on the site.
Some other cool features of Premium membership include notifications, both from when your favorite model is online as well as when she has recorded a new video. Premium members also get to experience Super Voyeur cams, where you can watch up to 6 shows at once!
VIP
VIP members score, and score big. VIP enjoy all the same benefits as Premium and then more. Your username will appear in gold in the chat rooms (or you can choose white). As a VIP member, you could enjoy special treatment form the model, whichever chat room. VIP's have unlimited access to live show recording and unlimited access to 150 Free videos daily.
As a VIP member, you have the power to turn off pesky chat from non-registered (grey) users. How about free access to 1 hour long feature shows with porn stars? Yes. And did I mention access to 1000's of free photos? Yip, you got it. VIP's are also able to send email with attachments, to their favorite model.
VIP membership is $39.95 for 30 days or $49.95 (which includes 300 Free Credits) for 30 days. Both these types of packages will renew after 30 days until such time as they have been cancelled. So be warned!
Ease of Registration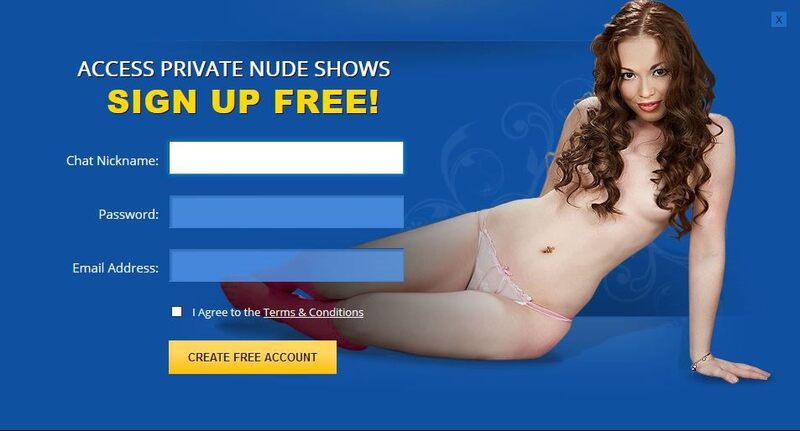 Creating an account on Flirt4Free is pretty easy. At the top right of the home page, you will see a 'Free 120 Credits' button, this is essentially your sign up button. Click, and a blue popup window appears asking for a chat nickname, a password and an email address. Don't forget to check and agree to the terms & conditions, and finish off by clicking the button 'create account'
A confirmation will be sent to the email address that you entered. You are now ready to enjoy sexy shemale cams and tantalizing live tranny chat. You can also score 120 free credits by sending your credit card details, this way the site is able to confirm that the users are in fact, 18+. You are not charged for these Credits and you are at liberty to spend them without restrictions.
Types of Chat
As with most adult cam sites, Flirt4Free have covered the basics and offer the standard chats which include: Open Room (public chat room), Multi User Chat and In Private. In writing this Flirt4Free review, I've opted to give a little more detail about sexy shemale cams, and make it as informative as possible.
Standard
The most frequently used show type, Standard (a.k.a In Private). This is a 1-on-1 live video chat with a cam model of your choice. Usually Standard Chat rates range from between 30-60 Credits/minute.
Premier Chat
Premier Chat is reserved for the Flirt4Free models who have proven to be the best. Undivided attention is given by the extra special model of your choice. Premier Chat rooms use only the highest quality video available. Premier Chat commands premium pricing, and this ranges from between 70-120 Credits per minute.
Voyeur Mode
When a cam babe is already engaged in either a Standard or Premier Chat show, you are still able to watch the full size video by entering Voyeur Mode. Out of respect for the original client's privacy, no text or audio is available. Voyeur Mode ranges between 10-40 Credits/minute.
Multi-User
This is multiple users chatting with the model(s) In Private. These rooms are typically 'duo' rooms with more than one model performing. Multi User rates differ and range from 10-120 Credits per minute.
Combo
These rooms offer both Standard and Multi-User Shows. Users may start or join in a Multi User Show, so long as the model isn't already engaged in a Private Show. These rooms have a variety of price points. Multi User is always 2/3 the cost of Private. There is no Voyeur Mode while the model is In Private. In Private shows range from 60-120 Credits/minute.
Feature Shows
Here members can interact with some of the hottest adult cam stars in the industry, at discounted prices per minute. VIP's don't pay and have unlimited access, Free! For everyone else, 30 Credits per minute.
Group Chat
Group Chat is a community experience, where the model sets the Credit rate for the length of show that they will perform. Client(s) then pledge any amount of Credits above the minimum, to help reach the goal. As soon as the goal is met, the show will begin.
After having a very careful look at Flirt4Free's Group Chat, I feel that I should elaborate and give ya'll the skinny.
From the members point of view, Group Chat is a bargain way to check out a model, new or favorite. For a model that I have not yet taken into private, I can check her out and save a bunch of Credits, before deciding on whether I want to Cam2Cam. Group Chat is also a great way to watch Live Shows, especially when I'm feeling shy, and don't want the '2 way interaction'. I can take it easy and relax, or make comments or requests to keep the show going.
It's similar to Multi User Chat, but you can't enable your cam nor is there VOD. Minor concessions, considering the advantages of price and quality of experience. Consider this, you can get a 10-15 minute show, that In Private, could cost as much as 1000 Credits, for 50 Credits! Ba-da-bing, ka-ching!
Offered Shows
These shows let you, the client, negotiate with the model, finding a fair price for a paid live show, that satisfies both of you. If you are a natural born haggler, this is an appealing option for you. As I already mentioned, price is negotiable.
Party Chat
When a cam babe gets the party started, there's no telling where things will end up, anything can go! Everyone is welcome to join, there's plenty of fun for everyone. Private shows are not available while the party is in progress, however tipping the model could get you super sweet special attention. This option is not charged at a Credit / minute rate, and tipping is the business.
Video Quality
When I watch online porn, I expect only the best, and look for sites which feature HD quality video. Watching sexy shemale cams on Flirt4Free checks all of these boxes, most of the time. Some of the models, not all, have lesser quality or SD cameras, but even their video feed left me satisfied and smiling.
Prices
As with all adult cam sites, the real fun begins when you start spending virtual dough, and Flirt4Free.com is no exception. Here, their virtual currency is called Credits. Credits allow you to take your live tranny chat to the next level. Whether it's going In Private, or exploring the hidden world by choosing Voyeur Mode, you need Credits. Signing up and supplying your billing details for age verification (18+), scores you a cool 120 Free Credits.
Available Credit Packages
Credits
Dollars

120 Credits

$0.00*

240 Credits

$10.00

415 Credits

$25.00

30 Days VIP Membership

Plus 120 Credits Free

$39.95**
* Once-off gift, submit your credit card details for age verification (18+)
** This membership renews every 30 days until cancelled.
Paying through EPOCH, opens up additional Credit packages including: 500 Credits for $50, 1000 Credits for $100 & 2500 Credits for $250.
Payment Methods
For conventional payment methods, you have the choice of: Visa, MasterCard, JCB, Diners Club and Discover. Pretty much as to be expected and not unique to this site. For those who prefer to pay via a payment portal, Flirt4Free offer the services of EPOCH, CCBILL, SEGPAY, PAYPAL and PAYGARDEN.
PayGarden works with leading gift card networks, and Flirt4Free members now have the option to redeem their gift cards for Credits. Be sure to check the site for exchange rates, but for example, a $25.00 Starbucks gift card will get you 176 Credits. Pretty groovy.
Flirt4Free.com are definitely 21st century and progressive when it comes to the money. They accept Bitcoin as means of payment, as do LiveJasmin.com

Number of Models
At the time of writing this Flirt4Free transgender review, there seem to be well over 140 sexy shemale cams, which include Transgender, Transgender Duo and Cross Dressing. This number seems fair, all things considered, as Flirt4Free is not strictly a transgender cam site. That said, when visiting Flirt4Free.com, chances are that you will only see between 10-20 t-girls online, at any given time.
Customer Support
Flirt4Free have a FAQ's page for those who have the desire for more information about the site, as well as questions or queries. On the website's home page, scroll right down to the bottom, There you will find a grey block with all kinds of categories, one of them is labelled 'Support'. Under this header, you will find the 'FAQ' button. Click and a comprehensive, well presented page appears. Here, you are able to have most of your questions answered.
Still have questions?
Under the category 'Support' is a button labelled 'Support'. Click, and you are redirected to a page that displays all the contact information for Flirt4Free including: an email address, contact telephone number (local & international) and their mailing address. On this page, you can also find a Help Request box.
If you have a query and weren't able to find the answers on the FAQ page, fill out the Help Request box and submit. I must say that I had a question and mailed Customer Support and was answered within 5 minutes. Not too bad, pretty good in fact!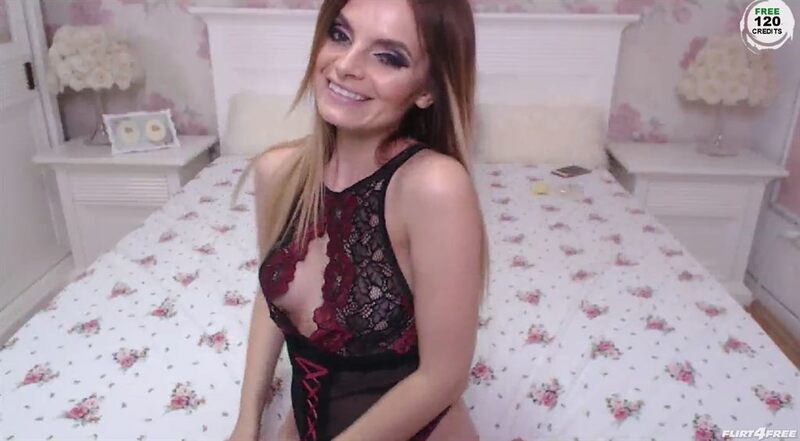 Pros and Cons
Pros
✔ - Crisp, clean interface making it super user friendly.
✔ - Flirt4Free boasts 5 unique transgender categories: Cross Dressing, HD Webcams, Multi User, Transgender, Transgender-Guy and Transgender-Duo.
✔ - High quality video stream, including HD.
✔ - Super friendly and engaging sexy shemale cam babes.
✔ - Group Chat, a fantastic cost effective way to enjoy live tranny chat.
✔ - Create and save your own Favorites Lists.
✔ - Join tranny Fan Clubs and enjoy discounts and bonus offers.
✔ - Accepts PayPal & Bitcoin.
Cons
✖ - Not as many transgender models, as can be found on other cam sites such as MyTrannyCams.com or Shemale.com.
✖ - This site seems a little price heavy. Assuming that you have purchased the highest Credit Package (415 Credits for $25.00), your Private Shows with shemale cam girls, who are charging average rates, are then working out to approximately $3.50 per minute, that's approximately $35.00 for a 10 minute show with an average t-girl.
✖ - Rewards program is complicated and confusing.
✖ - As a paying Credit member, and not a VIP, I feel that not being able to turn off the greys in chat, is unfair.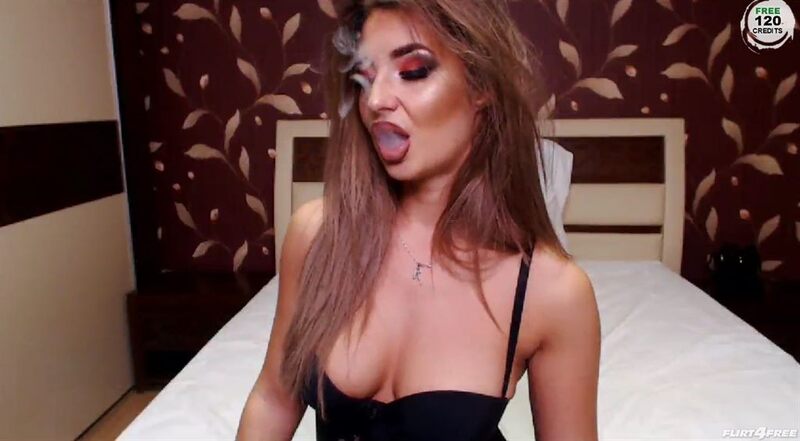 Conclusion
Flirt4Free have rocked my world. This site is a heavy hitter and they have delivered. From their slick and clean interface to their many cool and useful features, Flirt4Free have come with a KO.
If you like watching sexy shemale cams in HD quality, Flirt4Free is bound to keep you entertained for hours on end. Live tranny chats, with super friendly and engaging t-girls are easy to get when you visit Flirt4Free, and don't forget that once-off gift of 120 Free Credits when signing up. Play your cards right, and those Credits could last you a long time.
Ok, so Guest members only have 1 hour of free live tranny chat time, but becoming a Basic Member doesn't take too long and then you get unlimted access to any of the sexy shemale cams to found on Flirt4Free. The jump to Premier membership is equally as easy and entitles users to some cool features including free access to all Party Chat Shows.
This site has been a dominator on the porn playing field for some time and it shows. Flirt4Free.com have successfully been racking up awards since 2004, and rightly so! They have been delivering value to the online xxx community and I have no doubt, that they will continue to do so.
Until the next time we meet Cowboys and Cowgirls, you can take your hats off but leave your boots on, and why not try the Flirt4Free sexy shemale cams for yourselves. Randy signing out.
Review of Flirt4Free.com
- Reviewed by
webcam-porn.info