LadyboyCams.com - a top web resource for top sexy ladyboys!
A fine day to you, my fine, ladyboy loving friends. As always, it is real swell that you're reading these words, as it makes the effort of me writing them seem so worthwhile, so I thank you kindly for that. Anyway, I don't suppose you're here to hear me getting all choked up and stuff! You're here to learn all about another tasty and sex-tastic adult sex cam site with a definite appeal for shemales as opposed to females. So, without further delay let me start my yappin' about LadyboyCams.com.
My review is kinda timely as LadyboyCams.com has just celebrated its tenth birthday, so happy birthday to the site and congrats for gettin' all the way into double figures! The site is owned by and operated by a company called CamSoft in Nevada, USA. The site arrived in 2004 as a very basic porno cam site and didn't really do a whole heap of anything much until it underwent a bit of a re-vamp and a re-launch in 2011. How has it fared since? Let's keep going on with the reviewin' to find out ...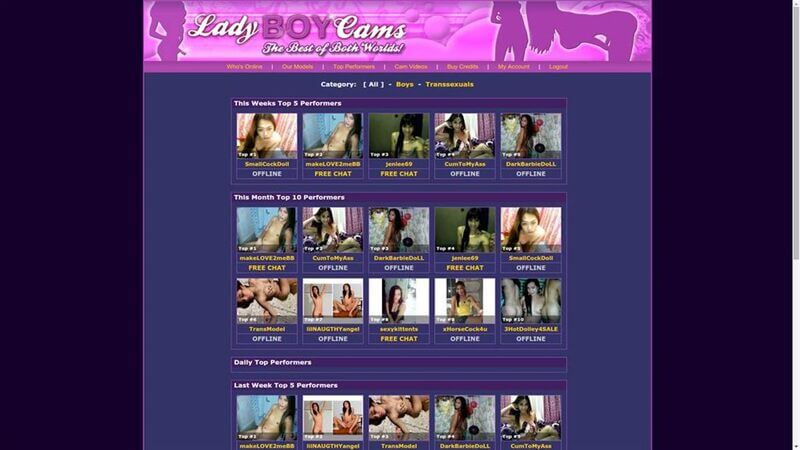 How I found the site
Sad to say, the first thing that really strikes you about the site is the lack of cams. Whenever I checked there seemed to be around 15 to 25 models online, which really doesn't give you much chance of findin' a shemale who you really classify as stunningly sexy ... unless you're real fortunate of course. Despite what I said about the site being re-vamped in 2011, I think it could do with a re-vampin' again as it still looks a little too amateurish to me. Still, maybe you like that kind of thing - who am I to judge? You're given a fair idea of the sort of thing you'll be lookin' at the site for with a banner ad of a lovely shemale with huge boobs in the left hand panel hoisting her skirt to show she ain't no lady all over. The site has plenty of movin' parts in the way that was popular on the old interweb around a decade ago. Aside from that there ain't a lot going down at this site.
One thing - just like TrannyCamModels.com most of the sexy cam performers at this site appear to be Asian.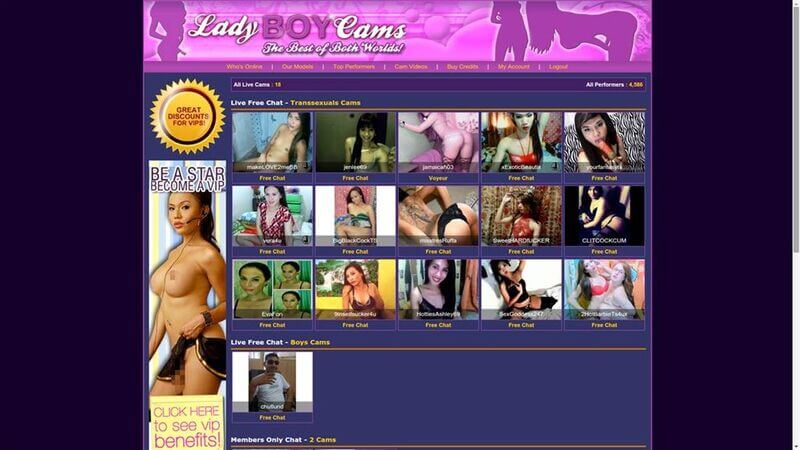 The menu along the top gives you access to the list of ladyboy cam models currently online (which is the default view any way) and a list of all the models registered at the site. This gives you a list of over 32,000 cams! This doesn't quite gel with only 15 to 25 cams being online all the time, so I ain't quite sure what is goin' on here, plus a huge amount of the models are clearly not ladyboys unless they are really hiding it real well. The other menu options are a list of the top performers at the site - daily, this week, last week, this month and last month. Tellingly, most of the top models in each section are the same performers, so either they are genuinely popular or they just ain't got much opposition. The only other menu options are where you can sign up and login.
Each models' menu pic just shows you what type of chat they are available for, and gives you access to their profile. You can also see how other clients of the site have rated the sex cam shemale out of five, plus quite a few leave comments. If you are lucky there are free photos you can have a look at. The only other feature available is a little icon of a camera - when you click on that you get a STILL image from the shemale sex show performer's cam.
Special features
If you sign up you get the followin' extras, accordin' to LadyboyCams.com:
1000s of registered models
HQ video chat with sound
Hi-Def live shows in widescreen
Free Cam-2-Cam in private
Go 1-on-1 in private video chat
Live Porn Shows in normal, x2 and full screen
Customer Support 24-7
"Watch Record Privates" for $0.99 per video.
True live amateur webcam chat
Send your top models messages when they're on or offline.
VIPs get extra-special benefits:
10 percent off all sessions
Free access to all live features shows
Live feature show archives
Beneficial treatment from the ladyboy cam models
An archive of your own private shows
Access to video archives
Ease of registration
Just type in your chosen username, password (make sure no-one's watchin' as it comes up in full view) and your email address and the anti-robot text verification code. You then just need to reply to the activation email to complete your registration.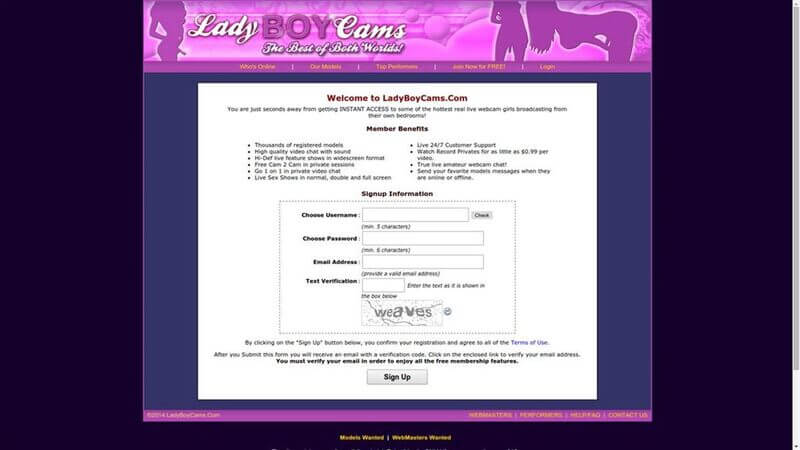 Types of chat
Free chat is free and open to anyone. Once you enter a shemale cam model's room you get the option to tip or go private. The rate for private is displayed at the top of the room, and is usually about $0.99 credit a minute. You can mess about with the cam view if you want (brightness, hue, etc!). Some cams are members only.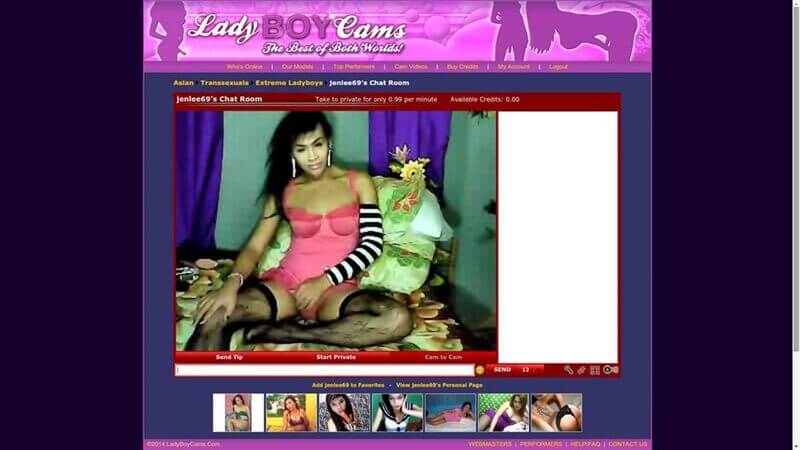 Video quality
There are no indications concernin' HD anywhere that I could find. The quality of the cams will not have you hollerin' from the rooftops either.
Prices
One dollar = one credit. You can buy credits in packs at $29.95, $49.95, $79.95 or $99.95. You can go VIP for $29.95. Oddly, the pic for the VIP promotion features ladies only, not ladyboys!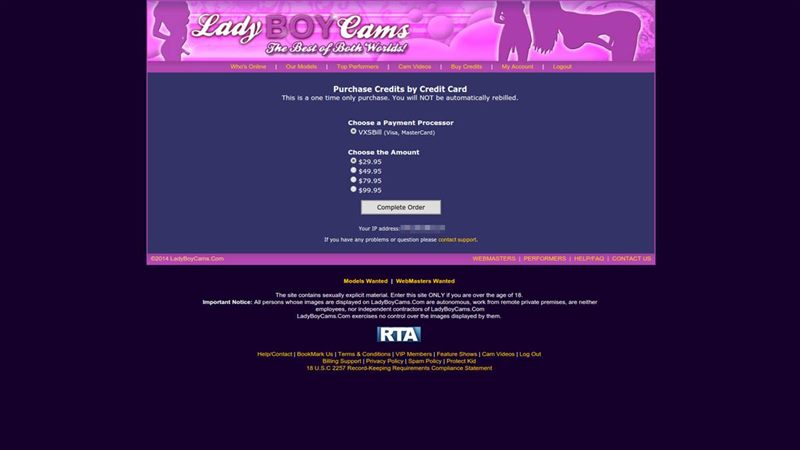 Payment methods
Visa or MasterCard, nothing else.
Number of models
Over 32,000 accordin' to the site, but you'll be lucky to find more than thirty of those online at any time.

Customer support
Not bad - there's a phone number and email support for both site and billin' enquiries. There's also a brief FAQ section, but no live chat function.
Pros and Cons
Pros
✔ - Definitely at the less expensive end of the tranny cam sex market
✔ - A few little extras available, and even more if you go VIP
✔ - Lots of videos to watch, but at a price.
Cons
✖ - Another site without a huge amount of models
✖ - Site's design makes it look amateurish - leaves you kinda wonderin' if you can trust it
✖ - Cams are not that great
Conclusion
I think LadyboyCams is ideal if you are just entertainin' the idea of gettin' started in gettin' yourself acquainted in the manner of all things shemale sex cams wise, and the only reason I say that is because at $0.99 a minute it's really very cheap and cheerful. I suppose you'll find it cool if you like Asian shemale sex cams as well. The site could do with a bit of a re-design (again!) and a few more actual ladyboys! Some attention to detail - like the image for the VIP status promotion containing definite ladies - would not go amiss either! If you've got a few spare dollars to burn, then burnin' 'em at Ladyboy ain't the worse thing you can do!
Review of LadyboyCams.com
- Reviewed by
webcam-porn.info