CamWithHer is a Tiny Webcam Sex Site, but it Has Sass
As you can imagine, I like doing my rounds on the adult sex cam sites I've reviewed. I took a look at CamWithHer again and was sorely disappointed to find out that the site has become pretty useless. I refreshed repeatedly over the course of a few days and there were never enough models online to satisfy my cravings. Having four models online is a joke. Do yourself a favor and check out my LiveJasmin review to find out what a good cam site should look like.
It's not easy being an adult webcam user nowadays. The internet is packed, and I do mean PACKED with sexy cam sites that all battle for your attention and more importantly: Cash. There are the sexcam services that everyone knows of course, but this doesn't mean that new ones aren't being created constantly and with growing pace. These new services need to catch users' attention and divert them from the mainstream adult webcam portals – Jasmin.com, Chaturbate, ImLive – you know the names. How can this be achieved, if at all? This CamWithHer review is a good example of a relatively small adult webcam chat community that is working hard to leave an impression and convince guys that it is the right choice. Does it succeed? Read some more and I assure you that I will offer all the needed details and eventually serve up my conclusions.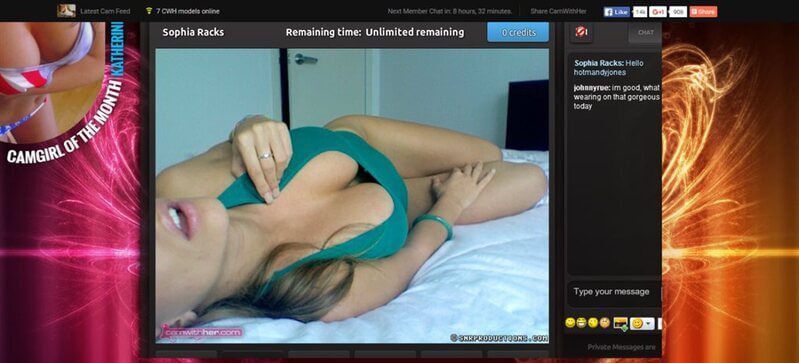 How I found the site
I was quite happy when I went inside CamWithHer and saw the pics of the live camgirls. It was impossible not to feel this way. I don't know if you're shortsighted or have perfect vision, you won't be able to overlook the gorgeousness of these horny women. It was evident that these were no ordinary babes. Every adult cam sites I ever reviewed, even the less-than-amazing ones, always offer at least a few beauties. Usually, especially when dealing with amateur sex cam sites, you see a mixture of really breathtaking chicks right next to "girls next door" types and simple-looking babes. I am not saying that you should always go for the hottest chick – no sir. In fact, very often the so-called simple looking camgirls, the chubby chicks and the ordinary-yet-sweet girl-next-door prove to be most creative in the sex chat. However, on Cam With Her there are simply no women who are less than dazzling, which is of course an evident that this is a professional webcam site that features studio models – not actual amateurs.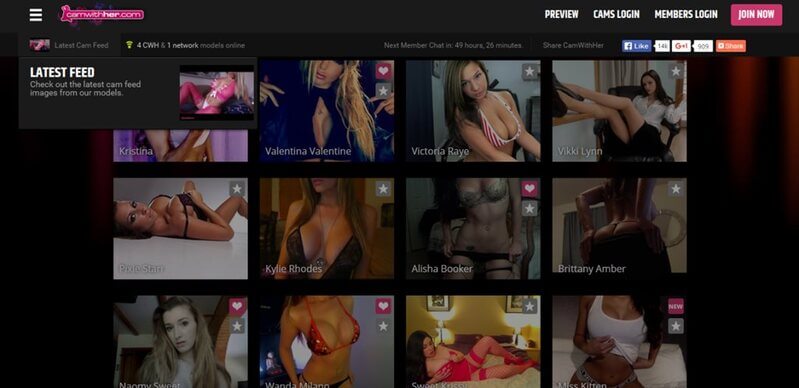 I was less impressed though when I discovered that of all those mouthwatering webcam girls, only five were online. Five? Seriously? I video chat with five chicks before breakfast and this is hardly enough to allow me to even choose. Sure, the chicks were sexy – all of them, but I didn't like the low selection and I did not feel better when I discovered that I couldn't even see the babe inside her free chat room unless I pay – all I could do was text chat and that's hardly a proper substitute. This really got me annoyed. How are users supposed to pick a video chat partner whom they can't even see? I had to add tokens to my account and while the live sex chats I had here were beyond my wildest dreams, I still felt a bit cheated. After reviewing so many adult cam sites, I have grown to expect free chat – and I mean one where you can see and communicate with the model.
Special features
The next stage of this CamWithHer review was to assess the quality of the available webcam chat features, and in this case, I have no complaints. The basic video chat tools are all available: Cam to Cam, audio, HD webcams – you name it, but this is just the beginning. This adult webcam site also offers videos on demand, picture sets, message system that allows to you to contact the models and various categories that can help you find the sexiest babes: Top Rated, Award Winners, etc. You can add babes to your favorite list, see schedules and access profiles – the content, by the way, is not free, but it's incredible.
Ease of registration
The registration to CamWithHer.com is free – the basic one that is, and signing up is very fast. You just need to choose a nickname, password and list a valid email and once you validate, start chatting – you still won't be able to see the live camgirls though, unless you also have tokens in your account. There are other membership options, but I will discuss them under the price section.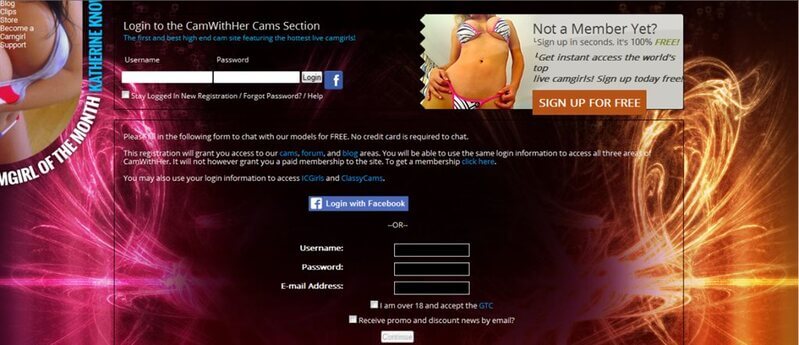 Types of chat
The live sex chats here are no different than the ones you'll see on any other adult webcam arena in the industry, but they work differently. Free video chat, as I mentioned earlier in this CamWithHer review, doesn't show live streaming, only text. The private chat is not really private – this is actually a group webcam show. Why does the website call it "private"? Fuck if I know. The VIP chat is the private chat that you know from other sex cam sites and finally there is Spy chat, which is the only chat that works the same as other portals: You spy on the sexy camgirls while they perform live for other lucky members.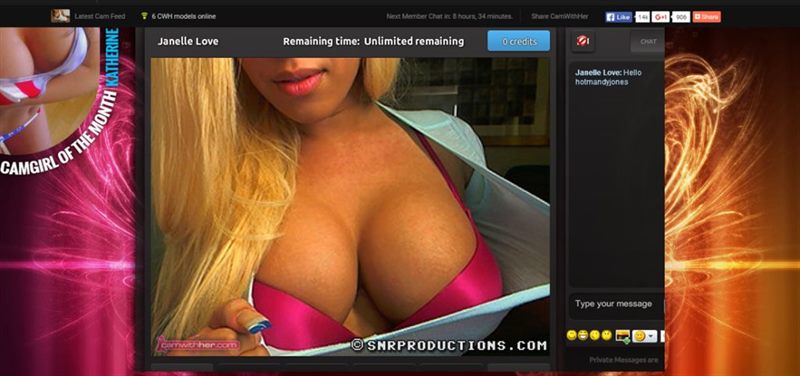 Video quality
Cam With Her has excellent streaming quality – although, as mentioned earlier in this review, you won't be able to find that out until you upgrade your membership or get some credits.
Prices
Average cost on CamWithHer.com is high – I want to state this from the get go so you don't end up surprised by the bill at the end of the month. Even the traditionally cheaper options, such as Spy mode, are pretty expensive here. Public chats are free, private chats (which are group shows) cost 4.99 credits per minute on average, but can go as high as 7, VIP shows cost 6.99 credits per minute – and 7.99 at some points. Spy chats cost an average of 4.49 credits per minute – as I said, pretty high.
How much is a credit? It costs about a dollar – and sometime a euro, depending on how you choose to pay. Here are the current credit packages.
| | | |
| --- | --- | --- |
| Number of Credits | Cost in USD | Cost is Euro |
| 10 | $10 | €10 |
| 20 | $20 | €20 |
| 50 | $50 | €50 |
| 100 | $100 | €100 |
| 150 | $150 | €150 |
| 200 | $200 | €200 |
| 250 | $250 | €250 |
Basic membership on CamWithHer.com is totally free, but there is also a paid one. It will cost you $24.99 for 30 days (reoccurring), 27.99 for 30 days, $59.99 for 90 days or $99.99 for 180 days and it includes access to content and free porn shows as well as 20% discount on all types of sex chats.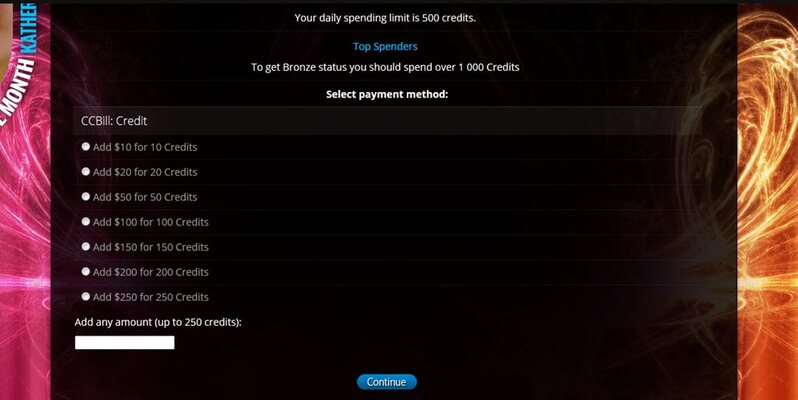 Payment methods
When you decide to purchase credits on CamWithHer.com you will be able to choose from several payment methods. As far as plastic goes, you can use Visa, MasterCard, Discover and Diners. You can also choose to pay via an online check or EU direct pay. Finally you can pay with PayPal and even with Bitcoin.
Number of models
Cam With Her is one of the smallest adult cam sites that I have ever reviewed. There are only 100 or so registered camgirls and only 4-8 will actually be live, and I hope I don't have to tell you that this is an unacceptably low figure. This is probably the biggest disadvantage of this sexcam community – although it's perhaps worth mentioning that all of the models are simply amazing.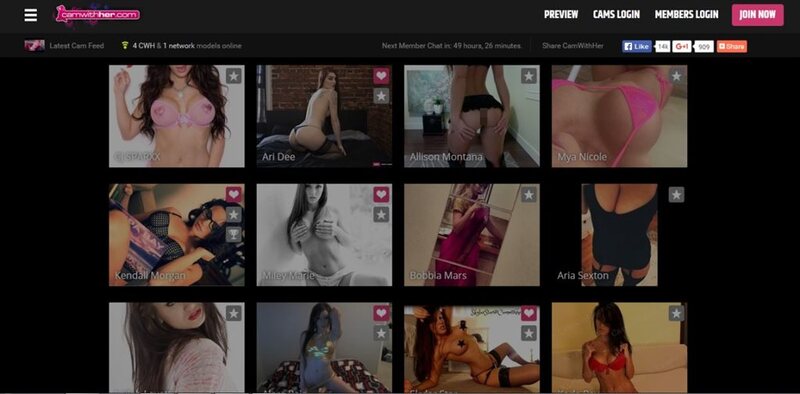 Customer support
You will find the Support tab at the very bottom of the home page – it's not easy to find, but I have faith in your abilities… well, faith is a big word – but I am guessing you'll manage it. This tab will take you to a different page where you can submit a help request. There is no FAQ page that I could find at first, which seemed a bit odd, but when I signed out – one appeared under a newly found 'Help' tab. It's not amazing though, so don't get your hopes up.
Pros and Cons
Pros
✔- Breathtaking camgirls that are as skilled as pornstars
✔- Basic membership is free
✔- Loads of videos and recorded sex shows
Cons
✖- Some of the camgirls overprice
✖- The site confuses basic webcam terms
✖- There aren't enough live sex chat rooms
Conclusion
I hope that you have enjoyed this CamWithHer review, or that you at least found it useful. I believe I managed to clarify that this website has some strong sides, such as the abundant adult content and premium web cam beauties, but it also has plenty of faults. The number of live chat room is a joke and the prices are not tempting. CamWithHer.com might manage to showcase exquisite women who use their bodies like musical instruments, but if it intends to compete with the best sex cam sites in the world, it still has some work to do. Want to know more about this website? Go visit it – basic membership is, after all, totally free.
Review of CamWithHer.com
- Reviewed by
webcam-porn.info