LiveAsianWebcams.Com - The Site with Lots of Asian Mystery!
Attention: From December 2019, LiveAsianWebcams.com has joined with SakuraLive.com. Read our full review of SakuraLive, here.
Howdy partners! How are you doing? It's your old buddy Randy here again, ready and raring to bring you another scintillating review of another hot webcam-porn site. Again, I've saddled up the old nag and headed off to the sex cam pastures of the far and mystical east, with a review of LiveAsianWebCams.com.
Heck with a domain name like that, even a dummy like me can work out what kind of sexy porn cam babes I'm likely to find at such a site. I admit, I'm a couple of egg salad sandwiches short of the whole picnic in quite a few respects, but I don't think i would struggle, somehow, to work out that the site provides live Asian web cams.
There's not a lot of history around about this site, and you'll find it's a site that likes to keep a few of the juicier details to itself as I progress through the review. Anyhow, the domain was registered in 2009 (in California, I think) but didn't come to life until 2011, and it hasn't been updated since.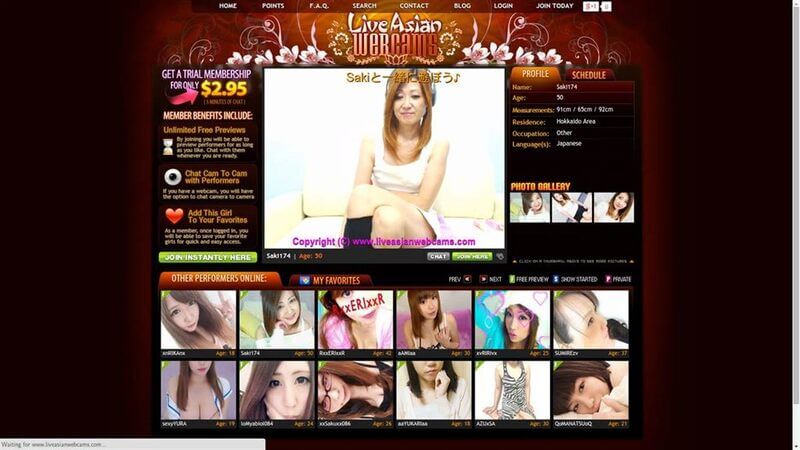 How I found the site
Zow-wee! You get a real swell welcome the first time you pop across to the site, I can tell you! There's the best "Are you over 18?" banner page I have ever seen ... a genuinely gorgeous Asian lady opening her gown to show you the sexy goings-on underneath. It took me a while to confirm that I was over 18, I can tell you!
The first thing you have to say about the site is that it has been very nicely designed. It's not too dissimilar to every other sex cam site that's out there, but it just looks kinda nice. You can't really sneak a look if people who you don't want seeing what you're up to are around as there's a rotating banner on top with some definitely x-rated stuff. The cam menu itself has loads of little thumbnails that are kind of small, and they don't really tell you much at all about the models aside from the kind of show they're currently up for, and their performer name and age.
There's a bit of a menu across the top. The "Points" section is where you make your purchases - "points" are what LiveAsianWebCams.com calls credits. There's a FAQ section which isn't that useful, a search function and contact details, plus "Login" and "Join Today" buttons. The first little alarm bell that goes off about the site happens when you click the "Blog" button - you end up with a message "Your PHP installation appears to be missing the MySQL extension which is required by WordPress." I had to call up one of my nephews to ask what that meant and he said it was because LiveAsianWebCams.com haven't set their server up properly. That kinda sucks - how are the guys gonna fix any problems if you have them if they can't fix their own?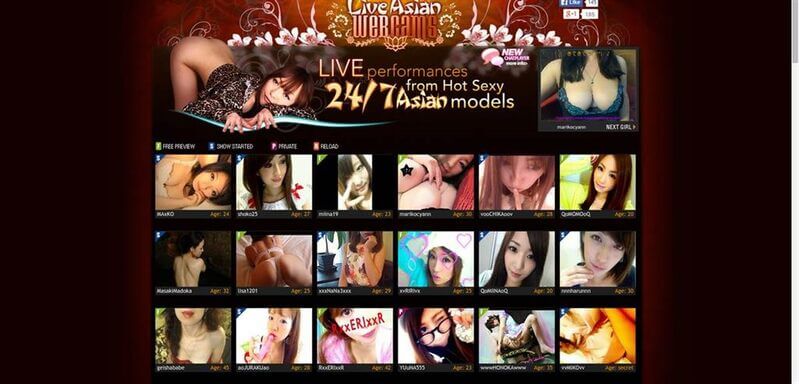 Despite the main directory page looking swell, there ain't a lot you can do with it. The only way you can see the model of one of the porn cam views is to click on her thumbnail which takes you to her cam room. There's some brief details and a schedule of when the model is likely to be online, plus a small photo gallery. You get about a minute to view the cam, before the screen doors close and a message "Your Free Session Has Expired" pops up. You can't do any free chatting at all unless you sign up to become a member.
Special features
If you sign up (and you can't do a great deal without signing up) your free chat limitations are removed, and you can enjoy cam-to-cam chat. You're also able to set up a favorites list of your most preferred sex cam models.
Ease of registration
Registration starts off okay, with the usual requests for an email address, and your chosen username and password. The next step brings up the dreaded "register your credit card" screen. Yup, that's right folks, you cannot get any further than that without registerin' your plastic, so if that's an issue for you, I guess your LiveAsianWebCams.com adventure stops here. There's a $2.95 registration fee, for which you get a whole five minutes of chat time.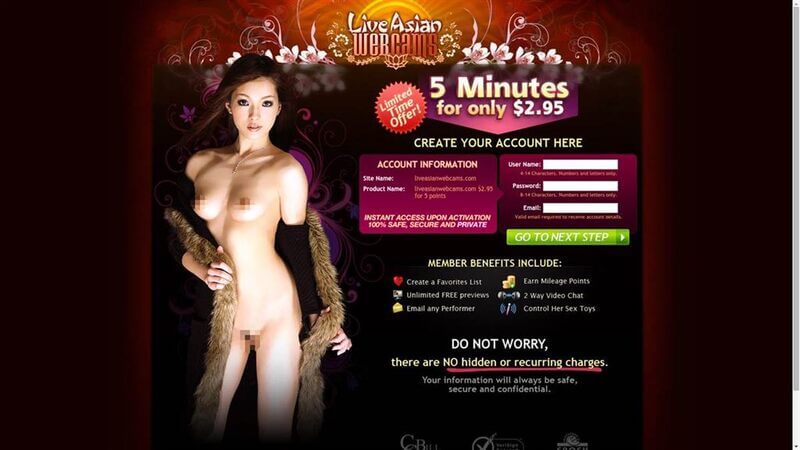 Types of chat
There are several chat modes, but they all seem the same, and some are a bit ... weird, I guess. One point costs between $1.80 and $2.50, depending on the type of package you buy. Normal chat is one point per minute, but "1 on 1 exclusively" costs double that, yet "hand/lip feature" costs half. For an extra point you can "remote control" a sex toy for thirty seconds. Finally, there's "Bukkake" for one and a half points per use. I have no idea how that's supposed to work - do the models have a guy on standby?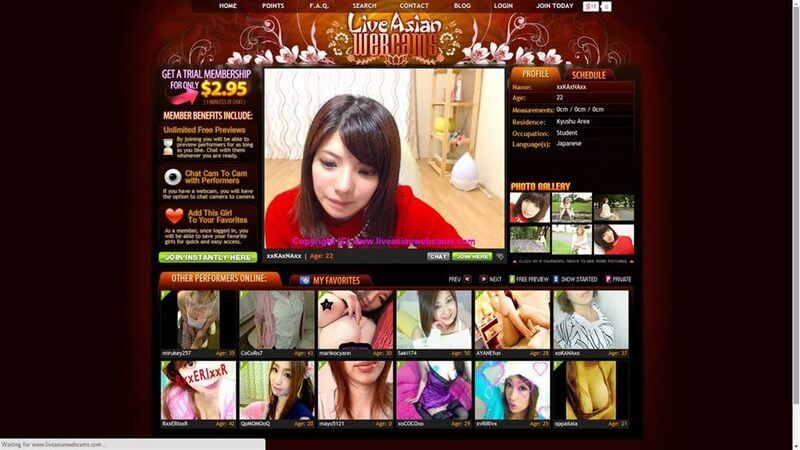 Video quality
No qualms about the quality - the HD is nice and clear and the video runs smoothly. The SD is good as well.
Prices
There's no info about prices at the site, other than what I said above (between $1.80 and $2.50 per point dependin' on how many you buy). I'm guessin' you have to sign up and register your credit card to find out the exact financial expectations of the site.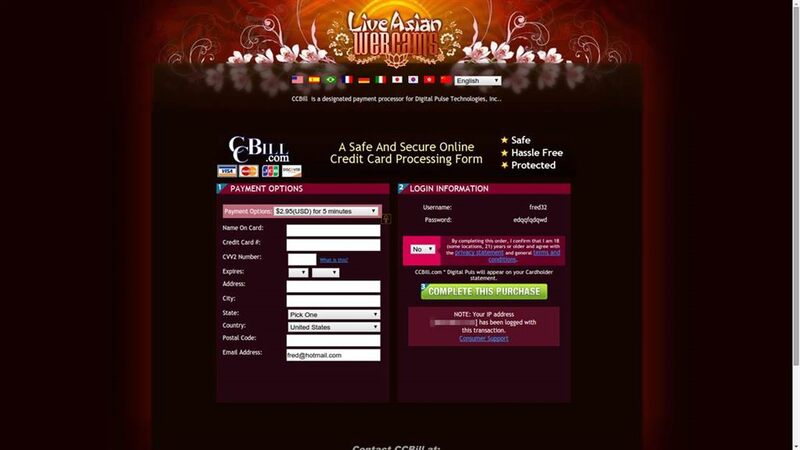 Payment methods
Payment is made via EPOCH and CCBill. If you have one of the popular brands of credit cards, then you will be fine.
Number of models
There are at least 2,000 models registered at the site. You'll typically find 100 or so online whenever you go take a gander at those sexy Asian babes.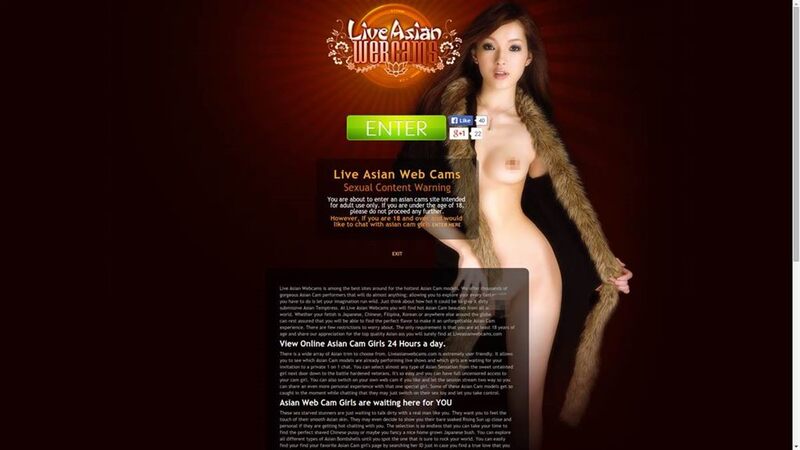 Customer support
There's only one contact option available - a contact form. No phone numbers, no email addresses and certainly no live chat. That just ain't good enough in my eyes.
Pros and Cons
Pros
✔ - The site has been really nicely designed
✔ - Paying for 1-on-1 chat is not at all expensive
✔ - The cam screens are rather fine
Cons
✖ - No credit card, no entry, more or less
✖ - Very poor support options
✖ - A few issues with the site, such as the blog not working and the FAQs containing errors.
Conclusion
I don't like sites that expect you to had over cash just for the privilege of registerin' - even though here you get a free five minutes for your $2.95. Add on the website bugs (the FAQs say you can view the cams without registerin', which certainly is not true) and the lack of support, and I'm beginnin' to have my "concerns" about the site.
But I guess that's a shame as most of the rest of LiveAsianWebCams.com is fine. The models look mighty sexy, and the streams look just as good. I guess if you're the type of person who don't mind handin' over their plastic facts then you're in for a treat. I sincerely hope you enjoy all that lovely, naked, Asian flesh!
Review of LiveAsianWebcams.com
- Reviewed by
webcam-porn.info