Want to meet tranny cam models? Then TrannyCamModels.com is for you
Okay folks, time to get crackin' on another tranny sex cam site review. Sure was nice to review this site after the last site I reviewed seemed to have been on a diet in regards to the number of models they had available for chattin'! You'll be pleased to hear that TrannyCamModels.com has a much meatier menu of hot shemale sex performers to choose from. Let's get on, shall we?
Okay, first things first - this site is a trannys-only clone of a general sex cams site called Cams2Chat.com which I ain't got around to reviewin' as yet, so this will be a first for me. Both sites are owned by a company called Labuyo, who operate out of that amazin' adults playground known as Las Vegas. How appropriate is that? The site first appeared in this here corner of the web in 2006 as a fully-fledged and formed tranny cam models site, but then they were owned by another Las Vegas company called Interactive Management Systems. I guess there was plenty of interactive experiences going on! The site had a complete makeover in 2013, and ended up being owned by Labuyo just a year later.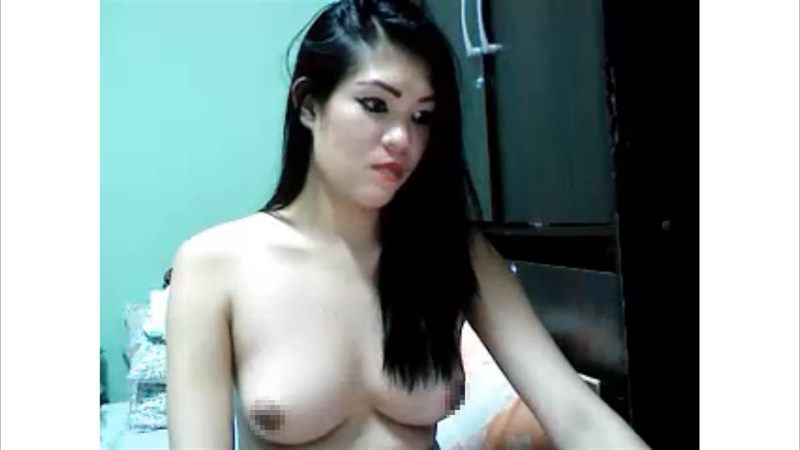 How I found the site
So, how do you feel about Asian transsexuals? If the first thought that comes into your head when I ask that is "no way, sir" then I suggest you stop readin' this review and go hunting for your shemale sex cam action elsewhere. If, on the other hand your reaction is "Wow!" then you are going to be very, very happy indeed at TrannyCamModels.com. The vast majority of the lusty ladyboys at TrannyCamModels.com are definitely Asian in origin, although most of them say they are from the United States (no reason to suspect they are not telling the truth - although in reality most are from the Philippines). So, if you like oriental trannys, then TrannyCamModels.com is definitely the site for you.
The site looks really nice in purple with pink and blue bits. The thumbnails in the menu screen are kinda small, but that doesn't really detract from your enjoyment at the site. You can see which webcam girls are available, whether they have that important HD factor, and what type of chattin' they are up for. You can sneak a peak at the model's current activities if she is in free chat by doing the old mouse hover trick.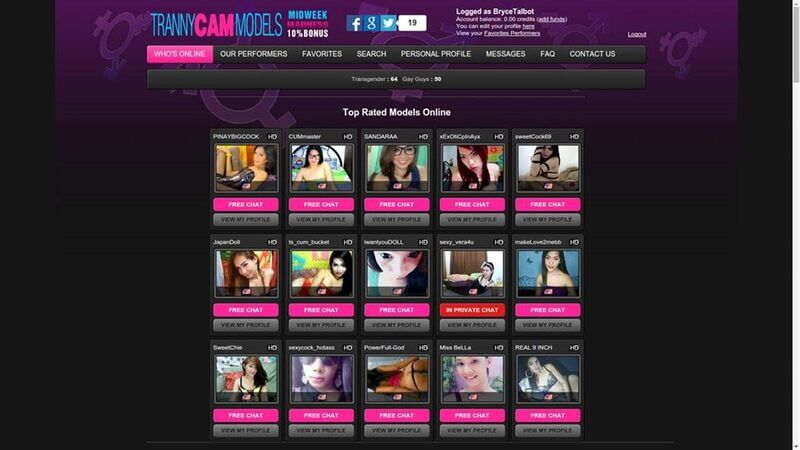 The top menu lets you see who's online and also a full list of all the performers who are registered at the site. You can save your favorite sex cam models to your favourites list, and use the search functions to find that lusty ladyboy who really turned you on the last cam you visited. The menu is completed by the FAQ section and details on how to register.
If you look at the cam profiles you can see the extra business you might need to know about the top tranny you're interested in, plus you can send a message (if you're registered) and view galleries of pics and vids - some are public, but most are private, so you'll have to pay-to-view.
Special features
Sad to say that TrannyCamModels.com is another site that's lackin' in extra features for shemale sex chat fans. Why are purveyors of tranny sex cams so often short-changed?
Ease of registration
There's a big button on the top menu marked "Registration", so I suggest you click that. You need a username, password, valid email, screen name and to confirm your gender for some reason (and there are only two options - again, odd for a TRANSGENDER site!). Fill in the boxes, tick the T&Cs box and you're all set once you've sorted out the activation code from your email. Now, ain't that nice and simple?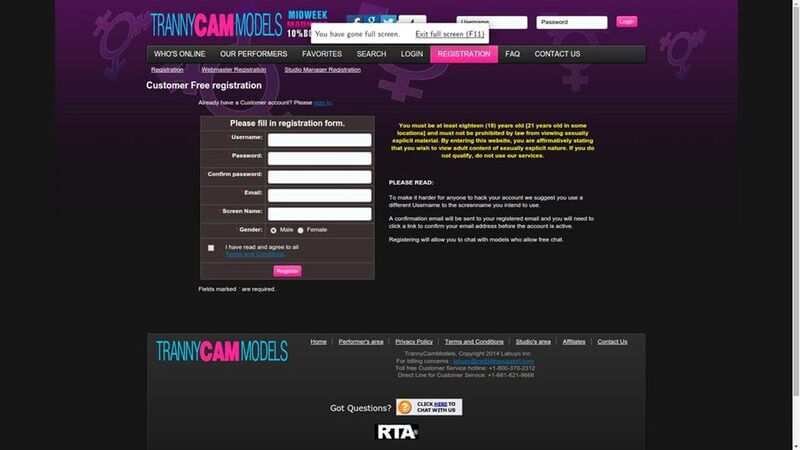 Types of chat
The free chat is free here, but you can only see what you and the model are talking about, and you can only free chat with a model for a maximum of one hour, but that is nicely generous (don't think you can just log off and log back on to reset the clock - it don't work!). The other chats are Group Chat and Private Chat for one credit per minute. They are both the same except that with Group Chat there's more than you in the room.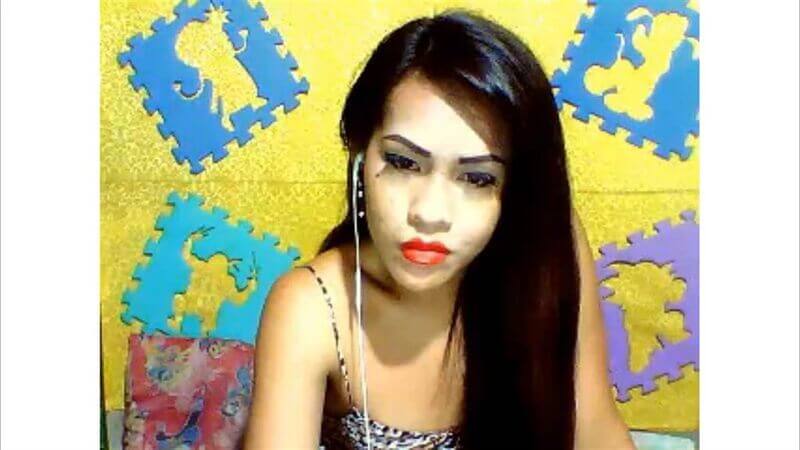 Video quality
The video quality is pretty good, but as always it depends on your bandwidth and the rate your choice of model can stream at. Some of it is super-smooth, some of it is jerky and blurred. There's plenty of HD available
Prices
There's only one transaction rate - $1 = 1 credit, and you can buy credits in packs of 25, 50 or 100, and you get a 10 percent bonus when you buy.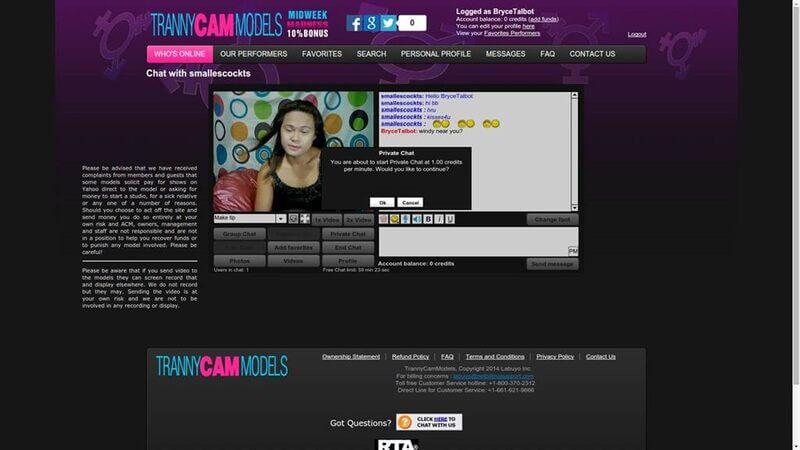 Payment methods
All payments are secured by NETbilling, and you can use most popular forms of plastic. If you ain't got any plastic, then you can use wire transfer or Western Union if you are in the US of A.
Number of models
A little under 1,000 are registered on the site, and you'll typically find around 60 to 80 online at any time.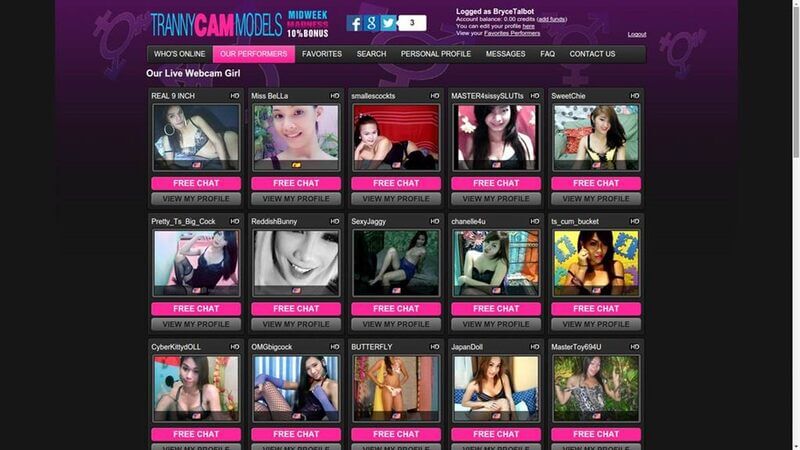 Customer support
There is a FAQ section, but it is not the best. Other than that it's just a contact form to fill in, or the live chat applet. I tried the live chat applet, but no one responded.
Pros and Cons
Pros
✔ - CHEAP! All models are just one credit/dollar a minute for group and private shows
✔ - Not many punters, so you are usually the only one around for free chat
✔ - Lots of models, and plenty are available to chat with at all times
Cons
✖ - As usual, not many extra features
✖ - The cheap price means the models are usually pretty keen to get you into their private room
✖ - More/better support options please
Conclusion
If you love oriental trannys, and you don't want to spend a fortune in private chat, then get on over to TrannyCamModels.com now! I had to double-check and triple-check the rates, but it is one hundred percent accurate - just $1 a minute for live shows! Compare that to the $12 a minute I've encountered at other sites! The downside of this is that the models can't be makin' much in the way of cash, so they invite you into their private room as soon as you appear. Havin' said that, all the models I encountered in pennin' this review were VERY nice and polite without being pushy.
TrannyCamModels certainly has got a lot going for it! Why not go explorin' yourself, now?
Review of TrannyCamModels.com
- Reviewed by
webcam-porn.info