Webcams.com - High Quality Cams and High Quality Sex Cam Babes!
UPDATE:
Webcams.com is old news - they rebranded into a new website - MyDirtyHobby - bringing together the best features and models from the old site and improving the user experience even further. Check it out now!
Howdy there folks. Sure is real swell to be making your acquaintance once again as I continue on my trek across the web-o-sphere searching out the sites with the bounciest boobs and the sweetest pussies that you might be wantin' to sneak your peakers and unleash your peckers at.
The tasty little site I've happened upon this time around is webcams.com. Now, I might not be as full of brains as that Stephen Hawkin's fellah, but even I can work out that to get such an ace of a domain name, webcoms.com must have been around for some time, and thanks to my sidekick the redoubtable Google, it seems I'm right. It was first registered as long ago as November 1998 (which means it'll be shortly celebratin' its sweet sixteenth birthday at the time I am writing this here review), but it just started out as a public webcam site, allowing folks from around the world to get in touch with other folks from all around the world. I'm guessin' things turned sexual pretty swiftly, and now the site is full of gorgeous, x-rated models. XBIZ gave the site the 'Live Video Chat of the Year' award in 2009 and 2011, which is a pretty good thumbs up if you ask me!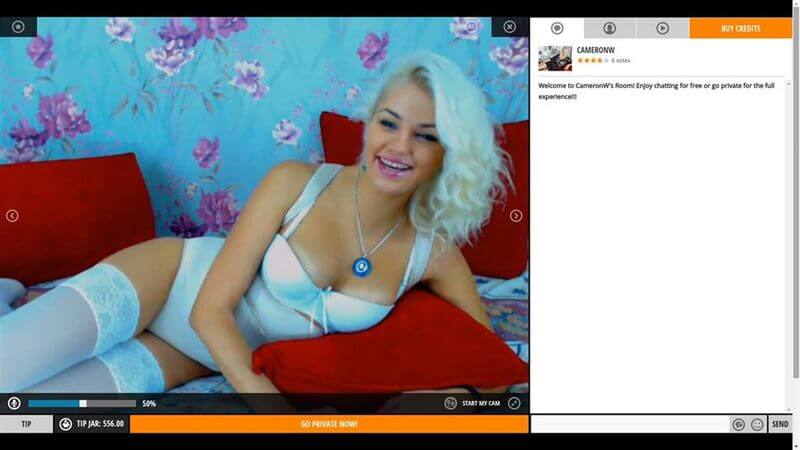 How I found the site
First thing I gotta say with some pleasure is that after them crappy site designs I've seen at Chaturbate.com and MyFreeCams.com, it sure is swell to get back onto a site with a more modern-lookin' design. I guess it don't matter much when you're just lookin' for tits and pussy, but I like sites to look good. I get to feelin' that crappy-lookin' sites are just in it for the money, so if a site's willin' to spend dollars in lookin' good, I get to feelin' a might more reassured. Do you see which hip I'm firing from? Anyhow, the site promises free sex chat with cam girls and hot live shows, which should be enough to get anyone's blood pumping, especially as when I first went on the site I was greeted by a banner showing me the lovely breasts of porn star Ashley Sinclair. Wow-wee sir-ee. She is one fine lookin' gal, I can tell you. She was puttin' on a free show for all members on somethin' called 'Fetish Friday', so I guess shows with hot porn stars are somethin' of a feature at Webcams.com.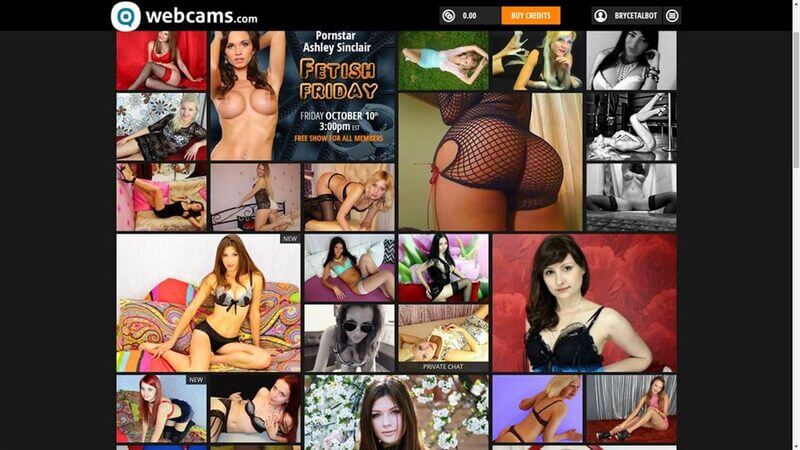 You can start off at Webcams.com by perusing their A-Z of sexual categories, from Alternative Girls to Trannies, through BDSM, Pregnant xxx cam girls and threesomes. Clicking on a category will show you who's available to chat, who's currently inspirin' a punter with private chat, and who's currently offline. Like most of these sites if you hover your mouse over the thumbnail you get a quick glance of the cam girl and what she is currently up to. Clicking though will put you into free chat, and I gotta say, the quality for free chat is REALLY swell - right up to the high and dandy sex cam standards I've seen at sites such as Jasmin.com and Sexier.com. Obviously you ain't gonna see much in free chat, so you need to sign up to get some credits if you want to see somethin' a little bit raunchier.
Special features
If you get to be a full and feisty sex cam member at Webcams.com you can have fun with some live, free cam shows with porno models, just like the one I mentioned above with Ashley Sinclair. These happen once a month, and are shared with other sites like Brazzers Live and Twistys Live.
Ease of registration
To join, click on the "Join Now" button at the top of your screen. All you need is a username, password and email address. Fill those in and you're through to stage 2. You need to add your first and last names, and then your credit card details ... yep, you can't get no further with Webcams.com unless you have a credit card. When you sign up you get charged a minimum amount (£1 a week in the UK) until you cancel. When you register make sure you uncheck the "10 Site Credits" box if you don't want to buy any credits as yet.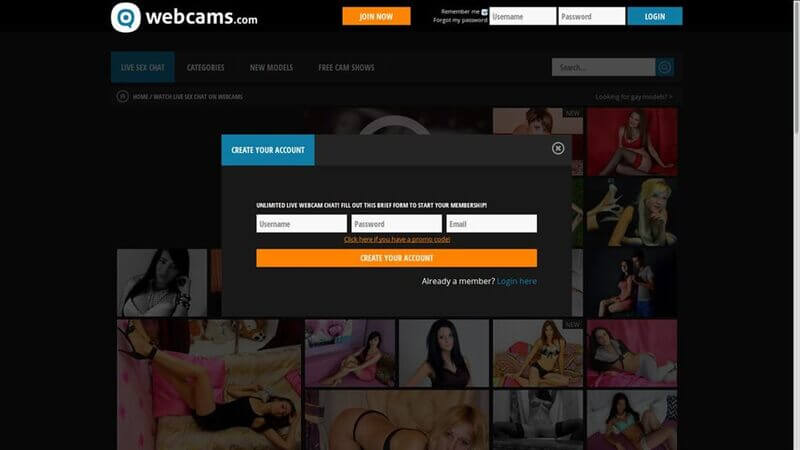 Types of chat
You'll naturally find the free chat, and then there's the private chat where you do the payin'. You can have some 1-2-1 chat if you've got a webcam yourself. The girls can decide for themselves how much they like chargin' for private chatting, from 0.99 to 6.99 credits a minute.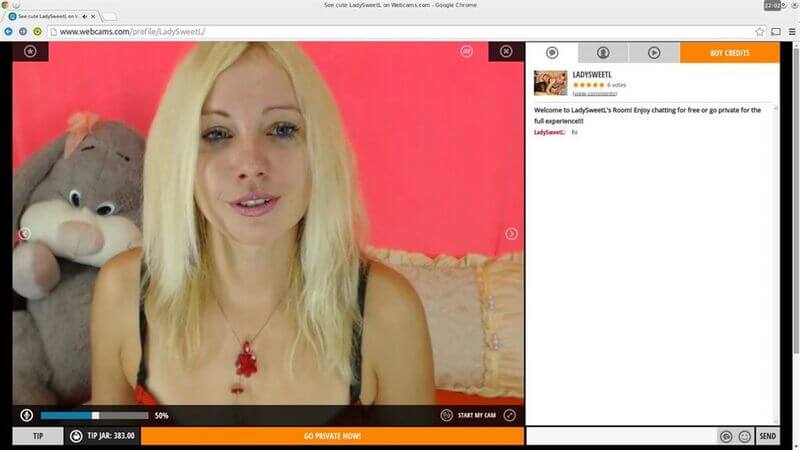 Video quality
I think I mentioned it above, but the cam quality at webcams.com is mighty fine - even in SD mode - and certainly a lot better than the pixelated trash I've seen at some sites. I guess Webcams.com don't mind splashin' their dollars for top-class servers, and kudos to them for doin' so! If you can stream HD, you can see the sex cam loveliness in HD too,
Prices
Every xxx cam model decides what she's gonna be chargin', and aside from the token weekly fee, you can buy credit packs as follows:
EURO €
GBP £
USD $
Price
Credits
Price
Credits
Price
Credits
€7.99
10
£6.66
10
$10
10
€23.99
30
£19.99
30
$30
30
€46.99
60
£36.99
60
$60
60
€66.99
90
£52.99
90
$85
90
€78.99
125
£69.99
125
$100
125
When you first join you can normally get a special deal for some credits to get you started.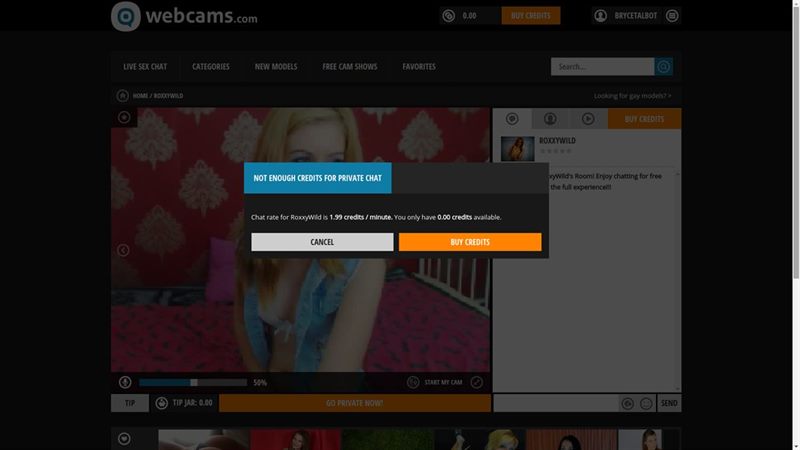 Payment methods
Credit cards only, although there are no details on the site about which, so I guess most of the top credit card providers will be okay.
Number of models
Around 4,000 models are registered at the site, mainly sexy babes, and 400-500 are online at any one time.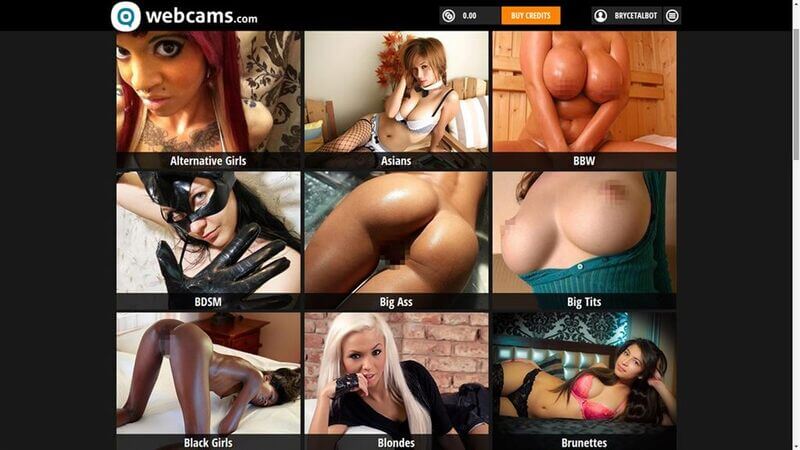 Customer support
There's phone numbers you can call if you get stuck, and an email messaging system. No live chat.
Pros and Cons
Pros
✔ - The sex cam models are of a very high quality IMHO
✔ - Really good site design that's reassurin' as you feel you ain't gonna get scammed
✔ - The standard of the cams, even SD, is really, really good
Cons
✖ - You can't sign up without enterin' your credit card details
✖ - Even for the free cams there's a minimum weekly charge
Conclusion
For what I've been a-reading, Webcams.com has got a very good reputation indeed for the high quality of the sex cam babes it can offer, and from my limited experiences with the site, I can safely say that I agree! I don't think they just let anyone into the site, which sure is reassurin' unless you really like the fuglies you might find at other sites. There's certainly lots of juicy sweetness at the site, which gets a Randy thumbs up! The only things I don't like is the fact you can't register for the site without a credit card, and the nominal weekly charge if you buy credits or not! Still, judging by the standard of the cams, it helps Webcams.com to provide really high quality video feeds, which gets another Randy thumbs up! In fact it gets two Randy thumbs up!! Enjoy!!!
Review of Webcams.com
- Reviewed by
webcam-porn.info